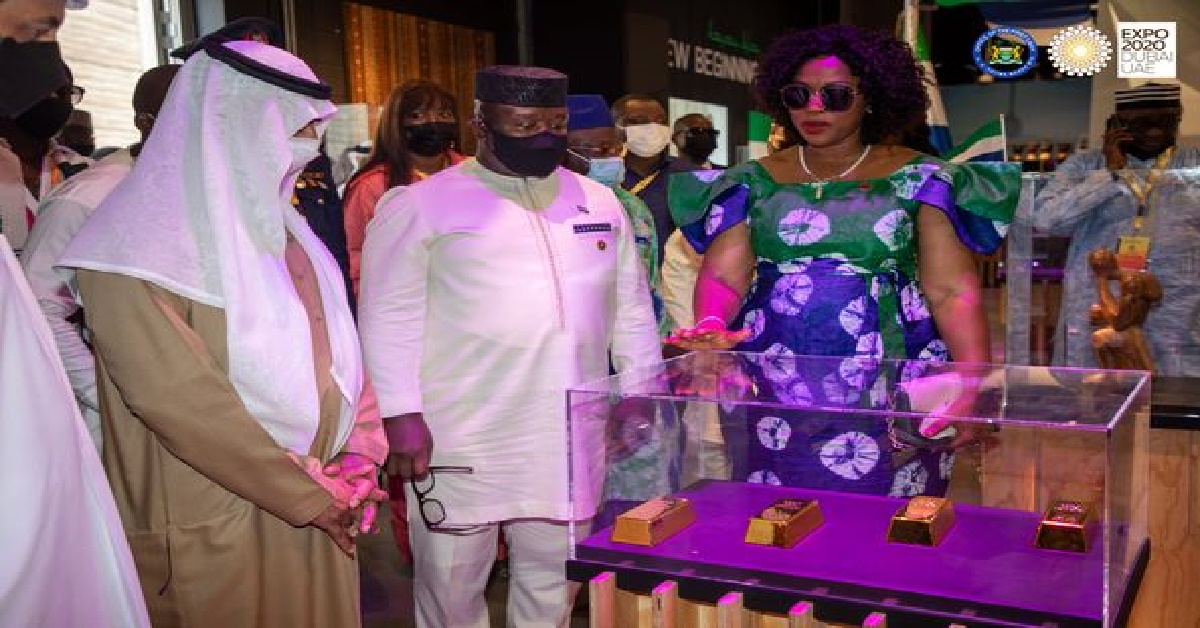 Fatima Bio Boasts of Sierra Leone's Achievement at The Expo 2020 in Dubai
Her Excellency the First Lady of the Republic of Sierra Leone, Mrs. Fatima Maada Bio, posted on her facebook page activity updates of sierra Leone at the expo 2020.
she said that the strategic drive to rebrand and reposition Sierra Leone on the global map continues with high speed under the leadership of His Excellency Brig. Rtd. Julius Maada Bio and that he latest national effort to attract foreign direct investment in all sectors and enhance the country's image at the global stage is Sierra Leone's participation at the global Expo 2020 event hosted by the United Arab Emirates in Dubai.
Her Excellency the First Lady of the Republic of Sierra Leone, Mrs. Fatima Maada Bio, who doubles as the country's Expo 2020 Commissioner General, continued that, Sierra Leone has been effectively and efficiently exhibiting talents, displaying its unique culture and tradition and marketing the new direction agenda, including investment potentials to the world through the Expo 2020 Platform that is hosting over 200 countries.
She added that, like several other countries, the President of Sierra Leone was in Dubai to mark the country's National Day at the Expo event, in a fashion that has not only strengthened the bilateral relationship between the UAE and Sierra Leone but also recorded an amazing impression to the world about the new Sierra Leone.
She furthered that, whilst President Bio and his delegation focused on strategically highlighting to the world the new direction agenda and the nation's investment potentials at the Investment Forum, the team of traditional and other musicians recorded an electrifying display of the rich culture and entertainment talents in the country in an event that attracted global citizens.
Her Excellency the First Lady said that this was made possible because of her sleepless nights with committee members mobilizing funds, scouting talents, designing the Sierra Leone Pavilion and ensuring Sierra Leone hosted one of the best National Day events of the Dubai Expo 2020.
Her Excellency the First Lady ended by saying, "As the event continues until March 2022, we will continue to bring you activity updates as and when they happen as we look forward to the best outcome in the interest of Sierra Leone".