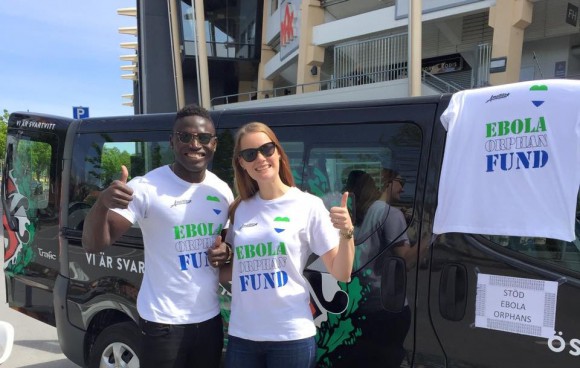 Sierra Leone's Alhassan Kamara Targets Ebola Orphans
Sierra Leone's top scorer in Europe last season Alhassan Kamara is giving back to his homeland by helping kids orphaned by the ebola virus.
The scorer of 14 Allsvenskan goals in the Swedish top flight division says he wants to ship clothing and football equipment for the orphans.
The Orebro striker is fully supported by his Swedish partner Pernilla Eriksson Haestad who says the donation will help the kids to find inspiration and enter a life with much more assurance without their parents.
"Together with Alhassan we have launched a Facebook page Ebola Orphans, which goes hand in hand with the start of a collection of clothing for the benefit of orphans in Sierra Leone and West African countries," Miss Haestad explains.
"We do this in cooperation with a man on the ground in Sierra Leone, who already operates an aid organization with the same name (Ebola Orphans). He is Mr. Francis Mason before the epidemic broke out that led to school closures last May.
"We think that a container with baby clothes and much older infants will be a start."
The items will be sourced from fans of Kamara's club Orebro who are touched by the events of ebola in the country of their top striker, added Haestad.
"My partner Alhassan Kamara got to know Francis Mason a few years ago by the English film crew who made a film about the football player and his life," she continued.
"Mason has managed to provide 150 children new homes. And it is no easy task. Sierra Leone is a very poor country, and Ebola has obviously not done any better when it comes to poverty, disease and hunger.
The Ebola epidemic infected over 10,000 people in Guinea, Liberia and Sierra Leone. As a result of the crisis, the affected countries were forced to play their international matches away from home.
The former AIK Striker was part of the Leone Stars side that where taunts during the 2015 African Nations Cup campaign.
Kamara is the third Sierra Leonean player to get involved in a campaign to fight against ebola.
The United States-based striker Kei Kamara had joined other African football stars and celebrities to highlight the seriousness of the crisis.
The rate of daily infection has drastically reduced, but Guinea and Sierra Leone are still fighting to achieve a clean sheet, but Liberia has been declared ebola free and the African football body has given them a greenlight to host international matches.