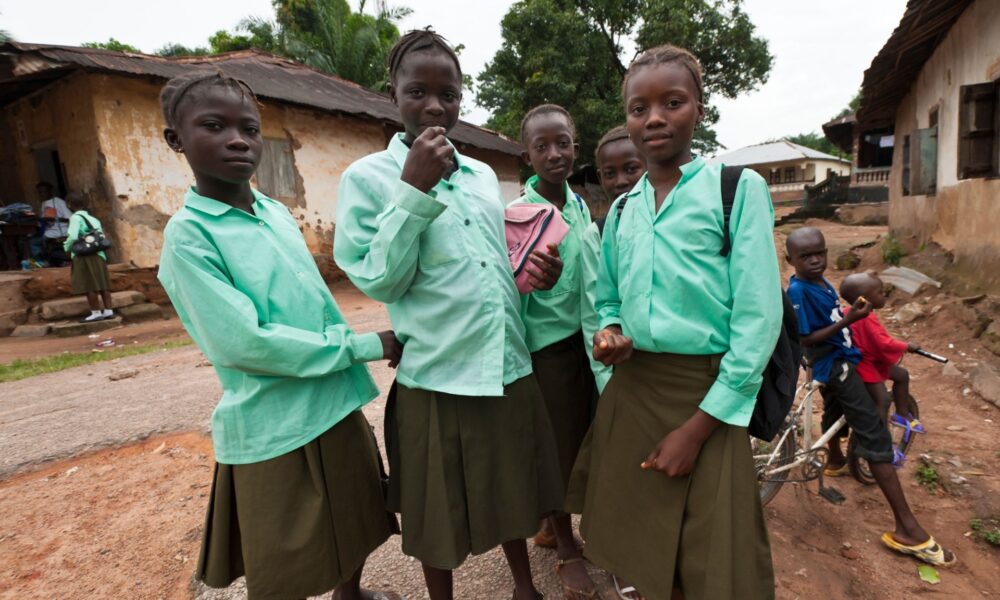 Sierra Leone Set to Overturn Ban on The Education of Pregnant Girls
The decision to continue the school ban on pregnant girls in Sierra Leone could soon be reversed as the government inches towards an agreement with international agencies, The Guardian reports.
It had been expected that the government would lift the ban, imposed in 2010, when schools reopened following the end of the Ebola crisis but the education minister, Minkailu Bah, reaffirmed it.
Now, after weeks of talks with the government, senior UN officials and UK and Irish aid representatives say they are on the verge of a significant breakthrough.
It is estimated that a third of children in Sierra Leone are born to school-age children and there is anecdotal evidence that the incidence of teenage pregnancy rose sharply during the Ebola outbreak.
Plan International, Save the Children and World Vision International have reported that sexual exploitation and violence against girls increased during the Ebola epidemic.
In a survey of 1,100 girls and boys between the ages of seven and 18, 10% reported that girls, especially those who had lost relatives to Ebola, were having to engage in transactional sex to cover their basic needs.
There were also reports of children being assaulted in quarantined areas.
"This report confirms that Ebola has put an incredible strain on children's lives and it will take time for them to recover. The impact on them has been huge," said Casely Coleman, country director of Plan International in Sierra Leone.
Aid agencies including the UN Population Fund (UNFPA), Irish Aid and the Department for International Development are working with the Sierra Leonean government to find a temporary solution that would involve girls being educated outside the classroom.
Advertisement
They are insisting the girls should continue to receive formal education and not be downgraded to vocational studies.
"Government and development partners want a way for these girls to stay in the formal education system and we are hopeful that we can find a solution. There is a flexibility and openness to find a solution," said Sinead Walsh, the Irish ambassador to Sierra Leone.
Walsh, who is responsible for discharging Irish Aid, which had a strong presence in the country before Ebola hit,
continued: "This not a new problem for Sierra Leone and we have been working to find a solution before Ebola. We've looked at a lot of African countries where teenage pregnancy rates are high and there isn't really a magic solution.
"So this could be an opportunity for Sierra Leone to play a leadership role in the region and find something that works."
Aid agencies say off-site education is not a sustainable solution "in concept", but would be a watershed for a country where the incidence of teenage pregnancy is so high.
A senior UN official in New York described the bar on pregnant girls going to school – a policy in many African countries – as irrational and a breach of human rights.
Kate Gilmore, deputy executive director of the UNFPA, said the ban would perpetuate the cycle of poverty and hold the country back economically.
"Ebola may be going, but its presence and consequences for the country are enduring. This is a sign of how much the situation has deteriorated," she said.
Gilmore said the government should be concentrating on educating pregnant girls and ensuring they delivered healthy babies rather than stigmatising them.
"We have a fantastic relationship with Sierra Leone over many many years before Ebola. Sierra Leone was doing an extraordinary amount to achieve a turnaround in sexual reproductive health and reduce infant mortality, particularly as a post-conflict country, so the tragedy of Ebola is intense on so many fronts, with the reversal of such hard-won gains alongside the loss of life," she said.
Sierra Leone is already one of the most dangerous places in the world to give birth, with maternal mortality and child mortality rates among the highest in the world.
"These are the most vulnerable, they are at risk of child marriage and maternal mortality," said one aid worker, who asked not to be named because of local sensitivity on the subject.
Gilmore said she can understand that antipathy towards teenage pregnancy in many countries, but said traditional belief systems were not a reason to hold on to a "toxic norm".
She said it was possible to change social conventions: "We have done it with smoking, seat belts, FGM, there is no reason why we can't do it with teenage pregnancy," Gilmore said.
"You can understand that irrationality might dominate in the early phase but pregnancy is a health issue, not a bar to education. This is eroding their capacity, as future parents, to be literate, to be numerate, to be part of economic society," she said.
"This is about the demographic dividend. There is an economic boom to be reaped here … that is there for the taking for Sierra Leone."