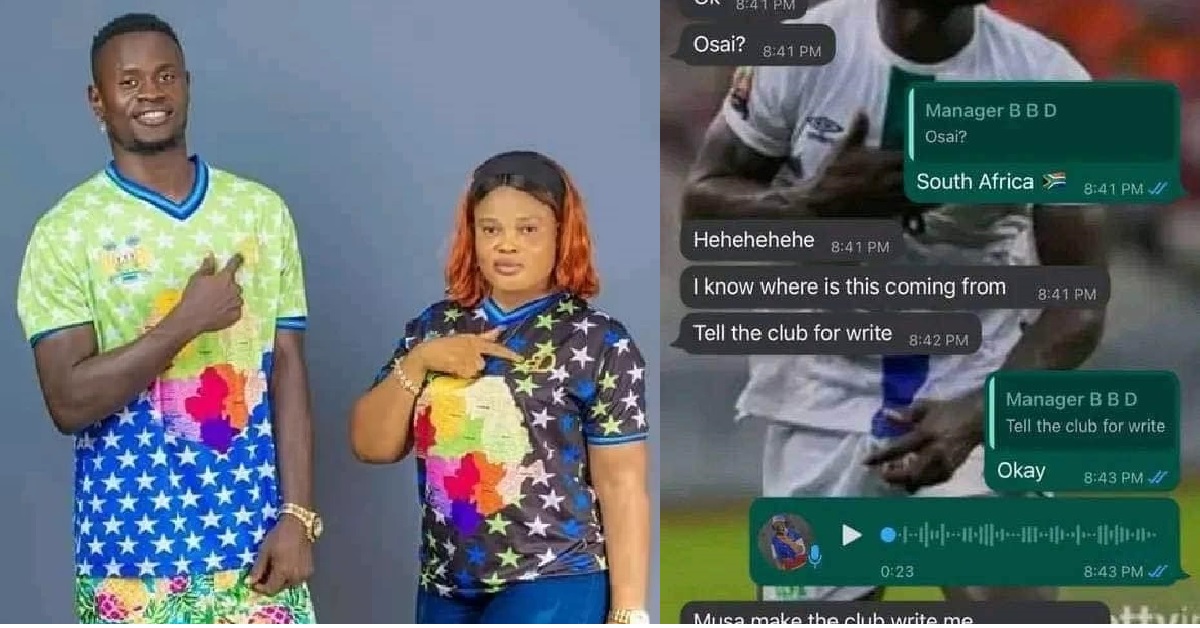 Musa Tombo's Wife, Hawa Tombo Releases Screenshots of Chats Over Musa's Transfer Saga
Wife of Leone Stars Forward Howa Tombo has few hours after Musa's termination contract from Bo Rangers FC released screenshots between her (Hawa Tombo) , Babadi, SLFA Secretary General and Kaizer Chiefs agent about Musa.
Musa Tombo whose termination letter from Bo Rangers FC surfaced the blue app shocked fans and supporters of the club and the celebrity. Musa Tombo has been a key player in the Bo Rangers FC. He contributed so much as a player to bag the golden boot and Bo Rangers FC bagged 2021 Sierra Leone Premier League Champions.
On a video that was released on the web that showed Musa misbehaving in the national team bus on a request to be highlighted off the bus. This was because, he said he was no longer joining the team in their training camp in Kenema. Few hours after his misbehaviour, Musa was spotted playing for a community league at Attouga mini complex.
As the Chairman and Manager of the Bo Rangers FC and a better person that knew Musa, Babadi disclosed the reasons behind Musa's misfortunes. According to Babadi, Musa I suffering from a brain sickness name 'autism'. He furthered that as a result of this sickness of him, most of his decision making process is not and has not been in his hands. For this reason, many are using this to exploit and destroy his career thinking they are helping.
Babadi with dismay mentioned the wife of the player, Hawa Tombo as one of the key people behind Musa.
Following to the leaked WhatsApp screenshot released shortly, Hawa Tombo has been playing a middleman game in the football career of Musa. The screenshots were conversations between Hawa, Babadi and Kaizer Chiefs agent.
According to the screenshots Hawa Tombo is alleged to have been chatting with different agents and scouts as if Musa doesn't have a club. It is possible for a family member to serve as agent for a relative player provided he/she understands about football. In this case Hawa knows little or nothing at all about club transfers.
Hawa Tombo has little or no knowledge about football transfer but she is alleged to mislead Musa to make a move to another club when she knew Musa is under contract with Bo Rangers.
Over the years, rumours had surfaced the media about Musa transfer deals which were later debunked to be false. In relation to this screenshots Hawa Tombo has been alleged to be the works of Hawa.
All the transfer news that was flaunting around social media about Musa Tombo within the past months was done by his wife Hawa after chatting with unknown agent's with the idea that her husband Musa doesn't have any contract with Bo Rangers.