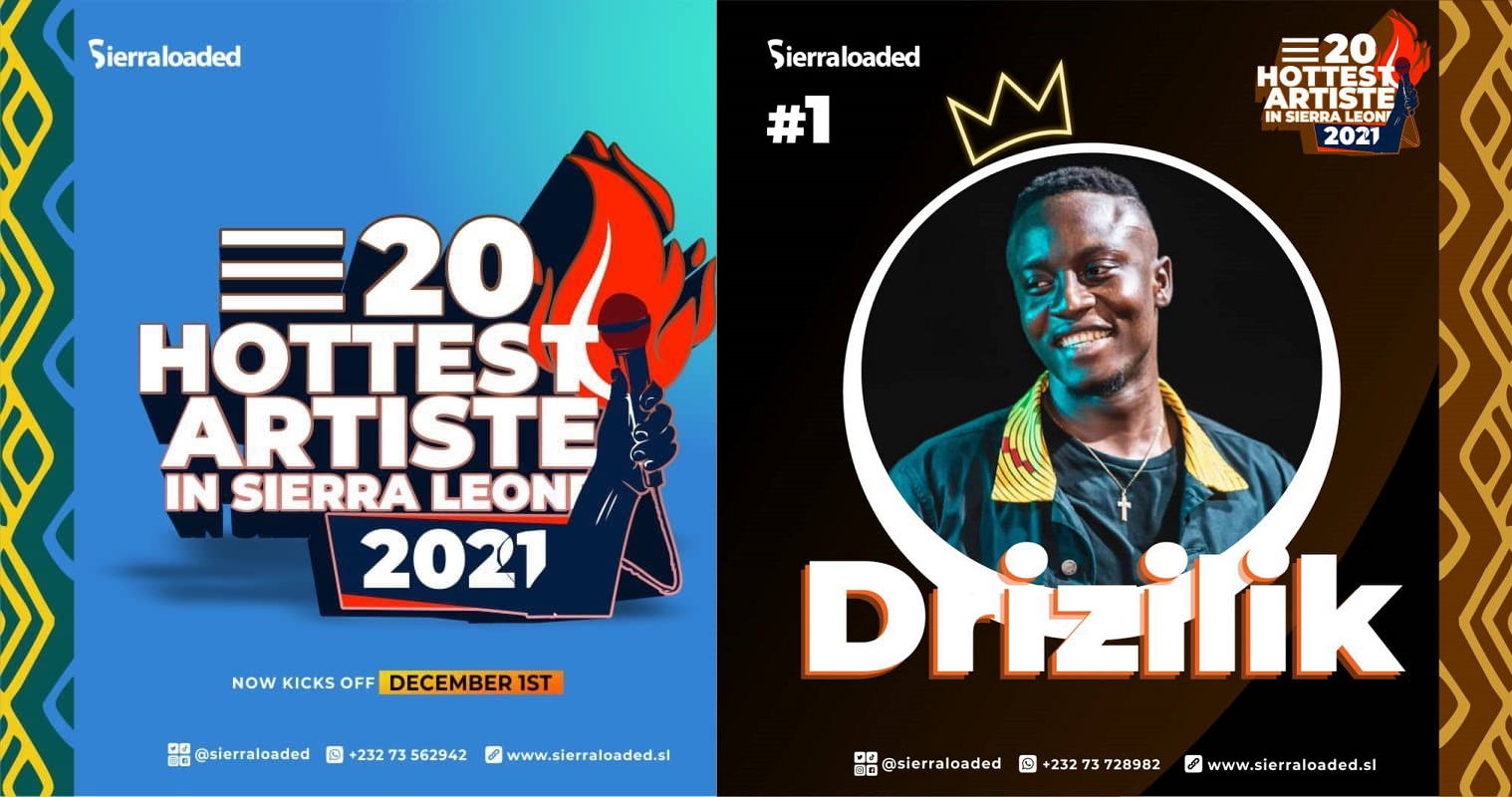 The 20 Hottest Artistes in Sierra Leone 2021: Drizilik – #1
Like an unexpected love affair, his voice and lyrical prowess broke out into the scene and breathed new life into our ears and in just a twinkle of an eye, he has solidify his position as one of the biggest mainstream acts in Sierra Leone and Africa!
Permit us to re introduce Sierra Leone's new school Afro-fusion rapper, Benjamin Menelik George stage named Drizilik, a talented musical sensation whose emergence into a fully blown limelight shows how much hard work and good music can take you to Stardom without stress.
It's been a long time coming and Drizilik is no newbie in the music industry. His breakthrough debut single "Pop Collar" was released late-2015 and became an instant hit across the streets of Freetown and soon after radio and clubs. His many music releases since then has continued to raise him up the bar, identifying him among new young West African musicians breaking new ground and cementing him amongst the most popular Sierra Leonean artistes, plus, won him many accolades along the way. His "Listeners Choice" nomination at the 2021 MTV Africa Music Awards (MAMAs) is further testament to this success and his growing reach worldwide.
Drizilik released his debut album "Shukubly" in December 2018. The ten track long-player was led by the hit single "Shukubly" featuring his longtime friend and music collaborator, DJ Rampage. The 'Shukubly' project went on to undeniably influence not only a new sound wave for his musician peers but also brought to light a whole new fashion trend amongst Sierra Leoneans around the country and the diaspora.
Quite remarkably the critically acclaimed album earned him a very impressive four wins at the National Entertainment Awards (NEA) 2019 – including Album of the Year, Best Afro HipHop Artiste of The Year, Male Artist Of The Year and Best Live Performer. That same year he went on to win the highly coveted "Sierra Leone Artiste Of The Year" at the All Works of Life (AWOL) Awards.
In 2021, Drizilik made a significant breakthrough when he left the shores of Sierra Leone for the development of his music career in Nigeria. Drizilik, Markmuday and Jooel were featured in a newly released hit song "PROBLEM" By Mastekraft. The Song hit the Big Brother Naija house on their Saturday night Party and was on several playlists across Africa.
Drizilik showed the success of 'Problem' is definitely no fluke as he proved himself once more in the release of "Exodus", a song where the new school rapper took his peace-seeking people to the Great Jericho in a grand style. The Masterkraft produced song is part of Drizilik highly anticipated "Ashobi" Album which is expected to released soon.
Drizilik is widely renowned for his captivating, electrifying and charismatic live performances and this was not an expectation in several events he has graced in the last 12 months including the "Africa Day" concert hosted on MTV Base. Both home and abroad, Drizilik has flourished and 2021 has also seen him grab several deals and endorsements including that with Orange Sierra Leone, Guinness and most recently, Mumini Fashion.
The hit songs, collaborations, album, mega deals and most importantly, the highly coveted MTV Africa Music Awards (MAMAs) recognition puts Drizilik above his contemporaries in the year 2021; And without any sense of delusions of grandeur, we introduce to you, DRIZILIK as #1 Hottest Artiste in Sierra Leone 2021. Congratulations!!!