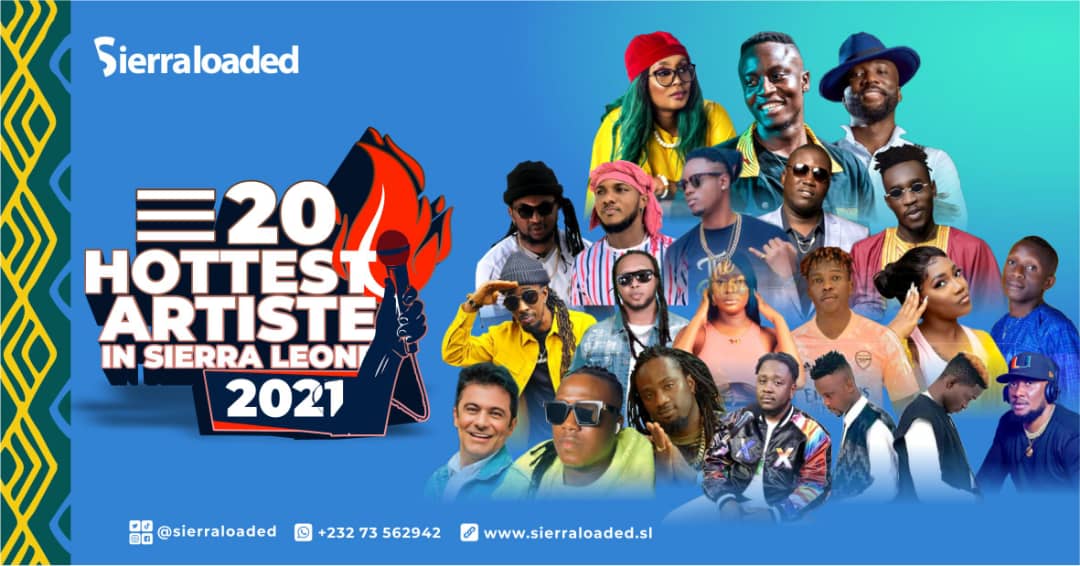 The 20 Hottest Artistes in Sierra Leone 2021 – Full List
The year 2021 has been an interesting one for Sierra Leone's music and Entertainment Industry.
Within the time span of January 2021 till now, several new artistes have made their entrance into the Sierra Leonean music scene.
Some have made a lot of noise with their music, but only a handful of artistes really had us putting their songs on repeat, making noise when a song came on and made serious impact between the aforementioned time period.
We're in the penultimate month of year, and in the last 10-11 months, we've witnessed the growth of several superstars with hit songs, tours, endorsements and more.
Compiled by Sierraloaded team, #SaloneHottest list is a true, undiluted run down of the Artistes that shaped, defined and led music among Sierra Leonean consumers throughout the year. It encompasses those with the hottest songs, endorsements, tours, record deals, mega moves on the local and international scene, the award winners, and in general, the people we've listened and danced to for the past 11 months.
Well let's see what artistes made the list shall we?
---
Menace De General (MDG) – #20
Talented Rapper, Dennis Foray Bundu popular known as Menace De General [MDG] is no newbie to lovers of Sierra Leonean rap music at home and abroad.
Since migrating to the United States around the 2000s, MDG has been sharpening his rapping skills and dropping on beats since 2003. He raps fluently in both EnglIsh and Krio.
Making waves by collaborating with artists such YOK-7 and AZ, the American based rapper is undeniably leaving his mark on the Sierra Leone musical land scape, highlighting glorious vocal talents and charismatic presence, as he ascends up the ranks.
MDG made a major breakthrough in the Sierra Leone music industry with a song which he titles ''drink tay you Alaki''. As an artist, he also doubles as an advocate for children's rights, wellbeing and education. To height his recognition, He was invited by the First Lady, Madam Fatima Bio to do a presentation on the ''Hands off our girls campaign'' in Maryland .
Not forgetting the rapper's new Album ''Formula'' which has since recently gained international recognition. He was nominated by Galsen HiP HoP Awards in Senegal in the category of Best African Album.
Ladies and Gentle Men, we present to you, Menace De General as the #20 amongst the hottest Artistes in Sierra Leone 2021.
---
Blesz – #19
When you mention artistes who have made tremendous efforts in stepping up their game in the last 10-11 months, David Kelfala Nuyaba popularly known as Blesz undoubtedly earns a spot on the list.
The multi-award-winning singer and entrepreneur has continued to make himself a fans favorite with consistent release of feel good songs that blends well with street pop.
The singer originated from a musical duo called "Blesz & Future". Their hit single, 'Banana' which was produced by Lordmo brought high recognition to the team. Blesz later signed to Kabaka Multimedia Entertainment (KME) alongside Kracktwist & Samza, Rozzy and Markmuday but later moved on to form his own record label, 'The Blesz Way' after his KME contract came to end.
'Prestige', His first official album from 'The Blesz Way' record label has topped most of charts on radio stations and the album has been ranked as one of the best albums for 2021. The album sees a number of afrobeats and dancehall tunes giving fans a feel good vibe and synergy.
Blesz has also shown us he is no fluke through collaborations with Sierra Leonean hitmakers like Nega Don on the hit song 'Agbado' and Kokobeh,  Tazzy B on 'Eternity' and Prodigy on 'Want you more'. The lead single of the album 'Hustle go make sense' remix features Star Zee, Arkman, Prodigy, Markmuday, Kindo Armani and Kracktwist & Samza.
In November, Blesz showed us that He is not putting a rest to his academic oars after announcing that he has earned a Masters Degree in Business Administration from Institute of Public Administration and Management – IPAM, University of Sierra Leone.
Blesz's #19 debut on Sierraloaded 20 Hottest Artistes in Sierra Leone 2021 is no doubt a result of hard work, consistency and tremendous efforts put into his craft throughout the year. Hopefully, we can get more of him in the coming year.
---
Cool J – #18
It's been a long way coming for Shitta .T. Deen, Sierra Leonean Rapper and Movie Actor popularly known as Cool J or otherwise Salone Cool J. Riding off the success of his 2013 hit single, Holiday Buffer featuring Kao Denero, Cool J has consistently delivered an addictive and feel good music that always make a good replay on playlists and burst speakers at home and abroad.
Although, Cool J was born in Freetown, he moved to settle in the United States during Sierra Leone's civil war. Like everyone else who experienced the war, Cool J had a difficult upbringing, however he did not allow this experience to kill his musical aspirations. He has since developed to an act with an attractive fan base while rapping and doing movies simultaneously.
In 2021, Cool J has been at the forefront of organizing online rap contests for upcoming Artistes and has also been seen in light of charity works for the less privileged. His most revered song "Prove Them Wrong'" featuring Innocent was born out of his struggles for personal development and also a means to silence his critics in the entertainment industry.
Cool J is undoubtedly operating at the top of his game having been nominated six times in the 2021 National Entertainment Award (NEA). He is also billed for an International performance in Gambia National stadium where he is expected to thrill the audience alongside Tanzanian Superstar, Diamond Platinumz.
Certainly, It is not bad to say Cool J has had a fantastic year and a deserving #18 spot in the Sierraloaded 20 Hottest Artistes in Sierra Leone 2021.
---
Nasser Ayoub – #17
With consistent soul melting and lyrical content that spans from the young to the young at heart, Nasser Ayoub remains an household name whose tremendous impact and influence in Sierra Leone's entertainment industry cannot be disputed.
Apart from being a Business man and a philanthropist, Ayoub has continued to be a key player in the promotion of entertainment in sierra Leone. With his personal funds, has supported several young musicians and filmmakers across the country and he is active in helping with several charitable organizations.
'Tranga Yais Borbor' was the hit which brought Nasser Ayoub to limelight several years ago, but his persistence and consistency in delivering follow up singles considering the nature of his personality puts him in the hearts of good music lovers in Sierra Leone & beyond. The hardworking AfroPop singer is highly reckoned because of his lyrical depth and vocal versatility that blends with conscious intersections of contemporary pop, electronica, folk, and R&B.
We are not far-fetched from how his 2021 singles, 'Spartacus', 'Free Me', 'My Love' and most recently 'Man Down' has garnered impressive numbers and thousands of airplays online and on air. The visuals for Spartacus has also been positively reviewed by many Sierra Leoneans due to it quality settings and world class-standard.
Nasser Ayoub's year was crowned with the completion of his new luxury home. And like that was not enough, Facebook cemented his Celebrity status with a verification badge. With many more successes under his belt, it is right to posit that Nasser Ayoub merits a position among The 20 Hottest Artistes in Sierra Leone 2021.
---
Souferior – #16
Greatness Hustle Music Boss, Soufian Kamara also known as Souferior is one of the Sierra Leonean Entertainment hotshots that has been bubbling under the radar since getting into the scene. Fast forward to 2021, Souferior is still highly rated in the hip hop music industry.
Right from his days with the Red Flag Movement (RFM), Souferior has always put up a captivating, charismatic, smart, funny, charming and sensitive personality that makes his music a top notch favourite among hip hop listeners.
Having lived in the United States and traveled across the world, Souferior's experiences has given him a greater respect for life, music, culture and people. Unlike many talents, rapping and making music is a vehicle which he uses to convey messages, expresses himself and create awareness for all African people and Hip Hop Listeners. His ability to share his horrific experience through his music has made him a infectious voice to most music addicts.
The Rapper made a significant breakthrough in the entertainment industry with the release of his Album "Made in Sierra Leone" in 2020. With 20 soul grabbing songs, the Album won Album of the Year and Best Diaspora Act in the 2020 National Entertainment Awards (NEA).
In 2021, Souferior's presence has been felt across stages in United States and across the World. Notable among these performances is Queen Nak's first Album Release Party in New York and Salone Festival in New Jersey.
Souferior's 2021 album project, "Made in Salone 2 (MIS2)" has seen releases of trending singles like "Wan Shilin Rope" featuring Innocent and "Hit Em Up" in which he spit some bars sending warning messages to rappers like Kao Denero, Speedo, MI and Sakordie.
Without much ado, Souferior sits comfortably as #16 among the 20 Hottest Artistes in Sierra Leone 2021.
---
Rozzy – #15
Sierra Leonean Afro Pop Female Singer, Rosemarie Baryoh-Cole also known as Rozzy Sokota is an exceptionally talented singer and an electrifying performer with a very unique voice and style of music.
The Kabaka MultiMedia & Entertainment (KME) music diva is known for her music which features the fusion of Soul, Afro, Pop and R&B in a steamy affair which is sure to have people slowly moving their body to the sound in a trance of beautiful lyrics and genre-bridging sounds.
Rozzy's consistency and exploits in the music industry has placed her in comfortable #15 spot amidst A-ranked female celebrities and surely, among the 20 Hottest Artistes in Sierra Leone 2021.
Off her 'surprise' marriage in December 2020,  Rozzy has shown that tying the knot is no barrier especially when your heart and soul is connected to the delivery of lilting melody that serenades beauty. In 2021, Rozzy has blessed us with "For The Sake of Love", "Me Padi" and "Silence" featuring Kuami Eugene. The visuals for "For The Sake of Love" was a classic hit which gained the attention of the First Lady, Fatima Bio who featured it in her first Tik Tok Video.
We've also seen Rozzy lend her voice in "Shine Like a Star", an AFCON 2022 song for Leone Stars alongside Cee Jay, Collabo, Markmuday, Steady Bongo, Dallas Bantan and Rap Gee. In September, Kao Denero also enlisted her with Nega Don, Empress Pee, G Pee, Del Vaqyo and Markmuday  in 'Pay You Tax', a sensitization song for the National Revenue Authority (NRA).
Rozzy's fantastic year cannot be rendered without mentions of her performances at the MTV Base Africa Day and Dubai EXPO 2020. With more juice to her sauce, we can expect Rozzy to move up the Hottest Artiste rank in 2022.
---
YOK 7 – #14
Sierra Leone-United States based Hip-Hop Rapper And CEO of Noble Squad; Yusuf Osio Kamara commonly called YOK 7 Da Snipper is one of the industry's most revered music artistes.
YOK 7 grew up listening to Tupac, DMX and other American rappers where he sharpened his skills and entered into rap battles. In 1998, he joined a musical group called Planet Sounds Production where he completed an album with the team called "Planet Sounds Compilation Volume 1" in which he has two songs, named "Right Up and How Many". After a successful launching of the album, YOK-7 started his label called Nobel Squad. The rapper later got the attention of Jimmy B who signed him to Paradise Records.
In 2003, his first solo album called "Palava' delivered the hit song 'A-Bo'. The album was a turning point in his musical career giving him the avenue to travel and perform in different European and African countries and also relocating to China where he released another album titled "Ring N The Man" in 2004 with his elder brother known as KOK.
While in Sierra Leone, Da Snipper released another solo album titled "Life and Death", "Pack N' Go", "Bobor For U Mot" and "True Love". He was crowned as the Best Artist by the People's Choice Award 2007. The rapper was also awarded as Best Hip-Hop Artiste in Sierra Leone at the Lake Awards for 2011 and 2012 consecutively. He was also appointed as an Ambassador for Amnesty International, Sierra Leone.
After spending some years in Sierra Leone dropping hits after hits, YOK-7 relocated to United States to improve his music career. He linked up with many Sierra Leonean celebrities like Jada Vizzle, A-Klass, MDG, Shady Baby and many others.
In 2015, YOK was nominated at the African Entertainment Awards hosted in the United States and in 2016 he released an album called "Face to Face", which he launched in a sold out audience in Maryland leaving no shroud of doubt, and toured the US. In 2017, he clinched the best rap artist at the National Entertainment Awards (NEA Awards).
In 2020, he released exceptional songs like 'Go Study Me Fine', 'Fire Dance' featuring Nigerian famous singer Teni and a social commentary song titled 'Na Yah We Dae' featuring Willie J and A-Klass.
The CEO of Noble Squad welcomed 2021 with a rap song 'The Lione' which he featured American rapper, Styles P. 'The Lion' is the highest viewed Sierra Leonean video for 2021 on YouTube with over 710,000 views. Without relenting, Da Snipper continue to drop hit songs with international collaborations. He released the most anticipated song title WINE N' TWERK of which he featured top notch Jamaican dancehall artiste; Demarco. The rapper also shows his versatility with a love song 'You' for the ladies. The song features Sierra Leonean American based singer, QueenNak.
For 2021, YOK 7 set a standard by shooting classic videos for all the songs he released in 2020 and 2021. His professional work coupled with other contributions in the entertainment industry has placed him at the #13 spot among the 20 Hottest Artistes in Sierra Leone 2021.
---
Kracktwist & Samza – #13
Nothing reads more apt than two talented artistes who are re-positioning the art of afrobeats and vivid rap storytelling in the Sierra Leonean music industry.
Ishmael Kamara (Kracktwist) & Samza Serry (Samza) is no doubt one of Sierra Leone's finest musical duo whose rising influence in the music scene cannot be swept under the carpet.
The duo came to the limelight after the release of 'Same Life Nor More'. The album became a huge success followed by the launching at Kent Beach. Early 2017, Kracktwist & Samza were signed to the prestigious Kabaka Multimedia Entertainment (KME) label alongside other artistes. Under the record label, the duo released major hit songs like 'Thop' which took over the country in 2017/2018. They also made an international collaboration with Senegal artist – Fafadi and worked with big Sierra Leonean artists such as Abizzy, Shadow Boxxer and other top KME artistes. They later won the NEA Award as the Best group in the country and other awards in 2018.
In March 2019 they released their second Album at the Radisson Blu Garden in Freetown which was very successful; making available 4 promotional songs like, Wi Jonkshon, Respect ft Shadow Boxer, Same life Remix featuring many Sierra Leone famous rappers. After their 3 years contract with KME came to an end in 2020, they both  launched their record label called Cracktwist & Samza Investment (KSI) .
Kracktwist & Samza are Ambassadors for Padi Products and their collaborative efforts in 2021 have seen releases of hits like  'Lef Am Na Ya' and mostly recently, 'Zizizor'. They also gave us an electrifying stage performance which formed a major talking point at the recently held ECOFEST 2021.
With their album still on the way, one can expect that the lads still have some bangers in stock for us. While we await more from them, they currently sit at spot #13 in the 20 Hottest Artistes in Sierra Leone 2021.
---
Rap Gee – #12
Rap Gee Enama debuts at #12 in the Sierraloaded 20 Hottest Artistes in Sierra Leone 2021 following an impressive year that have seen him become one of the revered Afrobeats and Dance hall artistes in the country.
Now dubbed the news school kings of the streets, Rap Gee has created a solid niche for himself through uptempo Afro-Amapiano, fusing his inimitable accent with trap, bashment, Grime, and Afrobeats to create a sound that encapsulates the melting pot of Sierra Leone's party life.
The Rapper has blessed us with wild growing dance hall songs like "Beykethon", ''Indo'', "Pastor Pray for me" which are DJ favorites across pubs, clubs and streets across Sierra Leone. His recent banging hits "Party Time" and "We wan chark o'" is also gaining wild admiration among fans and music lovers.
Apart from being a Rapper, Rap Gee is also an advocate for children's right. The Upline Nation CEO was among the first artiste to release a song after the alleged rape incident that led to the death of a young girl, Khadija.
In 2021, Rap Gee was featured in a social media commentary song titled "Complain". The 16-minute-long track by Boss La detailed the daily harsh realities in the Sierra Leone. His presence has also been felt across stages across Sierra Leone and abroad. Most recent ones are his performance at the Dubai EXPO 2020 and Kizz Daniel Live in Concert in Freetown.
Rap Gee's rendition cannot be complete if we fail to mention the recent row with Boss La (LAJ) after the release of the controversial "Complain" song. Though he featured in the song, Rap Gee disassociated himself from the song saying that he was under the influence of alcohol when he spits his barz.
In recent times, It is an open secret that the performing Artist has gained the admiration of the President and the First Lady. Rap Gee recently posed in a viral photo with President Bio after falling out with LAJ. Certainly, his perseverance, hard work and contributions in the entertainment industry earned him a #12 spot in the 20 Hottest Artistes in Sierra Leone 2021.
---
Jooel – #11
Joel Kargbo, popularly known as Jooel, is one of Sierra Leone's new school rappers undeniably leaving his mark on the Sierra Leonean music landscape with each record he releases, highlighting glorious vocal talents and charismatic presence as he ascends up the ranks.
Jooel's rap proficiency was born while schooling at the Sierra Leone Grammar School and Fourah Bay College respectively, but the multi talented artiste has shown no fluke by consistently giving us banging tunes that serves as a precursor to the full body of work already in the pipeline.
His breakthrough song, "Chief Bomboli", was an exciting Afro-Dance hall hitz and surefire hit that kept many on dancing shoes with total disregard of their home training. Jooel has since blessed us with songs like "Shuuu" and "Deh Deh" in 2021.
Joel was signed by Bodfly entertainment at the start of his career but has now become an independent artiste. However, his hardwork and consistency earned him an international collaboration alongside Drizilik and Markmuday in the 2021 hit song "Problem".
Jooel has also been seen recently travelling to Nigeria and was also spotted at Heathrow airport, presumably for an international tour.
It's certainly not been a bad year for Jooel and with more cooking up from him, and the sky is just the beginning provided his efforts can be multiplied in the coming year. However, at this time, Jooel sits as the #11 among the 20 Hottest Artistes in Sierra Leone 2021.
---
SWADU (Natasha Beckley) – #10
Sierra Leonean US-based pageant queen, politician, rapper and founder of IAMSL Pageant, Swadu Natasha Beckley outshines her peers to sit among the top 10 on the list of Sierra Leone Hottest Artistes this year.
2021 saw the revival of Natasha's musical career and there are compelling reasons to argue that She is the most hardworking female musician in the year 2021.
Although born in Port Loko, North-West Sierra Leone, Natasha left the shores of Sierra Leone at the age of 10 to the United States where She was crowned Miss Africa – USA in 2010. In 2011, she was also crowned with the enviable title of Miss Sierra Leone 2011 in Freetown.
Natasha Beckley joined the world on politics where she served as a Councillor for Ward 234 at the Port Loko District Council, Northern Sierra Leone. During 2018 general elections, the beauty pageant queen pursued for another political symbol which she lost.
Before coming to music proper, the rapper has done many freestyles and mixtapes. After discovering her uniqueness in the rap scene, Swadu decided to release her first debut album "Freetown The Recipe". The album contains 13 tracks that combines hip hop, rap, and afro beats. It features the likes of Timaya, Ice Prince, Buckwylla, Sheik Kargbo, Magnito, and Juwhiz.
The song titled "Freetown" is one of the most popular songs from the album after top rappers jumped into the challenge. The album came with standard videos from production from Nigerian video director, Patrick Elis. The song "Feel Alright" with Timaya was shot in Atlanta.
"Freetown The Recipe" album was a huge success which gave the rapper international recognition. During the promotion of the album, Swadu travelled to Nigeria, Kenya and Ghana where she met with top African rappers like Vector, Ice Prince, Khaligraph Jones, Sarkodie and other celebrities. She toured with Sarkodie during his "No Pressure" album release party in Nigeria, Kenya and Ghana respectively.
These entries, moves, collaborations and number of hit songs made by the rapper are the musically-driven reasons why she is the #10 hottest artiste in Sierra Leone 2021.
---
Rahim D Wezard – #9
Praised for his ability to met out witty punchlines and seamlessly impress as a singer, Sierra Leone and Hejenah Entertainment Recording artiste, Ibrahim Bakarr known professionally as Rahim D Wezard stands today as one of the country's most treasured music heavyweights whose stock has risen exponentially over the years.
The multiple award winner made his big break in 2015 with his Alonzo-featured anthem, Tekneh and has since been on an impressive streak.
In 2021, the Rara crooner has compelled our ears to salivate and feet to twitch with hot new singles "Special Time",  "Go Low" and most recently "Peace of Mind". As usual, deliver this smooth Afro-Love tune that reckons with theyouthful soul and mind.
In celebrating over 5 years of consistency in the music industry, Rahim D Wezard got the highest Nominations in this year's National Entertainment Award (NEA) in 6 different Categories as Best Hit Single of The Year (special Time), Collaboration Song of the Year (CSY) Do For Love, "Rahim and Morris, Best Diaspora Act in Music" , Best Male Artist of the Year, Best Hit single, Best Music video and Best Afro R and B.
Rahim is set the to host a big show in Ohio city as he considers 2022 a Tour year. He recently promised his fans that they are going to see him touring locally and globally, from Freetown, Sierra Leone, Africa, Europe, Asia to America… He believes he has worked hard all these past years for that.
With these in mind, it's clear Rahim D Wezard deserves his place in the #9 position on The 20 Hottest Artistes in Sierra Leone 2021.
---
Innocent – #8
Born Prince Kuti George with the stage name Innocent is a Sierra Leonean artiste, sound producer, songwriter and studio engineer based in the United Kingdom.
Innocent started off his music career in 1999 with 'Igwe Society', a music group he co-founded with a childhood friend known as Decent. They released their biggest song titled 'Igwe', which became an anthem in the earlier 2000s. Igwe was a mega hit that crossed the boundaries of Sierra Leone. As a solo artist, Innocent has released countless number of hit songs.
Some of the major hits to his credit include 'De Yai Dae Watch', 'Gi Dem Notice' featuring Chema B, 'Apple of Me Eye' featuring Nega Don, 'Blessing Borbor' featuring Rahim D Wezard, 'DNA', 'Love Letter', 'Pray For Me', and more. In 2011, Innocent's song (Mama Salone) won the theme song for the 50th Independence Anniversary of Sierra Leone.
He is the founder and CEO of Money Making Machines (MMM), under which he has managed a couple of superstars like Sara D Great, M2, Coolest, Rahim D Wezard, Atical Foyoh and more. He was also part of the Noble Squad music crew, headed by rapper, YOK 7. He was a Founding member and the first President of the Eastern Artists Union (EAU) before he migrated to United Kingdom years back.
Innocent is well regarded for his social commentary songs, sweet rhyme schemes, melodies, and his versatility to do any genre of music, including rap, afropop, RnB, dancehall/raggae, tecno, etc.
Few years ago, he was honoured as member of the Order Of The Rokel for his outstanding contribution to music in Sierra Leone. He has several awards and recognitions to his credit, at both local and international levels.
On the 15th November 2019, Innocent celebrated 20 years (2 decades) in Sierra Leone music at the Hotel 5/10 in Kissy, Freetown. The entire music industry was in attendance to pay tribute to the living legend, whose latest song (Pray For Me) is currently number one on all playlists and music charts across the country.
Innocent sits in the #8 on the 20 Hottest Artistes in Sierra Leone 2021 for his tremendous work throughout the year. In 2021, the singer released a 13 track album 'Love Politics & Religion' which contained songs like Mumu, Chairman, Savage, Love Don Krase, Na Dem Go Taya, Oba Yanda, etc. Off the album, he released standard videos for 'God Nor Go Shame Us' and 'Full Package'. In March 2021, 'Pray For Me' hits 1 million views on YouTube.
Innocent was featured on Cool J's 'Prove Dem Wrong' and Abizzy's 'You Nor Know'. Songs that brought both musicians massive airplays in 2021.
On Saturday 27th November 2021, Innocent thrilled the crowd during ECOFEST 'Rejuvenation' at the National Stadium. The singer is presently in Sierra Leone working on some collaborations.
---
Famous – #7
Multitalented and prolific Singer, Fredrick Dapayee Peters who is popularly known as Famous is one of most revered Sierra Leonean musical talents who have consistently shown his propensity for crafting euphonious, classic songs since he came into limelight.
The Freetown based musical prodigy surges with a smooth flow of Afro-fusion magic with an awesome mix and blend of genres into Afrobeat, with his storytelling, a feel of his emotions and healing tunes to infuse hope and life into his listeners.
In 2021, Famous blessed us with his new "Winner" Album, a project whose lead single "Winner" has become a sensational and motivational rendition within and across the shores of Sierra Leone. Famous believes that "No matter your current situation, you just believe right now that you're a winner". Little wonders the First Lady, Fatima Bio did a Tik Tok Video on the song in recognition of the artistic efforts put into delivery of the song.
The CEO of Fame Entertainment of Fame Entertainment is arguably the most endorsed Sierra Leonean Artiste in 2021, with him grabbing 3 Ambassadorial deals in space of 3 months – They include Nectar Sierra Leone Bulk Terminal – NSBT, Africell Sierra Leone and Rokel Commercial Bank.
Performance wise, Famous has not been left off the hook. He was among the Sierra Leonean artistes selected to perform at EXPO 2020. Locally, he hasalso  graced several stages as well. It is not without note that Famous has a lively personality and dexterous attitude towards fashion and arts which gives him the edge to carve his niche. His love for fashionable clothing has won the hearts of many of his music lovers.
With more songs expected from his Winner Album, we hope Famous will not rest on his oars in delivery of infectious Afro-Pop tunes that resonates with times. Following an amazing year He's had so far, He sits on the #7 spot in the 20 Hottest Artistes in Sierra Leone 2021.
---
Boss La – #6
Alhaji Amadu Bah popularly known as 'LAJ' , 'King Boss' or 'Boss La' is a multi-award-winner and CEO of Red Flag Muzik whose breakthrough in the Sierra Leonean music industry came in 2009 after he released 'Money Na Bank'. The song which debuted on his first album, Talk Of Salone (TOS) was produced by Teteh under Cathouse Records.
Since then, Boss La has spent most of his time focused on recording hits songs, giving sold-out concerts, and providing a platform for young proteges to pursue their careers. With his robust online presence, Boss La also wields a strong backing in the Diaspora.
In 2010, Boss La released his second album titled 'Talk of Salone 2' (TOS2) before taking a break from the music industry. He returned to Sierra Leone in 2018 with 'Talk of Salone 3'  TOS 3 album which has hit songs like Thank God, Prison Break, Bomba featuring LXG, Get Up featuring Davido, Pre-Goodbye, and more.
The year 2021 has seen Boss La bless us with hit songs, tours, not forgetting controversies and many more that have seen him make the headlines consistently. In May, Boss La released the most controversial song of the year 'Complain' featuring Arkman, I-Tribe and Rap Gee which soon became an anthem among Sierra Leoneans.
Shortly after, He released 'Talk' featuring Double T from Gambia after spending few days at Criminal Investigation Department for alleged robbery and assault. Riding off the success of his previous controversial songs, Boss La went ahead to  release 'Noto So Bin Dae', a political song which compared and contrast the previous and present governments in Sierra Leone. The song was warmly welcomed and series of versions were created from it after He shared the instrumental for a challenge.
Like his previous releases, Boss La's new song 'Amen' is gradually becoming a favourite among music lovers across the country. To this effect, It's not bad to say 2021 was a good year for the RFM Rapper having released hits, made successful shows and toured nationwide. In November, Boss La joined P-Square, Rema, Eddy Kenzo, Guchi and other entertainers to thrill thousands of fans at the National Stadium during the ECOFEST 'Rejuvenation' 2021.  Boss La has also recently announced his upcoming National Stadium show which is expected to take place on 9th April, 2022.
Putting all these enviable efforts into consideration, it's no doubt that Boss La deserves his place as the #6 Hottest Artiste in Sierra Leone 2021.
---
Markmuday – #5
With his fusion of dancehall, reggae, Afro-beat, and pop, Markmuday emerged in the early part of the 2015 as one of Sierra Leone's leader of Afro-Dancehall music. The 2015 released 'Pepe Wata' proved to be his breakout track and paved the way for his full-length debut.  He also released 'How Ar Connect' in March 2016 to wide acclaim.
If you do not know Nelson Idrissa Kargbo, then his stage name Markmuday must have ringed a lot of bells except you're disconnected from the Sierra Leonean music hemisphere. Markmuday is known for his feel-good songs with simple intention of bringing people happiness & getting them on their feet to dance & forgetting their problems.
In 2017, Markmuday was signed to K.M.E alongside Rozzy, Blesz, Future K and Kracktwist & Samza. Hit songs like Kushe (with Rozzy), Kam Ya and Ormojuba and many more were released with KME All Stars but 2019 saw his exit from KME and kick-off of his own record label called 'Slim Nation'. His career at Slim Nation has seen more hits, endorsements, top notch collaborations and performances within and outside Sierra Leone.
Markmuday migrated to 2021 with more energy where he maintained his fanbase. It's so far been a good year for the singer as he continues to release hit songs like 'Scatter', 'Mironki', 'Make Am' featuring Kao Denero and Rap Gee, 'Shoko' featuring Samira, 'Freetown Jollof' featuring Nigerian producer, Masterkraft, 'Stress' featuring Tanzania sensational singer, Hamonize.
Mid 2021, Markmuday joined Drizilik and Jooel to Nigeria and recorded 'Problem' with Masterkraft. The song came with a standard video which was shot by Nigerian Director Ugly. 'Problem' became the first Sierra Leonean song to be played on Big Brother Naija. The song also became a hit in Sierra Leone.
Markmuday has also graced many stages in 2021. He was part of the team that travelled to Dubai for the EXPO 2020. The sensational singer also shutdown National Stadium with his electrifying performance at the ECOFEST 'Rejuvenation' 2021.  Putting all of these into consideration, we're excited to introduce you, Markmuday as the #5 among 20 Hottest Artistes in Sierra Leone 2021.
---
Kao Denero – #4
Amara Denis Turay popularly known as Kao Denero is one of Sierra Leone's most talented Afro Hip Hop artiste with so many hits, performances, awards and recognition to his belt.
Kao Denero is highly regarded because of his versatility in making hits across all genres of music. He is well known for splitting heavy bars with an awesome relatable storyline and a great deal of heavy lyrically lifting to the delight of his listeners.
From being a refugee from Sierra Leone to the United States of America to hitting the world through his music, Kao has had a spectacular career in his 20 years+ stint as a musical icon, winning many local and international awards and nominations. His first album, "Black Leo 4 Life" was released at a time when hip-hop music was difficult to be adopted in Sierra Leone. Despite all the disappointments and set-backs, he never stopped working on his music career. Rather, He has done countless projects such as "Stories From Freetown", "King of Freetown", "Freetown's Most Wanted", "Da New Beginning", "Da Blood Diamond Kid Story", "Back to My Roots", "Now or Never", "Kiss Da Throne", just to name a few of the classics from his diverse musical catalog.
Kao Denero is often described as the most consistent artiste in Sierra Leone with over 10 studio albums to his feathers; Producing back-to-back hit songs and sealing exclusive international collaborations with some of the biggest names in African and global music, such as Shabba Ranks, Sarkodie, Busy Signal, Runtown and many more. He also holds the record of being the fastest Sierra Leonean artiste to hit 1 million views on YouTube for his video with Runtown titled, "Green Gold." within the space of 3 months.
In 2021, Kao Denero gifted his fans with an EP titled "Chronicles" The EP contained hit songs like 'We Not The Same' featuring GPee and Lima Cruz. As the year elapsed, he also released songs like 'Apply You Sef' featuring Star Zee, 'So Fly' and 'Strasser'. On 12th March 2021, Kao Denero was appointed as Sierra Leone's Special Envoy for Entertainment and Investment by President Julius Maada Bio. He became the first Sierra Leonean Entertainer to be honoured with such position.
In the mid of 2021, Kao Denero shutdown Dubai with one of his most talked about show. He was also part of the team that travelled with President Bio and First Lady Fatima Bio to Dubai for EXPO 2020 where he did an exclusive performance. While in Dubai, Ambassador Kao Denero engaged with investors showcasing Sierra Leone entertainment. He thereafter flew to the United States and met with different stakeholders to invest in the entertainment industry.
Despite his national responsibilities, Kao Denero came back to Sierra Leone and entered the studio to introduce young Sierra Leonean rappers on 'Fityai Corner' Cypher. Following the success the cypher, he extended his network to bring more rappers onboard with a Continental Cypher featuring Lyrical Joe from Ghana, King B from Cameroon, Shadow Boxxer from Sierra Leone, and many others.
Kao Denero efforts was crowned with a nomination at the African Entertainment Awards USA (AEAUSA) in the category of "Best Hip Hop/Rap Artiste". He was nominated alongside Nasty C, Ice Prince, Sarkodie, Ko-C, Khaligraph Jones, Elow'n, Vector and Rosa Ree. Taking into account Kao Denero's successes in the year, the Black Leo rapper ultimately sits as the #4 Hottest Artistes in Sierra Leone 2021.
---
Star Zee – #3
Standing unchallenged as Sierra Leone's Hip-Hop and Dancehall queen, #SaloneHottest list will be uncompleted without a place for our own multi-award-winning and sensational musical prodigy, Linda Samai popularly known as Star Zee.
Star Zee started her career as part of a group, Ladies Day Out (L.D.O) which brought her to fame but She eventually left the group to go solo in 2003. Since going solo, She has been able to enter into a world full of men and have been able to stand her ground and keep her place.
Since the launch of her solo career, Star Zee has released 5 albums, the last of which is titled "Collabo." Likewise, she has been on tour to the United Kingdom, UAE, Australia and performs regularly with other artistes from her country and outside its shores. She has also earned endorsements deals with brands like, Africell, Orange and Befine. She also had a deal with MTN in Ghana whereas her songs were used as call back tune for MTN users.
In March 2021, Star Zee kicked off the year with her much anticipated single titled 'Life'. The official video which shot and directed by Michael Songa was premiered in July 2021. Afterwards, she has was enlisted by Kao Denero in a motivational piece tagged "Apply You Self". Star Zee's latest studio efforts has seen the release of  'Na By Fos' which has already taken over Sierra Leone musical hemisphere since its release in September. The song has also been remixed by several other artistes.
Star Zee's propensity to deliver electrifying performances despite her female gender saw her selected among the few musicians that travelled to Dubai for EXPO 2020 with President Julius Maada Bio and First Lady Fatima Bio. While in Dubai, the female Rapper was also invited to perform alongside Diamond Platinumz, Rema and other Africa artistes at the 'All Africa Festival'.
Over the years, Star Zee has consistently shown herself to be an outstanding and influential female musician with undeniable love and passion for the entertainment industry, with sole purpose of projecting the positive image of Sierra Leone. With several numbers of collaborations and hit singles from the queen still making waves country wide, Star Zee sits on the #3 spot among the 20 Hottest Artistes in Sierra Leone 2021.
---
Emmerson – #2
Sugar Emmerson!
Actor, Singer and Songwriter – Emmerson Bockarie is one of Sierra Leone's finest artiste and globally adored music superstar, who waves throughout Africa and the world, between his native Afro-life styled lyrics and classic Sierra Leonean tunes.
Emmerson leads in the transformation of music in Sierra Leone with almost two decades of being a major voice for social change. However, beyond his musical activism, Emmerson also comfortably delivers creative tunes that meditates on love, life and relationships, and weaves subtle melodies with airy R&B production in a cool yet refined manner.
Although Emmerson didn't give us an album in 2021, his hit single "No Stress Reloaded" has received more commercial success and wide acclaim than any other song in Sierra Leone this year, topping several musical charts on Radio, TV and digital platforms. Riding off the success of "No Stress", Emmerson, in no time returned to the studio and blessed us with "Maela", a beautiful love tune with great melody, vibes and lyrics that delivers feel good melodies in the mind of listeners.
Emmerson sits at the Boss table of Sugar Entertainment placing him among the richest musicians in Sierra Leone, arguably. Amidst social media conversations about this subject matter, Emmerson showed off his gold teeth to prove he is not on the same par with his contemporaries.
Speaking of competition, Emmerson outshone every other Sierra Leonean music artiste in 2021 becoming the only celebrity to tour the United Kingdom and United States preforming hits songs like Tutu Party, No stress, Telescope amongst others.
Nothing more can be used to describe a amazing year – hit songs, international deals & collaborations, tours and great successes like that which Emmerson has had! There needs no questions as to why the Sugar Entertainment Boss sits on the #2 spot among the Hottest Artiste in Sierra Leone 2021!
---
Drizilik – #1
Like an unexpected love affair, his voice and lyrical prowess broke out into the scene and breathed new life into our ears and in just a twinkle of an eye, he has solidify his position as one of the biggest mainstream acts in Sierra Leone and Africa!
Permit us to re introduce Sierra Leone's new school Afro-fusion rapper, Benjamin Menelik George stage named Drizilik, a talented musical sensation whose emergence into a fully blown limelight shows how much hard work and good music can take you to Stardom without stress.
It's been a long time coming and Drizilik is no newbie in the music industry. His breakthrough debut single "Pop Collar" was released late-2015 and became an instant hit across the streets of Freetown and soon after radio and clubs. His many music releases since then has continued to raise him up the bar, identifying him among new young West African musicians breaking new ground and cementing him amongst the most popular Sierra Leonean artistes, plus, won him many accolades along the way. His "Listeners Choice" nomination at the 2021 MTV Africa Music Awards (MAMAs) is further testament to this success and his growing reach worldwide.
Drizilik released his debut album "Shukubly" in December 2018. The ten track long-player was led by the hit single "Shukubly" featuring his longtime friend and music collaborator, DJ Rampage. The 'Shukubly' project went on to undeniably influence not only a new sound wave for his musician peers but also brought to light a whole new fashion trend amongst Sierra Leoneans around the country and the diaspora.
Quite remarkably the critically acclaimed album earned him a very impressive four wins at the National Entertainment Awards (NEA) 2019 – including Album of the Year, Best Afro HipHop Artiste of The Year, Male Artist Of The Year and Best Live Performer. That same year he went on to win the highly coveted "Sierra Leone Artiste Of The Year" at the All Works of Life (AWOL) Awards.
In 2021, Drizilik made a significant breakthrough when he left the shores of Sierra Leone for the development of his music career in Nigeria. Drizilik, Markmuday and Jooel were featured in a newly released hit song "PROBLEM" By Mastekraft. The Song hit the Big Brother Naija house on their Saturday night Party and was on several playlists across Africa.
Drizilik showed the success of 'Problem' is definitely no fluke as he proved himself once more in the release of "Exodus", a song where the new school rapper took his peace-seeking people to the Great Jericho in a grand style. The Masterkraft produced song is part of Drizilik highly anticipated "Ashobi" Album which is expected to released soon.
Drizilik is widely renowned for his captivating, electrifying and charismatic live performances and this was not an expectation in several events he has graced in the last 12 months including the "Africa Day" concert hosted on MTV Base. Both home and abroad, Drizilik has flourished and 2021 has also seen him grab several deals and endorsements including that with Orange Sierra Leone, Guinness and most recently, Mumini Fashion.
The hit songs, collaborations, album, mega deals and most importantly, the highly coveted MTV Africa Music Awards (MAMAs) recognition puts Drizilik above his contemporaries in the year 2021; And without any sense of delusions of grandeur, we introduce to you, DRIZILIK as #1 Hottest Artiste in Sierra Leone 2021. Congratulations!!!
Worthy Mentions
Here are some of the hottest artistes in Sierra Leone that didn't make the list but entertained us this year and deserve an honourable mention, in no particular order:
Arkman
Camouflage
Kaley Bag
Morris
I-Tribe
What do you think of our 20 Hottest Artistes in Sierra Leone 2021 list? Do you agree or otherwise? Let's know what you think and who your personal hottest artiste for the year is in Sierra Leone .