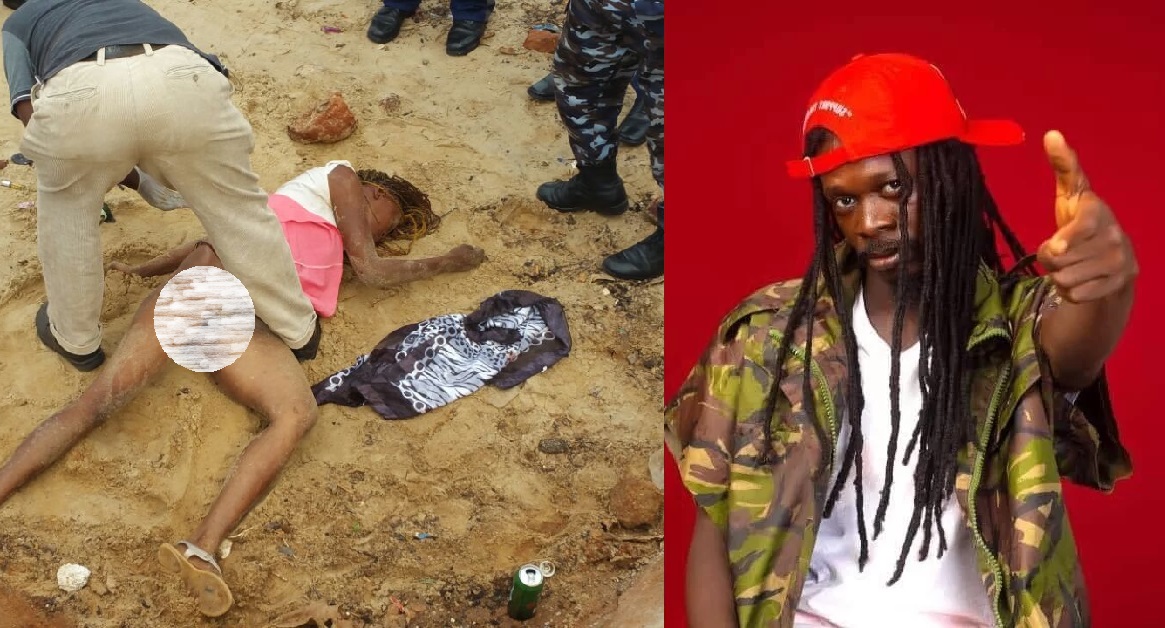 Rapper Coke N Gin Tells His Side of The Story After Spending 5 Years in Prison For Alleged Murder of Hannah Bockarie
Sierra Leonean rapper and a member of Red Flag Muzik (RFM), has finally explained the five years journey he went through at Pademba Road Prison.
The rapper was arrested on 12th August, 2015 for alleged murder of Hannah Bockarie at Aberdeen Beach in Freetown. The scene happened closer to the bar of the rapper.
His case was fought by the management of Red Flag Muzik, Boss LA, Rappish and Nino Brown and Alpha Bah Esq. The rapper was released from Pademba Road Prison on 5th November, 2020.
Since his release, the rapper has finally explained the difficulties, disappointment, frustration, challenges and other things he went through during his time in prison on his Facebook post.
"August 12 2015, at exactly 11:17, am I was arrested and taken at the Aberdeen Police Station for a crime I did not know of!
I was sleeping at my Beach bar called "Candy Shop" across the street by family kingdom. I was sleeping when one of my employees woke me up telling me that, there is a dead body on the beach with its legs wide open with sand stuffed in its mouth.
I said "what"? I Got up, get myself some pants went outside. I stood in front of my Bar and within few seconds, one of the police officers walked straight to me asked me if I could please take a look at the deceased and see if could identity it. We crossed over the street I took a good look at the dead body and told him no I've didn't know her. The officer nod his head and said "ok".
The crime scene was packed with people because at the time plenty of folks were out on the beach doing different exercises. Most of them were taking photos of the deceased I had to stop them. The crime officer asked to see if could get something so he could cover the body. I screamed at my employee the one that woke me up with the terrible news to go get my bedsheets. He did and the officer used it to cover the body.
This very officer borrowed my cellphone and called for the police van. When the van arrived I helped him to put the corpse inside the van. After doing that, this crime officer asked me again to accompany him to the station. I said, "wait what for"? I told him I'm not going anywhere. He said no my brother not that if get to the station I will detain you. Why would I do that? I still insist that I'll not move an inch to go anywhere. The guy that woke me up and who also happened to be my employee said "boss go wit am you don begin help am already"
I look at him and shakes my head I have no option but to go with him. I knew I am not a killer. A proud father of three beautiful children. So I went with them to the Aberdeen police station. When we arrived at the police station, the officers there asked me to make a statement and I told him No
Why should I make a statement? We had a long argument in regards to that. Before I could remember they've confiscated my cellphone. Leaving me unable to make a call or send a text message to my family members to inform them about my current state of affairs.
On that very day, I was transferred to Congo Cross Police Station where I spent 15 days in a cell with deplorable treatments. 15 days they not a single one of the officers ask me to make a statement. One junior officer who recognized me phone my junior brother to come down at the station. The kid went there but was not allowed to talk to me nor did the officer in charge of the case bother to give him an audience.
I was finally dragged to CID headquarters where I was absurdly charged with loitering with Intent. WTF does that suppose to mean when you asked someone to accompany you to the prescient on broad daylight only to charge him later with loitering?
I spent almost four months at the CID headquarters. They kept asking inhumane questions. Mind you at this point all my business has gone to square one. Unknown people invaded my establishment and looted everything. My family couldn't take a dime from my shop everything went down the drains.
In holding at the CID, the officers there was mountain pressure on me to confess to the crime I kept telling them I'm innocent, my hands are purely clean and I admit to something I didn't do. You should have seen me I couldn't even speak louder because of harsh conditions.
My family hired me a lawyer likewise my record label also did the same thing. Both lawyers requested bail twice and twice they were denied. It took the CID people 14 days to charge the case to court.
During that time, I was traumatized I started to lose all hope. Different questions running in my head. Is this how a thorough investigation is done? Is this what they called justice? Why me? What have I done to deserve this? How are my children coping? If I was not strong I would have lost my mind.
God bless my junior brother. That kid was always with me sometimes he sleeps outsides the CID office. In the morning he makes sure am safe. Brought me food before he jets home to bath and comes back.
When they finally charged the case to the court of law, everything starts afresh. I made my first appearance at Magistrate Court No1 at that time Justice Komba Kamanda was the Magistrate. There is was fallaciously charged with murder. When earlier at the CID is was charged for "loitering with intent". Just close your eyes for a second and imagine how ridiculous such a justices system is.
Fast forward my first appearance I was thrown at Pademba Correctional Facility without cross-examining my case. They only called my name and signal the court bailiff to place me where those who'll be sent to Pademba are placed. I was shocked I didn't know how the court system works. I didn't have any clue about what is happening.
I was thrown in Pademba. Day after day, year after year. Imagine having no space to call your own, no choice over who to be with, what to eat, or where to go. You got separated from your family and friends. I can't even put in words how it felt like.
So I spent two months in Pademba before my case was called upon again at the Magistrate Court by then, my two lawyers were with me they kept in touch with me whiles I was locked up. I also gained another lawyer by the of IP Mamie. He joined my legal team without taking a Leones from my people. With him on board, the court started to call my case every Monday.
I appeared for more than one year at the magistrate court no1 with Magistrate Komba kamanda. In the process, he was promoted to High Court judge. So I had to wait for three months because they couldn't find a replacement for his previous court where my case file is.
I spent years with Magistrate Binneh but he had to take a break but the new lawyer that came to my rescue who goes by the name of IP Mamie, was with me to the final minute. He requested bail again and again bail was denied.
I was depressed but through all that I know God will not let me die inside a prison, I refused to give up. Fast forward again after all trials at the Magistrate Court they finally send the case to the High Court where I have to face jurors who sometimes did show up and sometimes didn't.
This circus from the jurors went for months. Finally, they took a sample of my blood and sperm for forensics to run. When the results came out, they were was negative. I didn't even touch the cops or neither have any sexual intercourse with the deceased. When they read these results to the Court, I thought the storm was finally over but they once again refused to grant me bail.
Allah Knows I was innocent despite all the little stories been circulated on social media which were nothing but cooked up stories by some so-called Social media Activists. The court was closed for one month and I have wait again at the Pademba road for the court to resume which was so tiring. Sometimes I will be weeks without food.
By and large, I became popular among the inmates. I met guys who have taken 6 to 10 years in prison without knowing what they've been charged with.
My team didn't back down they kept doing what they do just to have me released. My family was depressed beyond imagination. I still didn't give up though it was challenging. I remember at one time I sent a text message to my kid brother Abdul Barrat.
The message goes like this (BARRAT you way na me small wan if u gains for waka na court if ah die insai jail ah nr dae leff hackeh gee you do waytin you able make ah get me freedom back) By then he was in Ghana trying to relocate overseas but the minute he received my SMS with few days he returned to SL.
Immediately he arrived he booked an appointment and visited me. He told me he will do his best to get me, new lawyers. During that time this kid had already met with folks, I didn't even know just to help pave a way so I can get my life back. The likes of Atis Bah, Rappish Bah, Nini Brown and KingLa I owe these folks my life after my brother Barrat.
I can still remember when it was all coming to an end but unknowingly to me. I told Barrat "if I spent another year in this place I will die," he said be patient we've come a long way. He then gave me his jacket and said "take this with you this week will be your week of freedom".You won't believe it straight four days they were seating my case with new jurors. Finally, they read my files I was charged from Congo Cross Police Station to CID for "loitering with intent" but at the CID I was charged with "Murder"
November 5th I was Released at the High Court Of Sierra Leone Acquitted and Discharged. August 12 is not a Good day at all but all the same, I had no grudge for anyone. I pray for justice to prevail one day for Hannah Bockarie may the killer be found and brought to justice
#RestinPeaceHannahBockarie
#Justice4Hannahbockarie"