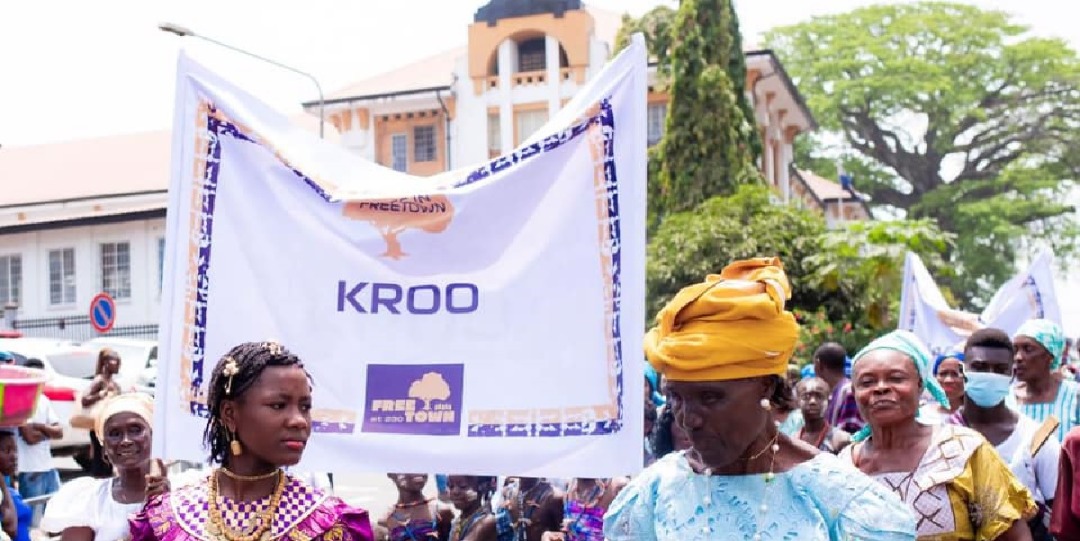 Freetown at 230 Years Celebration Parade Captures The Uniqueness of The Kroo People
The Freetown City Council celebration of the Capital, Freetown at 230 years parade has captured the uniqueness of the Kroo People in Freetown.
The Final event of the Freetown 230 years Anniversary Celebration was a grand Parade! The Freetown City Council was honored to have Monrovia Mayor Jefferson Koijee, Kanifining Deputy Mayor Bintah Janneh Hallow and a delegation from Rotary Fishers Indianapolis. They were also joined along the route by special Advisor to the president Dr Raymond De Souza George and Western Area Region Minister Mdme Nabeela Tunis
According to Sierra Leone notable historian Joe A.D Alie, the Kroo People began to arrive in Sierra Leone  from Liberia shortly after the Sierra Leone Colony was founded in 1787. The early groups were temporary migrants who stayed for a while to make money. Gradually many Kru Settled Permanently, in the West-end of Freetown. Many Kru have been absorbed into the Krio Community.
The Kroo/Krus are very affable, accommodating and peaceful group of people who were among the early settlers of the Province of Freedom, Freetown Today there are over 50,000 descendants of the Kroo People across Sierra Leone!
They weren't slaves but sea men who came from Liberia in the 1700s to settle along the Rivers Brook Area called Krootown Road.
There have been prominent educationists, accountants, lawyers, broadcasters; Service Men (Soldiers, Police and Prison Officers) and footballers. In fact, in the football history of Sierra Leone, there was a time the when the Sierra Leone National Football Team was dominated by Kroo Men.