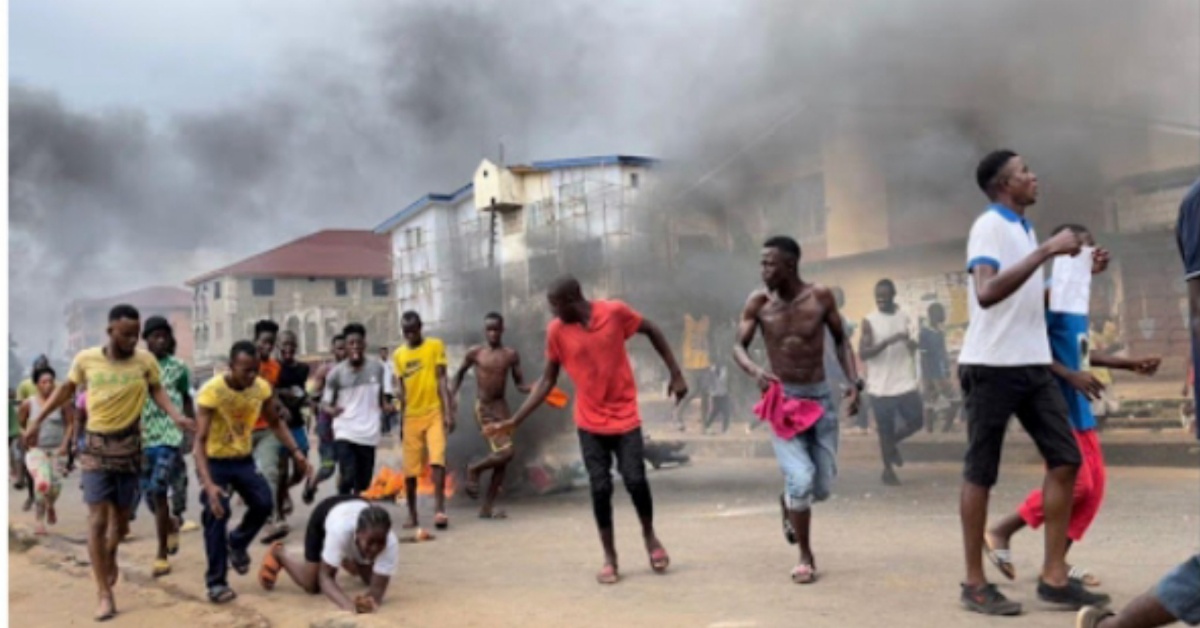 The Indelible Scars of August 10 in Sierra Leone
Every early in the morning, 16-year-old Kadiatu used to dash to a nearby stream located on a steep hill, from her Blackhall Road Kissy home, to fetch water for her mother so she could prepare food and bathe her younger siblings.
On the 10th of August, she did not get up early to run to the stream as the rains have been a blessing to her multiple trips with jerrycans and buckets to the brook.
She went to fetch water that morning at around 9 and had just returned to her Blackhall Road, Kissy home when she heard a commotion outside as crowds of men and women poured out into the street that morning.
The 16-year-old, who had just visited the lavatory, stood on the veranda of her 61-year-old namesake neighbour's hilly compound to catch a glimpse of what exactly was unfolding.
After a few minutes, shots echoed and within split seconds, young Kadiatu fell on her neighbour's chest with blood oozing from her left breast. A bullet pierced through her left chest and went through her back.
The elderly lady screamed and called for help from Kadiatu's mother, Mariatu Sesay, and other neighbours to help them as she too was suffering from a gunshot wound just above her belly.
Frantic efforts were made to save the life of the Form three pupil of the Government Municipal Secondary School as she was taken to a nurse that lives at the back of their home but it was too late as she had already taken her last breath upon arrival.
This is the fate of a young girl who innocently lost her life in the August 10th incident that occurred in the east of Freetown, North and North-West of Sierra Leone as narrated by her elder brother, Mohamed Kabia, and mother, Mariatu.
"Kadiatu was a vibrant and obedient child who always like to help other people. Upon finishing her secondary education, she wanted to study nursing," Kabia laments while the mother stood adjacent to her with eyes soaked with tears.
Kadiatu was the second of six children of Mariatu who sells seasonings at Bombay Street Market, about 2 kilometres from their home located on a steep hill on Black Hall Road, Kissy, east of the capital Freetown.
The mother said her daughter used to help her hawk the seasonings at the Bombay market on weekends and that at times after returning home from school in the afternoon. She added that the girl loved to look after her younger brother and two sisters.
"I just want them to release the corpse of my daughter so that we can give her a dignified burial because she was a lovable girl," Mariatu lamented while using her garb to wipe off the tears running down her cheeks. She added that she will be grieving her daughter's loss for years to come because of her calmness, ambition, and humility.
The body of Kadiatu and several others that were killed on the 10th of August remain at the central morgue, awaiting government order for their release.
Six security personnel including Superintendent Osman Fofanah who had served the Sierra Leone Police for 20 years, Sergeant Desmond Hanciles and Constable Abu Bakarr Turay, and three others also lost their lives while on duty on that very day.
In fact, a gruesome video on social media showed angry youths mobbing a police officer from the Operational Support Division (OSD) Unit. Moments later photos showed the same police officer stripped halfway, and dead.
Another video also showed youths thumping another police officer with stones and tires. He also lost his life.
The police also claimed that some of its personnel suffered gunshot wounds from 'irate youths'.
Hours later, the Vice-President, Dr. Mohamed Juldeh Jalloh announced the imposition of a curfew.
Acting on behalf of President Julius Maada Bio who was away, on a medical trip, he promised to restore calm and ordered the security forces to institute full security measures to curb the violence.
The Military Aid to Civil Power (MAC-P) was invoked due to the tense atmosphere in the violence-affected areas.
President Bio then cut short his London trip, returned home, and later made an address to the nation on the State Broadcaster. He promised to institute calm and described the violence as an act of terrorism', and blamed opposition politicians. He promised to bring to justice all those involved in the carnage.
The president described the incident that day as domestic terrorism and a direct attempt to illegally remove him from power. He blamed politicians of using youths to carry out their bidding to bring chaos to a nation as peaceful as Sierra Leone.
The Chairman of the Interim Committee of the main opposition All People's Congress (APC) party, Alfred Peter Conteh dissociated his party from the violence. He, however, did not deny that there might be a faction within his party that could be responsible for the violence on the said day.
Several people, however, are of the belief that the source of the violence might have come from The Netherlands-based Sierra Leonean social media commentator called Abdul Will Kamara alias Adebayor.
But would the government through Interpol be able to extradite him to Sierra Leone as investigations gather pace over the grim events of that day as demanded by many who feel his messages on social media could have fanned the flames of anger leading the irate population to the streets?
Several nomenclatures have been attributed to the incident that occurred on the 10th of August this year. Proponents call it a protest and demonstration against the rising cost of living and suppression of free speech in the country. People opposed to the violent protests called it a riot, a terrorist activity that was bent on removing the democratically elected administration of President Bio.
Be what one may decide to refer to it, the bottom line is that many lives were lost with official figures stating 25 of both civilian and police causalities. Many writers and other journalists allude to the fact that this is one of the deadliest violent occurrences Sierra Leone has witnessed since its decade interregnum in the 90s and early 2000s.
The aftermath of August 10 revealed the stark reality of the scale of destruction that included several police stations that were pillaged and burnt.
Two Police Posts and Offices of the National Commission for Social Action (NaCSA) and the Ministry of Lands at Waterloo were targeted by the so-called protesters.
133 people suspected to have been part of the protests in Lungi, Magburaka, Makeni, and Freetown have been released for lack of evidence according to police sources.
A Committee led by a lawyer, civil society activist, and media proprietor, Emmanuel Saffa Abdulai has already been established to investigate the incident. Although the mandate of the committee is yet to be made public, that is an encouraging news, however, this will not bring back young Kadiatu and others that were killed, some by stray bullets, on that day. A day that brought back memories of the nation's decade-long civil war that left the country in tatters with over 50 thousand dead and infrastructures in shambles.
The dynamics of this protest have left that erring feeling that a peaceful state can easily be plunged into an abyss of hate and violence in a blink. Many are yet to pick their mouths from the ground seeing the reality when it unfolded.
The resolution made in 2002 by Sierra Leoneans for lasting peace was threatened this month and instilled fear of the recurrence of war, especially with elections around the corner.
The six police officers killed have been given State burial as the nation is slowly coming to terms with the horrific events of August 10.