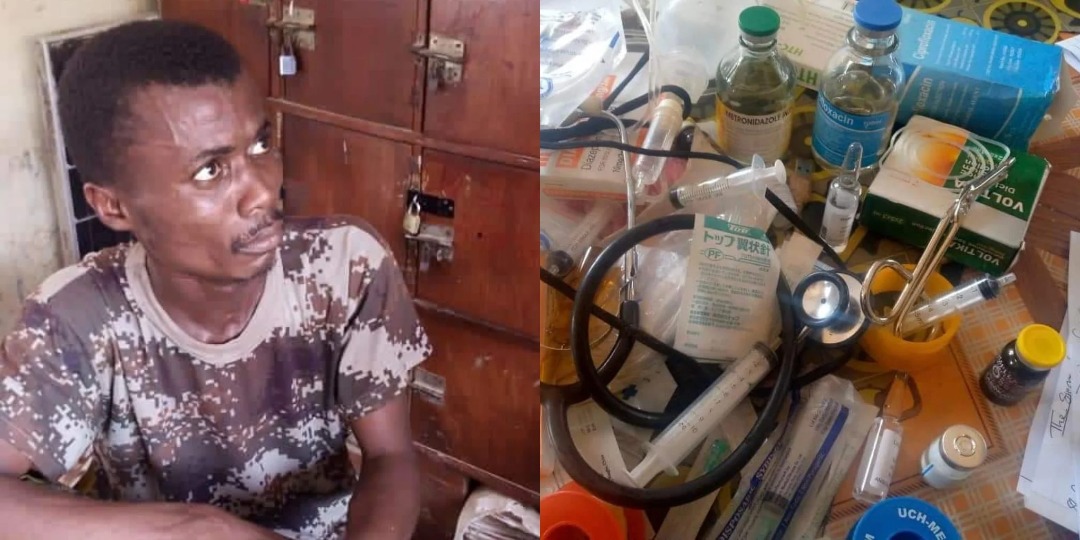 Alleged Doctor in Custody After leaving Married Couple Unconscious, Stealing From Them
A man claiming to be a medical doctor has on last week Wednesday been arrested by Police in Bo, Southern Sierra Leone, after he injected intravenous fluids into a married couple, leaving them unconscious and then stealing from them.
TV-News 24 conducted an investigative report on the said matter.
According to TV-News 24, after administering the fluids via intravenous drip into Michael Demby and Zainab Demby, the husband and wife respectively, the man then stole the couple's money, and other items worth millions in local currency.
An intravenous drip or 'Drip' for short, is used as a medical device to administer fluids into the veins of people – drop by drop – through an IV route.
"The accused, Ibrahim Young Fefegula, therefore, is being held in police custody for alleged larceny of Le1.5M ($150), and a Tecno model cellphone – as investigations continue", police say.
Police however didn't say for what medical condition(s) that Fefegula was allegedly treating the husband and wife for.
Fefegula is from Wilberforce barracks – a military barracks area in the capital Freetown that houses a renowned military hospital.
TV-News24 reported that Fefegula told police that he's a medical doctor and was working with two other medical doctors, Young and King.
They added that, it was from those two doctors that he acquired some basic medical knowledge that he to earn a living.
TV-News 24 reported that police are yet to disprove what Fefegula reportedly told them about his medical knowledge, noting that his reported dealings with the two named doctors is false.
Police say Fefegula was apprehended by locals in the country's second city the same day that he was alleged to have injected the married couple with IV fluids.
They then handed him over to police, where he's currently being held along with the medical equipment used, serving as evidence.