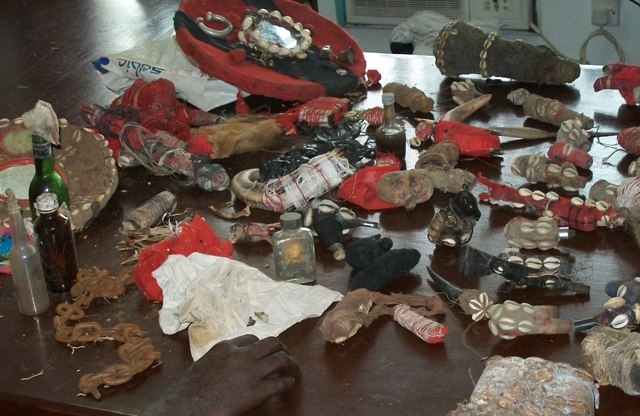 Alleged Witch Dies at Lumbara Village
The Head of the Seru Las Rare Traditional Healers Organization, Mohamed Lamarana Bah has revealed that the accused, a 50-year-old woman, of a witch case he was called to screen at the Lumbara Village in the Northern part of Sierra Leone has died as a result of the curse she placed on herself just to prove her innocence.
According to Awoko, the incident which occurred in November-December, 2021, brought fear and suspicion among inhabitants in the Lumbara Village, when the traditional healer was invited on 24th November, 2021, to screen the truth of the matter.
The Traditional Healer revealed that a witch pot containing some witch charms was discovered under the sleeping bed of a woman and her husband.  According to the Juju-man, the woman and her husband denied the accusation and refused to be molested as they were ready to swear to prove their innocence. The traditional healer added that in the process of screening, a nine years old girl revealed that she had seen few witches including the woman who denied the accusation, in a nearby stream involving in a witch and harmful practices.
He furthered that before the accusation and confession, the family members of the woman had already gone to different Juju-men in other villages, seeking for the truth on the matter. But where ever they went, they were told that the woman always carries her husband's face when going to her witch activities.
He said that since the woman had agreed to swear in order to prove her innocence, some loaf of bread were pounded in a wooden mortar and those parties involved in the accusation and non-parties were given a portion to eat, whilst repeating that whosoever was involved in Witch activities should be affected and disgraced openly in the Village.
Few days after that day, the 24th November, 2021, the accused woman just got up one day and decides to isolating herself from everyone which lead her into drinking alcohol and smoking Kush, because of the molestation and confessions made against her. According to the stakeholders in the village, this woman had never done that before in the Lumbara Village ever since she was born.
The Traditional Healer said after his ceremony of incantation, he noted that the woman accused of being a witch did not die on the spot, but the harmful drugs already taken for the first time, led her to vomit blood continuously from Tuesday 10pm to 10am the next day and later died with stigma in the Village. These were the suspicion and belief of the people in the village he added.