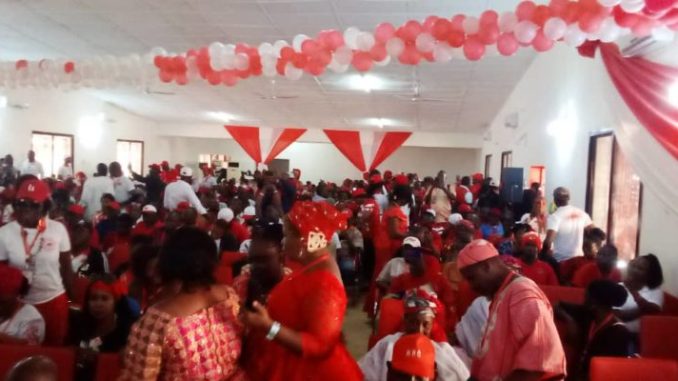 APC's Tiff Land Case Decided by The Courts After 21 Years Delay… Justice Denied!!!!
Her name is Aminata Conteh not have gone to school, she decided in her early years to put her life into use and find a means of earnings as preparations for the future.
She chose cookery selling and for good commerce she chose a strategic location where she believed she will make good money.
As Percival Street in the west end of Freetown stands at a place where offices abound, she chose Percival Street as the place to pitch her tent.
Over the years she proved herself right because business grew rapidly. From selling just a half bag of cooked rice in those early days, her business was to boom to five bags a day. As business grew, she was to think of buying a parcel of land where she could build a house for her and her family.
As luck would have it, a man called Arthur Boston was to offer to sell her a piece of land at Pultney Street, a street lying parallel to Percival Street and next to it on the east side.
The deal was struck, and the conveyances were signed, sealed, and delivered.
To show ownership to her piece of land, which was evidence of her hard work, she built makeshift structures on it for dwelling and with a small restaurant to where she transferred her cookery business.
Things were going fine for her until one day out of the blue people from the All Peoples Congress party came and laid claims to her land.
The matter went to court, and she won. Strangely one of the lawyers of the APC Party came back and by force removed all Aminata Conteh's family members including her husband from the place with this happening whilst she was on pilgrimage to the holy city of Mecca. The lawyers strangely told her that because the APC party didn't pay him, he was holding on to the land until he is paid.
Her husband was to die from the shock.
For her, hit was only when she was at Freetown International Airport, Lungi, on her return from Mecca that she was told she had nowhere to go. Those who went to illegally evict her family from her own bona fide property, stole all they had including drums of palm oil and all her cooking equipment.
The case went back to court, and she won.
APC appealed and lost and strangely, the matter that had been decided at Supreme Court level was brought back to the Magistrate level. And there she lost. She appealed.
For like 10 years after that appeal, the Judiciary of Sierra Leone left her case to gather dust with no answer until 16th March 2022 when 3 Appellate Judges, Justices Deen Tarawallie, Komba Kamanda and Musu Kamara, decided that Haja Aminata Conteh has no ground to stand in that case and awarded cost to the PAC of Le40M which Haja Aminata Conteh is expected to pay to the APC even though she can't even afford 2 square meals a day.
What a wicked world!!! Haja Aminata Conteh, an old and frail lady now, no longer has the strength to fight on but The Almighty God Who is The Greater Judge will judge all those who chose to deny her justice. God be her Helper.