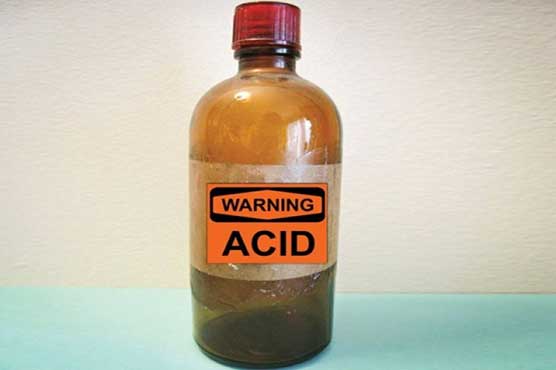 Ex-Husband Sprays Liquid on Former Wife's Face and Flees
Sierra Leone, Kenema – 29 year old Mamie Sonia of Bendu Town in Malegohun chiefdom, Kenama district is currently admitted to the eye department at the government hospital in Kenama.
It is alleged either acid or caustic soda was sprayed on her face by her ex-husband, John Saffa and his friend, Momoh Vajay.
She explained that she was at home when a boy went and told her that, Momoh is at the waterside supervising his workers and he wants to talk to her after which she will return to the town. She went to the bridge, there she met Momoh Saffa and his friend, Vajay. Vajay allegedly held her hands and passed them behind her back, then John Saffa alleged sprayed the content of a plastic container on her face. Both of them grabbed her and threw her over the rail of the bridge into the Menie river. It was around 8pm when they did the act on her.
John Saffa, she explained is her ex-husband who divorced her on the pretext that she is unable to bear a child for him, and it is now five years since they divorced.
She further explained that the whole incident started when the father of John Momoh went to her house and invited her to visit his house. Mamie said she told him that she was busy cooking and will instead go to him after she finishes her cooking.
"After I finished cooking I did not go to him but went to the center of the town. But upon my return, I met him at my residence waiting for me. He grabbed my hand saying that I must go with him. Upon arrival at his residence, I met my ex-husband, John Saffa and his friend, Vajay. I had wanted to return to my house but his father persuaded me to sit down.
Upon doing so, my ex-husband bowed before me and held my foot asking me to forgive him, as he got eye problem with one of his eyes. I called for water and prayed on it, and sent it on his eyes"
"They went away, and after a month they returned to me with such evil plan to kill me. I was struggling in the river when God helped me hang on to a rope. I heard the sound of a motor bike passing and I shouted, he stopped and made sure that it is a human being in the river. He rushed to the town and alarmed the authorities, they rushed to scene and rescued me. I narrated the ordeal and perpetrators were nowhere to be seen. My ex-husband was later arrested on the border with Liberia trying to cross into Liberia. Police are investigating the incident.