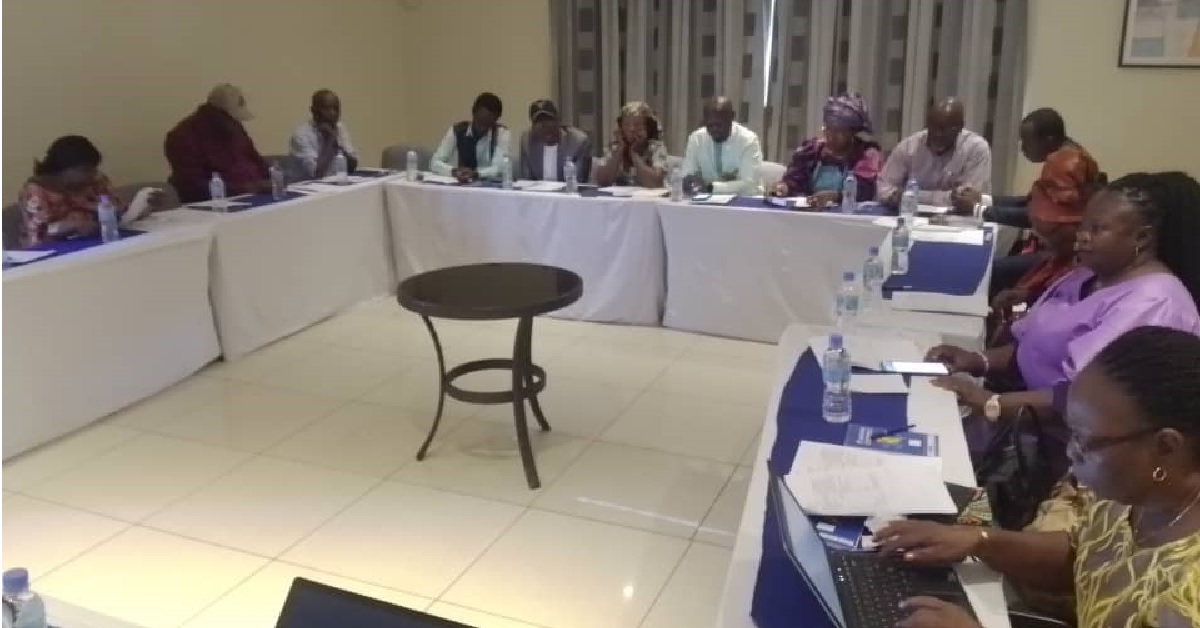 FAHP Engages MP's on Female Genital Mutilation
The Forum Against Harmful Practices (FAHP) has engaged Members of Parliament (MP's) and Paramount Chief Members of Parliament (PCMP's) on the dangers associated with Female Genital Mutilation (FGM) ahead of the 2023 general elections.
The engagement took place on Monday 14 November 2022 at the Brookfields Hotel in Freetown.
Giving an overview in the context of Sierra Leone, the FAHP Deputy Chairperson, Madam Hannah Yambasu, said based on the absence of an approved National Policy/Law on the abandonment of FGM and data on fatalities, Sierra Leone is one of 28 countries in Africa where FGM is known to be practiced.
She informed MP's that FGM is regularly performed in Sierra Leone, adding that the reason FGM is common in Sierra Leone 'is because FGM is practiced in a secret society called the Bondo secret society'.
According to the 2019 Demographic Health Survey, 83 per cent of women age 15-49 have undergone FGM, a decrease from 90 per cent in 2013. She said there is practically no demonstrated government commitment to ending FGM in Sierra Leone.
She went further that the country's legal framework has no clear stance on FGM, thus increasing the vulnerability level of women and girls. Madam Yambasu pointed out that the Ministry of Gender and Children's Affairs has, however, reviewed the Child Right Act with a provision that will prohibit the cutting of girls under 18.
She maintained that while this is a good move in the legal framework, FAHP believes and upholds the view that the "Age of Consent" is not political will necessary for abandoning the practice but to rather delay the process, noting that FGM is not a respecter of age. The Deputy Chairperson stated that FGM is traumatic and the consequences remain the same or if not even worse at age 18 and above.
Yambasu said as recently as 20 December 2021, 21-year-old Maseray Sei lost her life at Nyandehun Village, Imperri Chiefdom in Bonthe District after going through an FGM procedure leaving behind two young children of 4 years and six months old respectively. Autopsy result shows that her death was as a result of haemorrhage due to clitorectomy.
Similarly, she maintained that on 18 December 2018, another sad event took place at Matetie Village in the Gaindema Section of Yoni Mamaila Chiefdom in Tonkolili District where 10-year-old Marie Kamara also lost her life under similar conditions.
She said the police had to remove three other girls between the ages of 10 and 11 from the Bondo Bush including Marie Kamara's corpse. Also in 2017, one Fatmata Turay, 19, died after initiation in Makeni.
Speaking on FGM and politics, Madam Salamatu Kamara said the absence of a national law on zero tolerance is creating a scope for politicians and other duty bearers who ought to protect vulnerable girls/women to pay/support for the initiation of girls as a campaign tool to garner support from parents, women and young girls during national and local council elections as well as chieftaincy elections.
Madam Kamara said there is in existence a National Strategy on the Reduction of FGM that was developed in 2015, adding that the strategy was never approved regardless of the national consultations made and engagements with the previous government of Sierra Leone.
She said a series of engagements were also made with the line Ministries of Gender and Children's Affairs, Ministry of Public and Political Affairs, Ministry of Social Welfare, Ministry of Education, Ministry of Local Government and Internal Affairs of the current government to influence the review approval of the strategy, but results are up in the air.
Madam Kamara explained to MP's that the strategy was meant to enhance government's commitment in the fight against FGM based on the country's objectives, including to sensitise Members of Parliament about the prevalence and practice of FGM/C in Sierra Leone.
She also briefed MP's on their obligation to protect the human rights of women and girls in Sierra Leone, to increase mutual understanding within the leadership of Parliament and foster political will for cooperation towards eliminating FGM/C.
She said the strategy's objective is to encourage MP's to give oversight on state policies on FGM/C by asking pertinent questions to the relevant ministers on the enactment of legislation on the fight to end FGM/C and advocate for MP's not to use FGM/C as a campaign tool during the 2023 elections and beyond.
Madam Salamatu Kamara said the engagement's expected outcome is for MP's to be aware of the prevalence of FGM/C in Sierra Leone and commit to work towards initiating a conversation on the review and approval of the National Strategy for the Reduction of FGM/C.
The engagement is also aimed at informing the Anti FGM Committee in Parliament about their commitment to share the outcome of this engagement with their colleagues.
'It is also for MP's to have consent to support FAHP during communication/sensitisation activities in their communities for the abandonment of FGM/C as well as MPs' commitment not to use FGM/C as a campaign tool during elections,' she added.
She maintained that FAHP will continue to advocate ending FGM in the country at a high level with policymakers, community engagements and media representatives.
She stated that at community level since 2020, FAHP with financial support from Irish Aid, has established, trained and supported anti FGM husbands clubs, anti FGM school clubs, and community awareness-raising initiatives involving young people to advocate and end FGM in Kenema, Port Loko, Moyamba, Tonkolili, Kambia and Bombali districts.
She intimated that FAHP held a dialogue session with Members of Parliament on how to discourage politicians and other duty bearers not to support/finance the initiation or circumcision of women and girls during the electioneering period, adding that it is also a FAHP follow-up with MP's on the approval and implementation of the National Strategy for the Reduction of FGM in Sierra Leone. She said FAHP believes that Parliamentarians have the right tools to protect women and girls in Sierra Leone and thus they need to use them.
The Secretary of FAHP, Madam Aminata Koroma, giving a background of FGM and how the World Health Organisation spoke about the dangers associated with FGM/C, said Sierra Leone is a signatory to international and regional conventions and treaties relating to FGM that mandate government to take measures to eliminate the practice.
She furthered that all of these conventions place the government of Sierra Leone under high obligation to safeguard girls' and women's human rights and protect their health, but there is currently no national legislation in Sierra Leone that expressly criminalises and punishes the practice of FGM.
Members of Parliament who attended the engagement including Hon Wuyata Songa, Hon Abdul Karim Kamara, Hon Kasigbama, Hon Lolloh Tongi, Hon Mohamed Kanneh, Hon Hindolo Sandy, Hon Rosy Kanu, Hon Alusine Alu Conteh, Hon Kadie Davies and many others made commitment to collaborate with FAHP to push for the end of FGM in Sierra Leone.
They also appealed to FAHP to continue the community and stakeholder engagements that create awareness on the dangers of FGM.
MP's also said FAHP should also dialogue with leaders of political parties for them to factor FGM issue in their political parties' manifestos.
Many made salient statements on ending FGM in Sierra Leone.