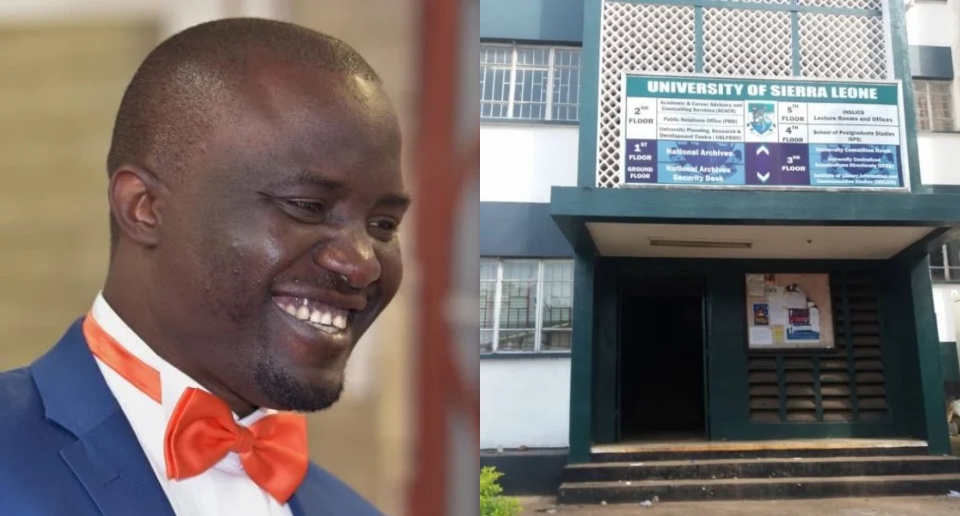 Dr Idriss Lahai Calls For Review of Processes And Guidelines Used to Award PhDs at USL
Sierra Leone's Fake Degree Whistle Blower, Dr John Idriss Lahai has disclosed that there is a massive cover up going on by the University Administration of the University of Sierra Leone with regards the awarding of PhD degrees, calling on the University Senate to review the processes and Guidelines used to award Phds at the USL.
"I am calling on the University Senate of the University of Sierra Leone to review all relevant systems, processes, and guidelines regulating the award of Ph.D. Degrees.
There is a massive cover-up by the FBC Administration. The Ph.D. Degrees awarded within the last ten years should be reassessed. The review process should focus on the following:
1. Plagiarism checks: About 70 percent of the accepted dissertations will fail plagiarism checks (through TurnItIn). Permanent solution: The Senate should also invest in anti-plagiarism software programs. Examples include Grammarly Business (annual subscription is about US$3000 for large institutions), Turnitin (yearly subscription is about US$5000 for universities), and UniCheck (get their annual subscription quote by clicking here https://unicheck.com/education-request).
2. Evidence that the doctoral Ph.D. Dissertations made original and significant contributions to knowledge in their respective research fields.
3. The background of the supervisors: There have been instances where Ph.D. Students were supervisors by MPhil degree holders; there have been instances where these supervisors are NOT experts in the fields they supervise. For example, a Political Science Ph.D. dissertation at FBC was supervised by someone who is not a political scientist. The University Administration knew about it but decided to "play politics" to silence the critical minds within the Academic Staff Association (ASA) who protested. Moreover, these supervisors have no relevant scholarly publications (one of the key benchmarks used to measure the expertise of academics). Yet they were allowed to supervise Ph.D. Dissertations within and outside these fields, where they are not considered experts in research and knowledge production.
4. The composition of the dissertation defense committees: It is unethical for supervisors to influence the selection of their students' thesis defense committee members. It is equally dishonest, if not criminal, for the supervisors to answer questions on behalf of their students during the defense sessions. But this is common within the University of Sierra Leone.
5. The timeline from defense to graduation: Fourah Bay College accepted Ph.D. dissertations (attending to those approved within the last ten years) without recommending any revisions or corrections. In fact, in December 2020/2021, some students defended their Ph.D. Dissertations on a Monday and graduated on a Saturday—this is a timeline of 5 days. This practice is against academic excellence; it is an insult to the very meaning of a doctor of philosophy. The University Senate should recall these dissertations, and a new review panel should be constituted to re-examine them. I have read a few of these dissertations, and their standards were, at best, Secondary School Standard essays.
6. Instances of bribery: Where the University Senate discovers bribery cases – i.e., students paying bribes or offering other favors to their supervisors (which is not uncommon), the University Senate should refer the matter to the Anti-Corruption Commission for further investigations and prosecution; if found guilty, the degree should be withdrawn, and the student and the supervisor jailed; with the convicted supervisors losing their lecturing licenses or rights to be employed by other educational institutions in Sierra Leone and the ECOWAS region – a database should be created and shared with ECOWAS member states to prevent the culprits from seeking employment in educational institutions within the ECOWAS region.
Sincerely,
Dr. John Idriss Lahai
Sierra Leone's Anti-fake/forged Degrees Crusader"