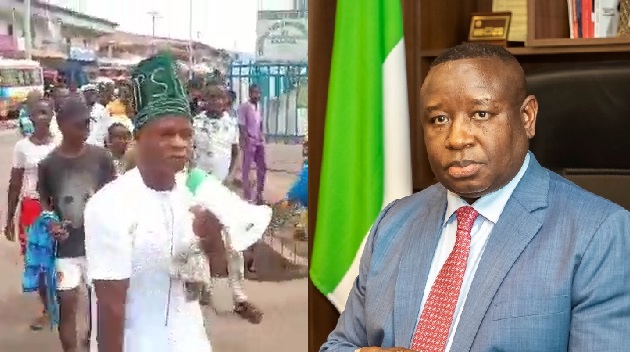 Elderly Man Who Insulted President Maada Bio Has Been Sentenced to Prison
A 56-year-old man, Maada Sallia Konneh of Kpetema section in Kenema who was on trial on two count charges for allegedly insulting President Julius Maada Bio and the first lady Fatima Bio has been sentenced to four months imprisonment.
Konneh who claimed to be a member of the ruling SLPP on the 23rd April 2021 was seen around Peace Square by Hangha Road in Kenema in full public view allegedly using insulting words against Bio. He could be heard saying on a video posted on social media that "President Bio and his wife Fatima Bio have committed great sins".
Konneh in the video claimed the first couple of the republic lied and did not honour their promises and need to repent for deceiving the people. He also claimed the resources were being misused by the president and his wife.
Konneh was heard pleading with onlookers to film him and share it on social media. He was arrested on 24th April by Police and charged to court on two counts (1) for insulting the president and count (2) insulting the first lady contrary to 1965 public order Act.
President Bio And His Wife Fatima Have Committed Great Sins – SLPP Member
The accused pleaded guilty on all counts and begged for leniency. He however disclosed to the court that his action was a result of frustration for not being able to see President Bio. He told the court that President Bio has been his friend and had promised to help him. Konneh also explained how the State House security personnel had refused to let him in and that the promise he claimed Bio made was not fulfilled.
Magistrate Carew on Friday 14 May 2021 sentenced Konneh to two months on each count, that summed up to four months.
The court also ordered the confiscation and destruction of the megaphone he had used in his public showing as well as the cap with SLPP inscription and a mat he was carrying.
The matter was prosecuted by Assistant Superintendent of Police Daniel Kanneh.
After the sentence SLPP District chairman Moriba Koroma told politico that people were pleased with the court verdict and hoped it will serve as a precedent for people to have respect for leadership.