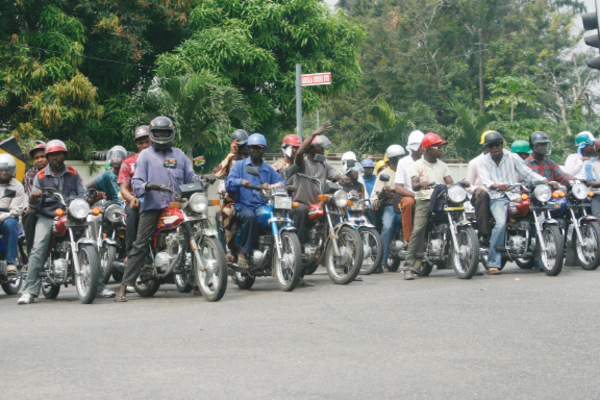 Okada Union Chairman Sentenced to Three Years in Jail in Kambia
Magistrate Abdul Carew of the Kambia Magistrates' Court last Friday sentenced two commercial motorbike riders for beating a vehicle examiner attached to the Sierra Leone Road Safety Authority (SLRSA).
Chairman of Kambia Bike Riders Union, Ibrahim Sorie Mandowa, received three years imprisonment, while Assistant Secretary of the Union, Osman Sanko received 18 months imprisonment. The sentences were handed down after the duo was found guilty on charges of conspiracy and assault.
On 21 July, 2016 both accused persons were reported to have conspired with other unknown persons to beat vehicle examiner Rev. Frank Kanu Mansaray, who was at the time discharging his lawful duty.
Prior to the sentencing, Magistrate Carew informed the court that his office was invaded by some people who were allegedly searching for case files. The two convicts would serve their jail term at the Port Loko Correctional Centre.
Reacting to the sentences handed down to the pair, SLRSA Public Relations Officer, Abdul Karim Dumbuya said the institution was grateful to the Police for their support, and the magistrate, for the manner in which he expedited the trial.
"This sentence has sent a message to would-be violators of the traffic rules and regulations in Sierra Leone. At least we have got some amount of relief that such action was taken against those who thought they could do things with impunity and go free. Our staff in Kambia will now return to work with their heads high because justice has taken its course," said Dumbuya.