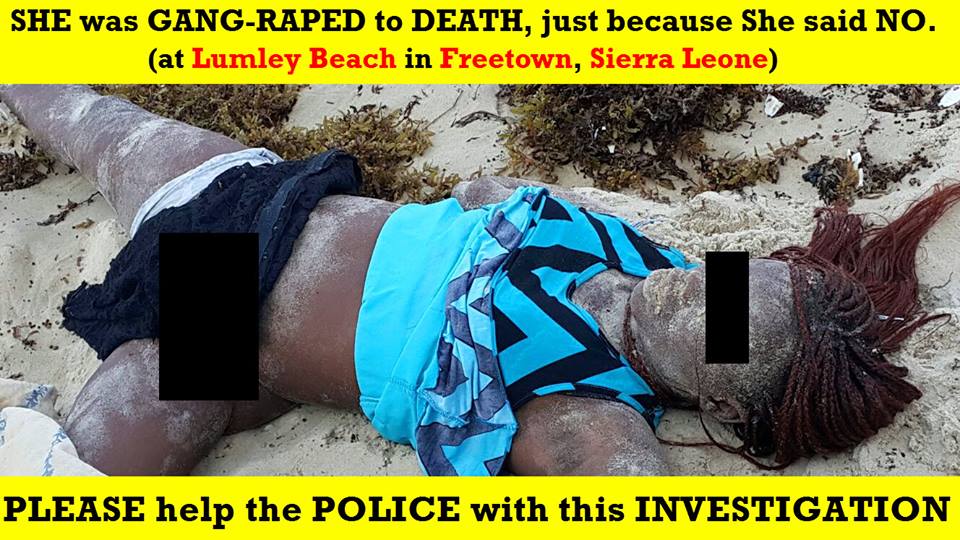 Police Finally Arrest Rapist And Killers of Hannah Bockarie at Lumley Beach
When in the morning of August 13, 2015, the sad news broke out about the gruesome death of a young girl, Hannah Bockarie (now deceased) along Aberdeen-Lumley Beach Road; there were speculations that the lady must have been gang raped by hoodlums following the gruesome state at which she was met.
The violent nature of the crime and the recklessness with which it was announced shocked the country. Since then, the authorities in the Ministry of Social Welfare, Gender and Children's Affairs (MSWGCA), the police and several advocacy groups have demonstrated deep interest in the case and commitment to ensure justice is served.
Following the release of the post-mortem result by the Sierra Leone Police, Sierraloaded gathered that the entire act was master-planned by a friend of the late victim.
Two accused persons made their first appearance yesterday before Komba Kamanda presiding over the Freetown Magistrate Court No.1, for the alleged murder.
The first accused person Mohamed Lamin Kamara who is a musician and staying at No. 6 Morgan Lane, Brookfield and Paul Corn who is a carpenter and staying at No. 18 Sahr Samuel-Lewis Road Aberdeen were brought before the court on one count charge of Murder, contrary to law
They were alleged on Thursday 13th August 2015 at Lumley-Aberdeen Beach Road murdered Hannah Bockarie.
The matter was adjourned to 9th November, 2015 for further hearing.