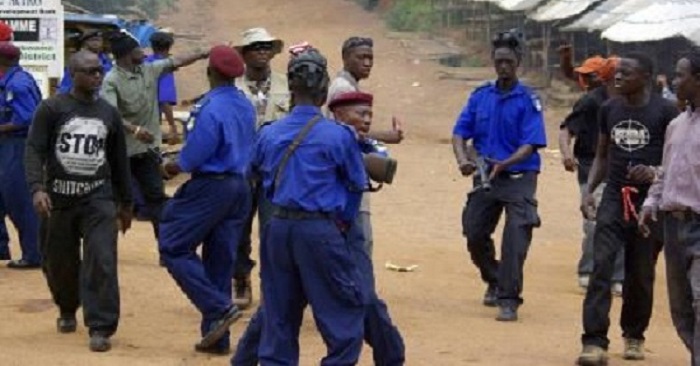 56-Year-Old Sierra Leonean Police Officer on The Run After Allegedly Stealing Okada
56 years old traffic police officer with a self-styled name, Bangura Police who plies his dubious police trade between Shell Police Post and Kissy Barracks Police Station is presently on the run for over a week after allegedly hijacking a brand new bike from a bike rider.
According to the bike rider, Bangura Police held his bike from him and demanded fifty thousand Leones. "I handed the twenty thousand Leones to him that was in my pocket but he insisted on his demand and violently striped the bike off, pushing me away," he lamented.
The rider left in search of the remaining thirty thousand Leones, but upon returning, Bangura has disappeared into thin air. His fellow police officers on ground when asked said, Bangura is around with the bike and that the bike rider should check on him later.
The bike rider expressed his way to Shell Police Post and later to Kissy Barracks Police Station without seeing Bangura neither his bike. Since night hours then, he decided returning home to come the following day.
On his return the next day, he was shocked to hear from Bangura's fellow traffic police officers that, the bike has been stolen and Bangura has not reported on duty, so he should return home and exercise patient.
"I immediately went to Kissy Barracks Police Station and reported the matter at the CDIID Branch to one Detective Police Officer called Issa," he said, adding that, Issa told him he had already learnt about the bike being stolen from the officer's hand before the bike rider came to his office.
He however obtained statements from the rider and told him to return home and keep checking on him. "For almost a week I kept coming to his office, but he was just telling me 'go and come' ".
The rider said he had just bought the bike from money he obtained on loan from a microfinance institution called Lapo Microfinance Trust.
Journalists visited the Support Officer of Kissy Barracks Police Station, Superintendent Samuel Koroma on the issue. He denied having knowledge of the matter but acknowledged Bangura as a police officer under his supervision. The CDIID department at the station acknowledged being aware of the matter but said the said bike was not in their station and Bangura was no where to be seen.
Divisional Traffic Office at Shell Police Post said, they are yet to see Bangura with the bike but will issue a warrant of arrest for him.
Right groups are saying that, the police are playing tricks on the matter without treating it with the seriousness it deserves. To this day, both the bike and 56 years old Bangura Police are yet to be seen.
The poor bike rider is calling on right groups and concerned institutions for help.