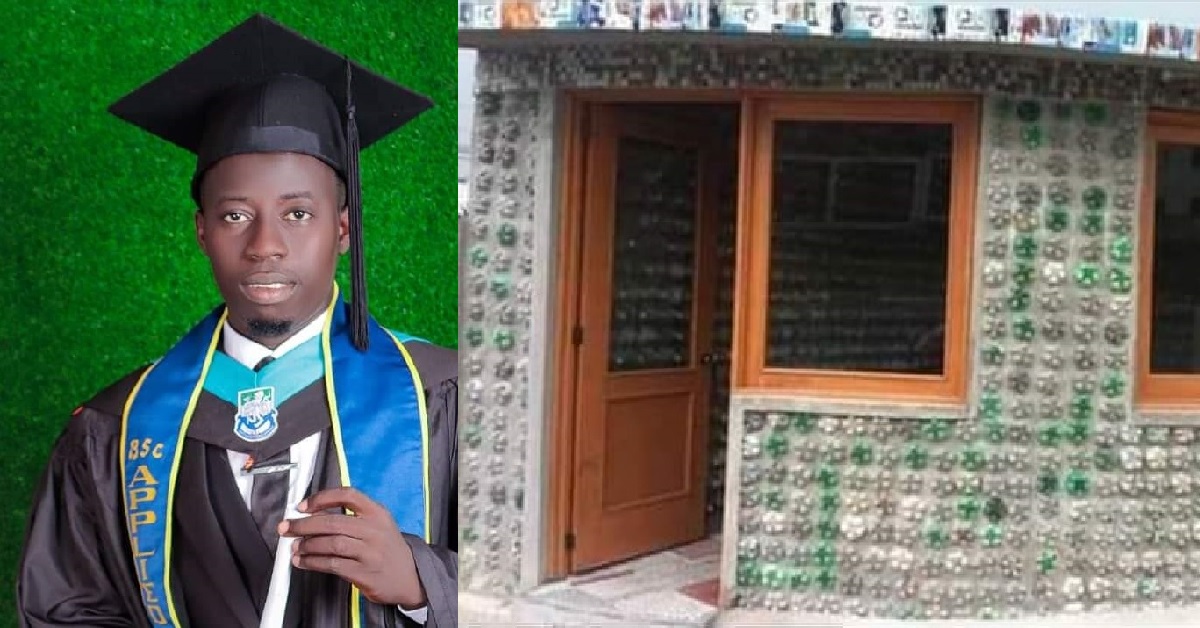 Talented Sierra Leonean Graduate Builds House With Recycled Bottles
A young Sierra Leonean innovator called Ibrahim Tholley popularly known as Organiser used recycle plastic bottles to build homes, bars and other structures.
The young innovator was born on 28th May 1994 in Makump Bana Village, Bombali District in the Northern Province. He attended the UMC primary School in Makump Bana and later joined EducAid Secondary School for his higher education where he sat to his West African Senior School Certificate Examination (WASSCE) in 2014.
Organiser spent 7 years as a Volunteered Teacher and Assistance Finance and Operation Officer in the Private School Sector in EducAid Sierra Leone for Rolal and Lumley. He was the Head of Department (HOD) for Commercial Department for Lumley and Port Loko sites.
He earned a BSc Hons in Applied Accounting from the Institute of Public Administration and Management, University of Sierra Leone in 2020. He is an Accountant by profession. He has acquired certificates for his community services more than five times in his career. He has also represented Sierra Leone on climate action project in November 2020 through Zoom. The young innovator is currently participating in climate action project in global forum.
Soon after graduating from IPAM- USL, Organiser continued his teaching career in EducAid Sierra Leone Lumley. As a Coordinator for Green School Project, he did a field trip to the Beach where he met fishermen pulled up a lot plastic bottles in their fishing net instead of fish. He realised that, plastic bottles are destroying the Ecosystem. He got the inspiration to recycle the plastic bottles and use them to construct homes, bars, etc.
Organiser started an innovation challenge which focused on Recycling of plastics bottles to build homes, bars etc. He collected these plastic bottles waste in drainages, rivers, bridges, bins and filled them up with mud, sand or clay which he used as bricks to build. He is currently constructing bathroom for boarding home students at EducAid Lumley.
Ibrahim Tholley is a product of EducAid Secondary School that has produced high number of graduates in Sierra Leone. He is also a strong member of EducAid Alumni Network. The young innovator has joined another innovator from the same school called Mohamed A. Kamara, Co-Founder & CEO of Light Salone Innovation who uses wastes to provide clean electricity for Sierra Leoneans.
According to Ibrahim Tholley, his target is to minimise the disposal of plastic bottles to protect living things and to have a clean, safety and healthy environment in the near future. The young innovator continued saying that, he alone cannot combat the situation of plastic bottles wastes in Sierra Leone especially in Freetown. He called on other organizations to give a helping hand to achieve his target.