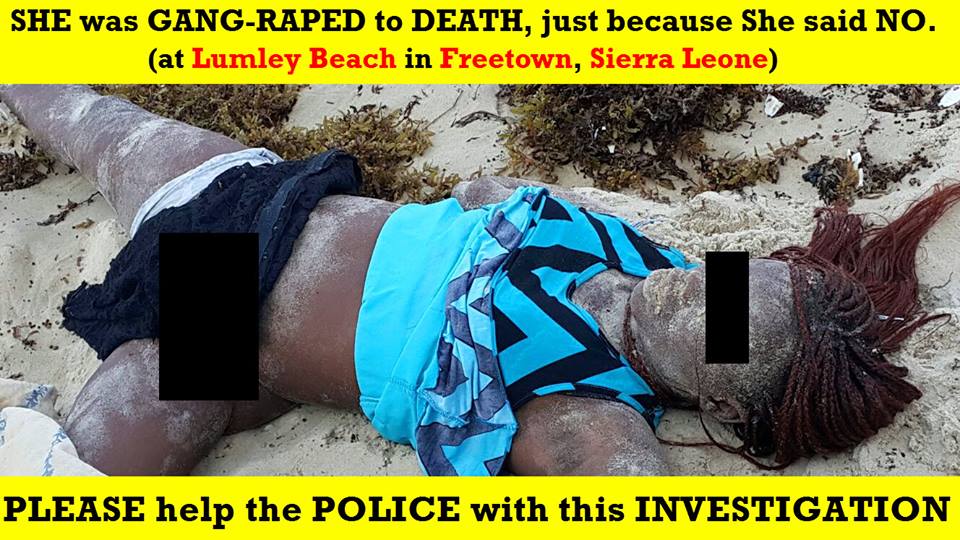 Unknown Men Gang Rape Lady to Death at Lumley Beach
Information available to Sierraloaded has it that the Sierra Leone police are looking for culprits who ganged raped an unidentified lady to death in Lumley beach.
The picture above is now trending on social media.
Below is the post attached to where Sierraloaded has gotten this Photo.
SIERRA LEONE:- She was GANG-RAPED to DEATH, just because she said NO. (at Lumley Beach in Freetown).
(Rest In Peace).
++++++++++++++++++
This young lady was found dead at Lumley Beach in Freetown Sierra Leone. She was GANG-RAPED TO DEATH.
Please help the police capture those responsible.
This is now a murder case.

These cowards,hoodlums, barbarians and scums of our society must be caught and locked-up for life.
All earthly systems and laws regard this type of crime as abhorrent and impose the strictest penalties.

The prevalent upsurge of rape and sexual abuse in Sierra Leone is unfathomable. The absence of a credible criminal justice system for this type of crime perpetuates a culture of
impunity associated with this specific abuse.- It is a sad indictment of our society today.

Even women-rape-survivors often face a myriad of emotional, physical, legal, and medical issues, resulting in significant repercussions. Many are helpless and feel a prolonged fear for their safety. This trauma can last a lifetime.

Essentially, with the worrisome spate of rape cases and the somewhat bleak situation as a result of this scourge, combating this social ill in our country MUST become a NECESSITY.
The general observation seems to be that women always pay no matter whoever commits the crime of rape.

(Rest In Peace young lady)