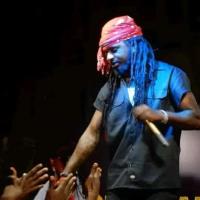 Boss La – Oluwa Ft M.I.C
Sierra Leonean Rapper, Alhaji Amadu Bah alias 'Boss La' or 'LAJ' releases his first official single for the year 2023.
The hip hop/rap single titled "OLUWA", features backing vocals from fellow rapper, songwriter and record producer, M.I.C.
Boss La was sentenced to 9 years imprisonment on Friday after he was found guilty of various offences including robbery and assault. The RFM rapper may not be able to grace musical stages and lit his fans mood for the next few years, but he has shown he hasn't lost his ability of lay captivating vocals.
"OLUWA" which means 'The Creator' sees the rapper acknowledging God in everything that comes his way. It is an amazing song released for your listening pleasure. Enjoy!
Listen Below:-