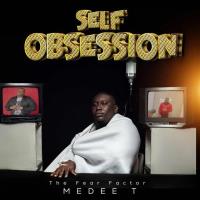 Medee T – Self Obsession
The much-anticipated "Self Obsession" album's tracklist was just made public by Sky Birds' Music and the current National Entertainment Awards male hip-hop singer Mohamed Fawaz Turay, better known by his stage name Medee T, via one of his social media  platforms.
Medee T has over the years collaborated with megastars in the Sierra Leone's Entertainment Industry including the Ambassador himself, Kao Denero, on a song titled "Big Time."
On this Self Obsession album, Medee T composes a total of 10 tracks in the album and doing six collaborations with Sierra Leonean superstars.
Among the ear soothing tracks of this album is the track that carries the album name "Self Obsession." A song Medee T disclosed how he gets preoccupy with oneself or one's own concerns.
Plug on your ear pods and tell us your thoughts to this song. Don't forget to follow the celebrity on his social media platforms.
Listen Below:-