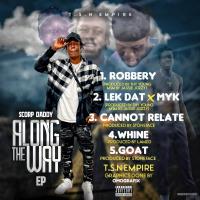 Scorp Daddy – Robbery
The TSN Empire appears to have made a promise never to stop creating wonderful music. The Empire debuted its first official song from Scorp Daddy's "The Gift Came With An Accent E.P." last year, which included both a visual and an audio component.
Scorp Daddy performs to "Knock Down" in the official video, which was shot and directed by "A Marlo Film" and is a fantastic project.
As the 2023 just started, Scorp Daddy has officially released his new EP titled"Along The Way." The EP comprises of 5 ear soothing sound tracks. Among them were Robbery, Cannot Relate, GOAT etc.
Robbery which happens to be the first song on the EP was produced by Thy Young MSM Jassie Jossy.
Be a contributing factor to making Scorp Daddy's dream come true by streaming and downloading his songs on social media platforms.
Go stream, download and contribute to Scorp Daddy's journey to greatness.
Listen Below:-