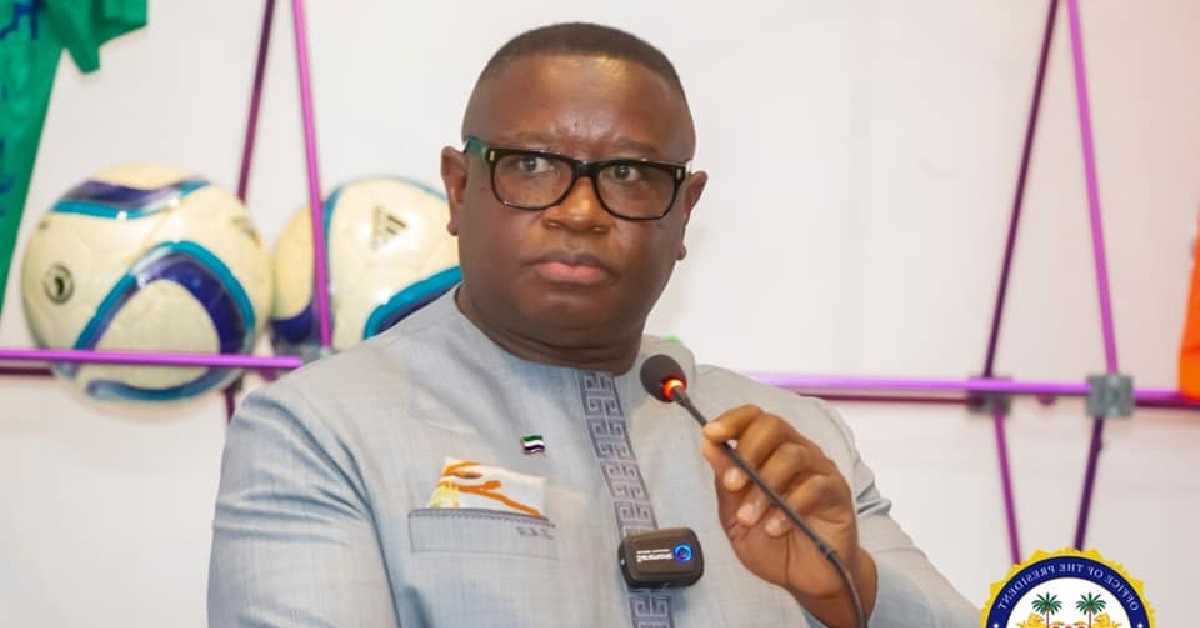 President Bio Accused of Leasing Sierra Leone's Ferry Terminals to Turkey For 25 years Without Parliamentary Approval
President Bio has been accused of leasing the Country's Ferry Terminals to Turkey for 25 years without Parliamentary approval.  Chernoh Alpha M. Bah, Matthew Anderson, and Mark Feldman wrote a detailed write-up with evidence of how it all happened.
According to them, an  Investment agreements and correspondence between the government of Sierra Leone and a Turkish company reveal how the Sierra Leonean President, Julius Maada Bio, singlehandedly leased the country's ferry terminals to a Turkish company for a 25-year period without full disclosure nor parliamentary approval, as required by Sierra Leonean law.
The ferry terminal ports subject to this lease are Kissy, Government Wharf, and Tagrin. Sierra Leonean law requires that all agreements and treaties entered by the President or any of his designates must receive approval from Parliament. The agreement grants Negmar Shipping and Investment Corporation, a subsidiary of the Istanbul-based Negmar Denizcilik Yactirim Group, exclusive rights over all infrastructure and assets of all three port terminals in Lungi and Freetown for a 25-year period.
Section 40(4) of Sierra Leone's 1991 Constitution provides that "any treaty, agreement or convention executed by or under the authority of the President which relates to any matter within the legislative competence of Parliament, or which in any way alters the laws of Sierra Leone shall be subject to ratification by an enactment of Parliament or by a resolution supported by the votes of not less than one-half of the Members of Parliament."
Parliamentarians in Sierra Leone contacted by the Africanist Press expressed surprise that the government would grant such a strategic agreement without their discussion or approval. They say the agreement was not presented to Parliament for approval. Further, the agreement poses another legal problem: it was never preceded by a public tender and competitive bidding process as required by public finance laws of Sierra Leone.
A letter dated 12th October 2021, signed by Sierra Leone's Aviation and Transport Minister, Kabineh Kallon, confirmed the deal between Negmar Denizcilik and the government of Sierra Leone.
 "The Ministry of Transport and Aviation is hereby writing to handover the ferry terminal ports of Kissy, Government Wharf, and Tagrin to Negmar Shipping and Investment Corporation, incorporated in Sierra Leone, a subsidiary of Negmar Denizcilik Yactirim A.S. Incorporated in Istanbul, Turkey," Sierra Leone's Transport Minister, Kabineh Kallon, confirmed in the letter.
Transport Minister Kabineh Kallon says the Negmar Group is to develop the infrastructure and renovate the assets presently located in these port terminals for ferry operations, administrative offices, and other services affiliated with ferry operations, as indicated in the undisclosed 25-year agreement.
Africanist Press discovered that the 25-year port agreement was granted to the Negmar Group over dinner with President Recep Tayyip Erdoğan of Turkey, held at the Presidential Residence in Ankara, during President Bio's private visit to Turkey in early August.
The Sierra Leonean President flew to Turkey on 10 August 2021, from London, after the UK Global Education Summit held on 29 July 2021. The private visit was not part of the Presidential itinerary announced in July ahead of the London conference. Full details of President Bio's visit to Turkey were not disclosed. A State House press release only confirmed on 17 August 2021 that the private meeting with President Erdoğan was "to strengthen bilateral relations between Turkey and Sierra Leone and to further explore investment opportunities between the two countries."
 "The special invitation extended to President Bio by President Racep Erdoğan, is a manifestation of the strength of the bilateral relations between Sierra Leone and the Republic of Turkey, which continues to grow and develop," the State House press release stated.
However, documents reviewed by Africanist Press show that the purpose of Bio's visit to Turkey was mainly to conclude the 25-year port terminal agreement with Negmar. Diplomatic sources in Turkey confirmed to Africanist Press that Negmar executives organized and sponsored Bio's visit, which was planned to coincide with the 15th Turkish International Defense Summit in Istanbul held in mid-August 2021, which masked the actual purpose of the visit. President Bio was the only African head of state present at the defense conference, which was mostly attended by defense ministers, including 34 African defense ministers, with Sierra Leone's Minister of Defense, Kelli Conteh, also in attendance.
The Negmar Group was reportedly established in 2008 as a shipping and investment company in Istanbul. The company is jointly owned by three Turkish companies – Gubretas, Nesma Holding Company, and Etis Shipping Corporation. Publicity documents on the company's website claim that Negmar's business approach blends Turkey's "entrepreneurial energy with international partnerships" in the fields of land and maritime logistics.
In early September 2021, Negmar executives hosted a Sierra Leonean delegation from the Transport and Aviation Ministry in Turkey to conclude the details of the agreement. A press release issued by Sierra Leone's Transport Ministry on 13th September 2021, announced that the government of Sierra Leone had signed a contract with Negmar at the company's headquarters in Istanbul.
 "The contract is for the provision of ferry services between Lungi and Freetown. The ferry service will be privately owned, privately financed, and privately operated by the Negmar Corporation," the press release stated without disclosing the full details of the agreement, including the fact that the lease was granted for a 25-year period.
Apart from the lack of Parliamentary approval and the absence of a bidding process, Africanist Press also discovered that the Negmar agreement violated an already existing agreement between the government of Sierra Leone and a Greece-based company, Etterna Ship Management Company. Etterna was granted a five-year agreement by the government of Sierra Leone to develop and improve ferry services between Freetown and Lungi in mid-July 2020.
 "The government of Sierra Leone contracted the Etterna Ship Management Company as managers of the ferry and operator of ferry services in Sierra Leone," an official in the National Commission for Privatization (NCP) told Africanist Press.
The contract agreement signed on 16th July 2020, between Etterna Ship Management Company and representatives of the government of Sierra Leone, noted that Etterna was given an exclusive five-year contract to manage and operate ferry services on behalf of the government of Sierra Leone through competitive tender.
 "The company has by way of competitive tender won the contract to provide the said management and operations of ferry services in Sierra Leone," the contract document states, adding that the agreement shall be for a period of 5 (five) years commencing from the effective date stated in the agreement and ending on the fifth anniversary of that date, and may be renewed by mutual consent for a further term of 5 (five) years subject to satisfactory performance by the company."
Etterna Ship Management executives have expressed shock that the government of Sierra Leone has unilaterally handed over the ferry port terminals and ferry service operations to a Turkish company for a 25-year period despite having signed a similar 5-year agreement with their company in July 2020.
"We are really surprised and outraged at the same time when we found that the government of Sierra Leone has signed an exclusive 25-year contract with a completely new and unknown company from Turkey while existing operators already have similar contracts with government," a protest letter sent on 15 November 2021 to the government of Sierra Leone and signed by three of Etterna's leading executives stated.
Etterna's Chief Executive Officer, Nikolaos Kornilakis, describes the Turkish agreement as "annoying and inappropriate…It clearly demonstrates that the current government is amateur and consists of corrupted people who act without any kind of control, and they operate unilaterally by assigning concessions to the network of their preference without regard for process and procedures."
Company documents and official correspondence between the government of Sierra Leone and Etterna Ship Management Company show that Etterna has had a 15-year presence in Sierra Leone with a local staff of 37 employees. Company executives said they invested nearly US$1 million over the last year alone to renovate and rebuild ferry and maritime assets as part of the contract agreement signed in July 2020.
"Our company invested more than US$700,000 in an abandoned vessel of Sierra Leone government ownership and we managed to bring it back in absolute sea worthiness and fully functioning today making two trips daily between Freetown and Lungi carrying about 500 people and 60 vehicles," Nikolaos Kornilakis told Africanist Press.
The Company has written several letters to Sierra Leone's Transport Ministry without receiving a response. Transport Minister, Kabineh Kallon, refused to comment when contacted by Africanist Press. A statement from the Transport Ministry had announced in mid-September 2021 that a technical team from the Negmar Group will be in Freetown in a few weeks to undertake a detailed study of the ferry terminals.
"Negmar hopes to commence partial operations within six months," the statement said.
Bilateral relations between Turkey and Sierra Leone commenced in 1971, but Turkish influence in Sierra Leone got a renewed boost in the last three years following the election of Julius Maada Bio in 2018. In early November 2020, Turkey and Sierra Leone signed three new agreements on defense, economy, and investment.
Bio's former Foreign Minister, Nabeela Tunis, signed the agreements with Turkish Foreign Minister Mevlüt Çavuşoğlu, during a visit to officially inaugurate the Embassy of Sierra Leone in Ankara.
A week after the embassy inauguration, President Bio granted the SUMMA Group, a Turkish-based company with Russian interests, a US$270 million contract to construct an additional airport terminal at the international airport in Lungi. The project was also launched by the President on 12th November 2020 prior to Parliamentary approval.
 "The recent Negmar ferry terminals contract means that Turkey is now effectively in charge of both the Sierra Leonean airport and its ferry terminals in Lungi and Freetown for not less than 25 years. This poses a serious security problem to our country," a Member of Parliament told the Africanist Press.
In a recent Parliamentary debate, opposition MPs questioned the Finance Minister's proposals for the revision of the 2016 public procurement laws to allow the President and the Minister of Finance to undertake defense-related procurement without public notice. Official sources confirm that the defense agreement between Turkey and Sierra Leone includes the supply of military and defense equipment to Sierra Leone.
We have published on the Africanist Press website the relevant documentary evidence, including a copy of the Sierra Leone government letter granting Negmar the 25-year exclusive right over Sierra Leone's ferry terminals and the protest letter from Etterna Ship Management regarding the violation of the Ferry Service Contract signed with the government of Sierra Leone in July 2020 to demonstrate the evidence on which this report is based. For more