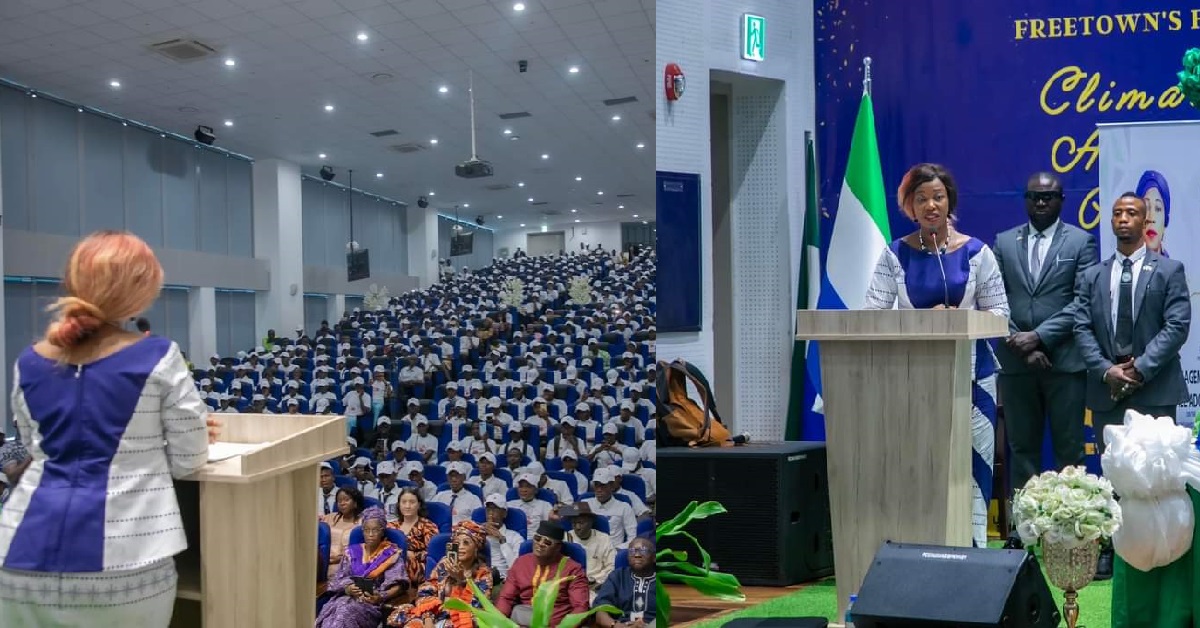 First Lady Fatima Bio Engages Adolescent Male Pupils in Freetown
Sierra Leone's First Lady, Fatima Maada Bio has on Friday 10 March 2023 engaged adolescent boys in an open and frank discussion on the contributions and achievements of the Hands Off Our Girls campaign in Sierra Leone at the Auditorium of the City Council Building in Freetown.
The engagement which was the official launch of the 'Male-Strategy' of the Hands Off Our Girls campaign targeted over 1,000 adolescent male pupils from various secondary schools in the country to have a diversify rolled out plans for the sustainability of the event's target.
In her statement, the First Lady educated the boys on the need for them to embrace gender equity and stand by the girls and women at all times for an inclusive development achievement, as it is not a matter of competition between the men and women.
She emphasized that, "Without gender equity, development is stifled," while urging the boys to focus on their education and support their female counterparts at all times and level in their daily activities.
Making the formal announcement on the male strategy, the First Lady maintained that, the Hands Off Our Girls male strategy will be geared towards achieving a better understanding of the welfare of the boys and ensure they are empowered with the required education to partner with and support the girl child.
She added that, the platform will be used as an opportunity to thank President Bio for the free quality education initiative with special reference to the radical inclusion policy which has ensured vulnerable groups including girls stay in school against all odds within the country.
"President Bio's free quality education has ensured that boys will only stay out of school as a matter of choice," she narrated, while encouraging the boys to ensure they stay in schools.
She used the platform as an opportunity to appreciate all stakeholders that have been collaborating with the Hands Off Our Girls campaign as well as advising them to be mindful of politicians that will want to use them for violence and other electoral malpractices.
"Election is a game for policies and ideas and not violence," she pointed out, adding that, "Election is not for children but politicians."
Bio further highlighted the successes of the Hands Off Our Girls campaign, which include heightened awareness, the establishment of a special court for rape cases, the review of the sexual offences act, the free sanitary pads distribution, the on-going construction of a 500-bed hospital complex and the adoption of two United Nations Resolutions to accelerate and ensure justice, protection and remedies for women and girls, among others.
The school boys had the opportunity to ask questions, make suggestions and share opinions on welfare and other relevant issues relating to education and the event at hand.