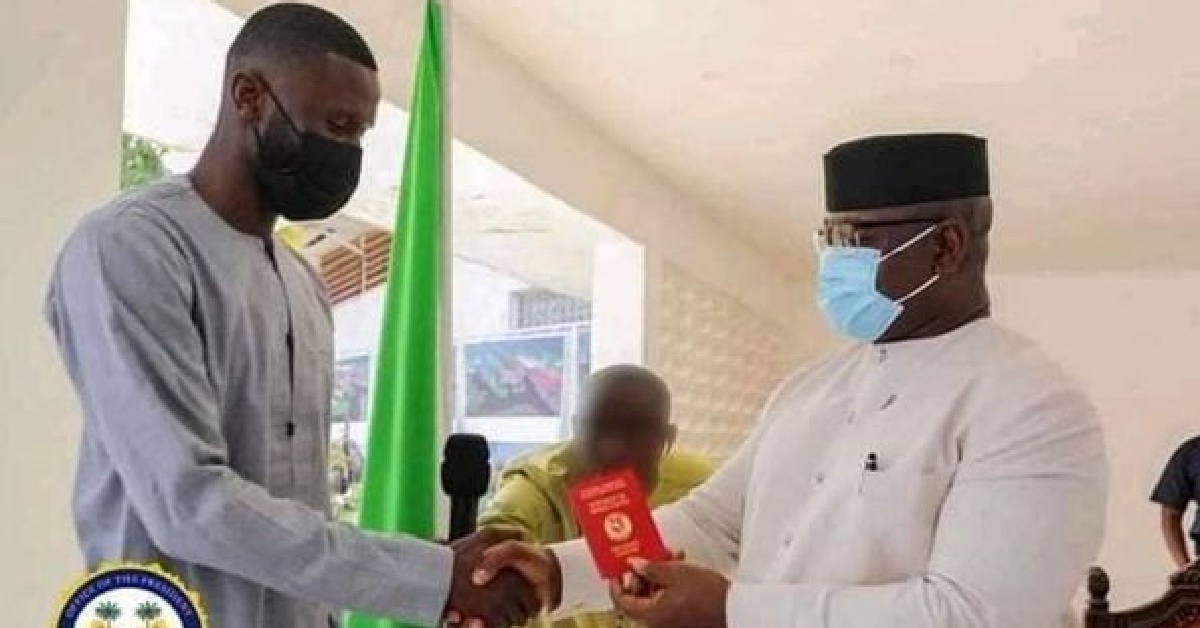 President Bio Presents Diplomatic Passport to Antonio Rudiger And Appoints Him as Ambassador of Sports For Sierra Leone
President of the Republic of Sierra Leone, His Excellency (Rtd) Brigadier Julius Maada Bio has appointed Chelsea football club centre-back and Germany national team player, Antonio Rudiger as Ambassador of Sports for Sierra Leone.
During the opening ceremony at State House in Freetown, Press Secretary and Presidential Spokesman, Yusuf Keketoma Sandi welcomed Rudiger and read a brief history of the football star. "Our honouree was born at a time when the Sierra Leone civil war ravaged the nation and displaced the population. Our honouree has been rebranding Sierra Leone with deliberate commitment and great passion." He narrated.
The Press Secretary honoured and announced his appointment, "Ladies and gentlemen, with great acclamation, Sierra Leone proudly honours one of its own Mr. Antonio Rudiger as Brand Global Sierra Leone Football Ambassador today." He concluded.
On his own words, Chelsea football club centre-back player accepted the appointment. "Me, my family and the team that is working for me, we are very proud to receive this because me, I am not only looking about myself. I believe individual cannot do this alone. There are always people behind it." He thanked his parents and hailed them for making it possible for him. "First of all, big thanks to my parents, mom and dad because without them, this will never be possible." He added: "Thank you very much. I am honoured to serve this country and put this country in a better light".
While handing over the diplomatic passport, His Excellency President Julius Maada Bio praised Rudiger for his actions, love and passion for Sierra Leone. He explained how the football star heard about the Free Quality Education system and donated billions of Leones. "You have shown that you are not Sierra Leonean by blood but by action. Before even you got here, when you heard about the Free Quality Education, you had trust and confidence and you donated billions of Leones to that endeavour. For me, you showed to me at that time that you are a true Sierra Leonean." He continued "We confer this on you because we think that you deserve it and we need to do more for you as you continue to do more for us."
He handed over the passport to him as he welcomes him home. "We are proud of who you are and what you are doing. Your humility and greatness are what we admire about you as Sierra Leoneans. Thank you and welcome home."
You have always believed in Sierra Leone and you have always done so much to give back. Today, On behalf of every Sierra Leonean, I honor you as our Brand Ambassador. Welcome home @ToniRuediger. pic.twitter.com/7e0bm1FpoG

— President Julius Maada Bio (@PresidentBio) January 28, 2022