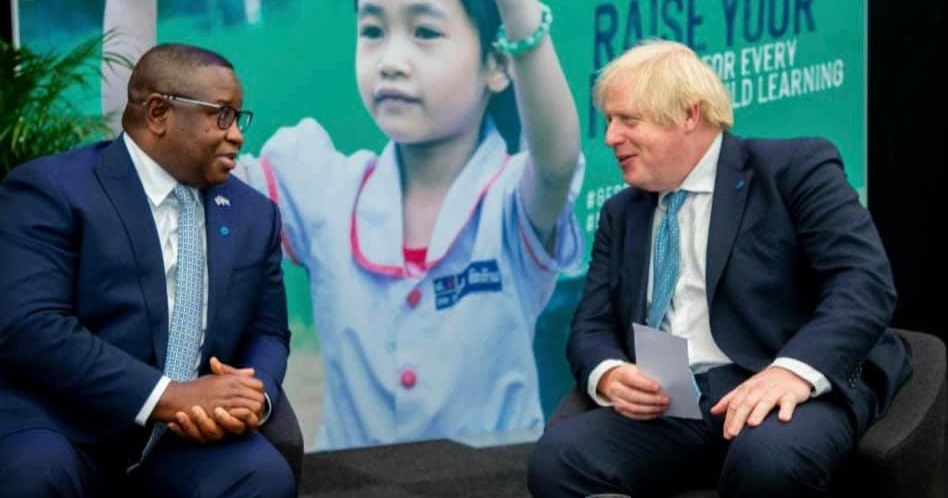 Boris Johnson Reportedly Queries Maada Bio on Human Rights Abuses
The British Prime Minister, Boris Johnson and UK Foreign Secretary Dominic Raab, has reportedly queried President Maada Bio over continued human rights abuses in Sierra Leone. 
According to The Organiser Newspaper, human rights issues was mentioned by Prime Minister Boris during their one-on-one meeting with President Julius Maada Bio.
President Julius Maada Bio had on Thursday 29 July, 2021 joined other World Leaders to discuss issues around increasing domestic financing for education in London, United Kingdom.
The President is one of only four African leaders who participated in the 2021 Global Education Summit: Financing GPE 2021-2025 co-hosted by the President of Kenya, Uhuru Kenyatta and the UK Prime Minister, Boris Johnson.
It was learnt that Boris briefly slotted in the human rights issue during the conversation with President Bio while discussing educational issues among others in Sierra Leone and the Third World in general.
"We welcome your education policies in Sierra Leone. We will support your efforts in this direction. There are many things attached to the UK vision for Sierra Leone and one issue you should improve on is the issue of human rights," Boris is quoted to have said.
A source who spoke to The Organiser added that the sudden mention of human rights into the discourse took President Bio by surprise.
"Your President's body language indicated that he was not expecting the mention of human rights in Sierra Leone. Boris used the phrase once but the message was loud," the source said.
it was however gathered that most of the discussion was centered on education and the role of the UK government in achieving this dream for the people of Sierra Leone.
According to The Organizer, political observers would not be surprised at this latest development because the UK government, like other foreign partners, have their ears on the ground and they are conversant with the violations in Sierra Leone reported by many fearless media outlets inside and outside Sierra Leone.
Since April 4, 2018, these human rights abuses have continued unabated – the Pademba Road Prison killings (April 17-18, 2020); the Makeni Massacre (29 July 2020); the Lunsar mayhem; the Mile 91 chaos; the Tombo murders; the Thonko Limba killings and many other violations against innocent citizens. Michael Mansaray in Bo, Maada Salia Konneh in Kenema, the Forster shooting in Freetown, the arrest and detentions of opposition politicians like the ADP party leader Mohamed Kamarainba Mansaray , the arrest of the APC MP Emmanuel Saidu Conteh etc, are a few of the human rights violations under President Bio.