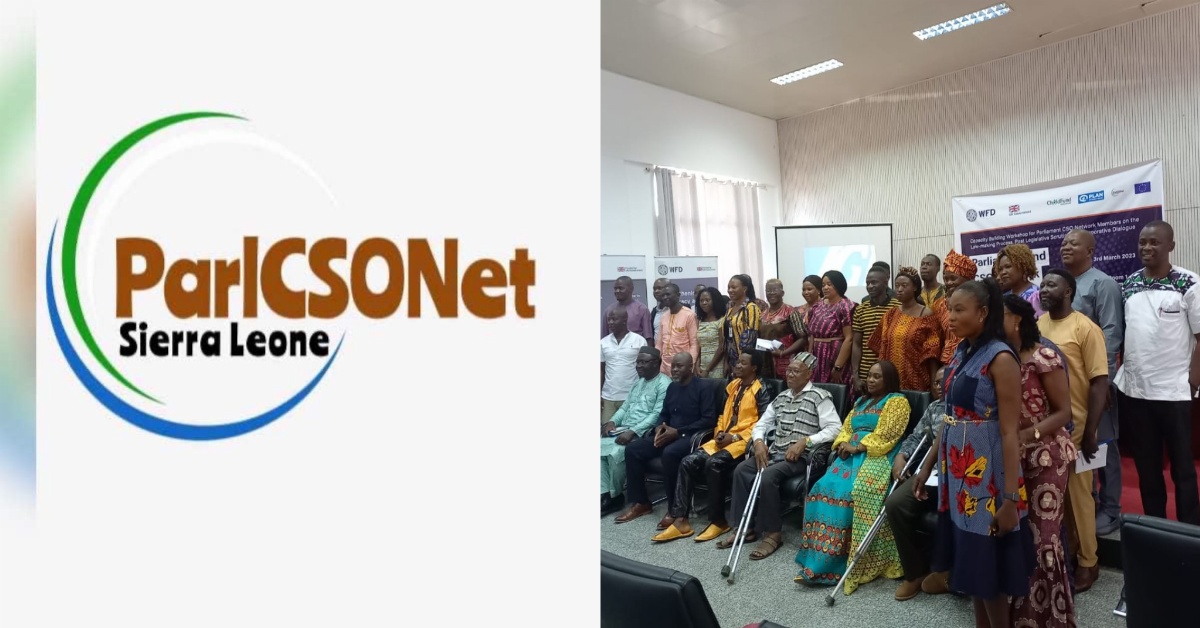 Civil Society Members And Parliament Hold Capacity Building Workshop
The Parliament of the Republic of Sierra Leone and CSO Network members held a Capacity Building workshop on Friday 3rd March 2023 at the house of Parliament, Tower Hill, Freetown.
The workshop is for Parliament and CSOs members to network on the law-making process, post-legislative scrutiny and cooperative dialogue.
The Director General of Parliament, Mrs Finda Frazer in her keynote address stated that she is happy to be opportune to make a statement at the Workshop which focuses on building and understanding Civil Society Organisations. She further revealed that as an institution, Parliament believes in strengthening representation and relationships with citizens as part of its strategic plan.
The network consist of two chairmen. The two chairmen are from parliament and and from the Civil Society Organisations.
Edmond Abu currently serves as the Chairman for the Civil Society Organisations in the network while the next chairman will be drawn from the new Parliament
There were six Civil Society representatives in the training program.
She added that they believe that for Parliament to be more effective and efficient in achieving that goal there is a need to work with non-state actors to support the work of Parliamentarians through data and other credible contributions.
CEO of native Consortium Edmond Abu who doubles as the Co-Chair of PariscoNet reveals that the long-existing relationship between Parliament and CSOs has been successful but they expect the new body to smoothen that relationship so they can also help in the oversight functions.
He added that in any area Parliament may need help they would be available to render their support.
"Today we have invited the Kekeh Rider Union, Bike Riders Union, Labour Congress, Bar Association, and SLAJ, to channel issues. So if you a Private member motion Bill, you want to Channel, this body will serve like vehicle" Abu stated.
Abu confirmed that organisations like the inter-religious council all form part of the CSOs organisation. He added that as long as you are a non-state actor and activist, you are part of Civil Society Organisations.
He thanked his colleagues CSOs and hope that this vehicle will not only serve as an oversight body but it will be a novelty that other parliament in Africa will emulate.
The Parliamentary Director for Programmes, Research, and Partnership, Gilbert Nhabay spoke about what led to the initiative of Parliament to forge relationships with CSOs.
He stated that CSOs met with the leadership of the Parliament of Sierra Leone to strengthen the relationship between the legislative house and CSOs to ensure the promotion of a better constructive relationship in terms of promoting good governance and accountability processes.
He added that the clarion outcome of the said particular event was a signing of a communique that made room for the very formal relationship between the Parliament of Sierra Leone and Civil Society in this country.
The training ended with Parliamentary Oversight and reporting Evaluation and Training feedback.