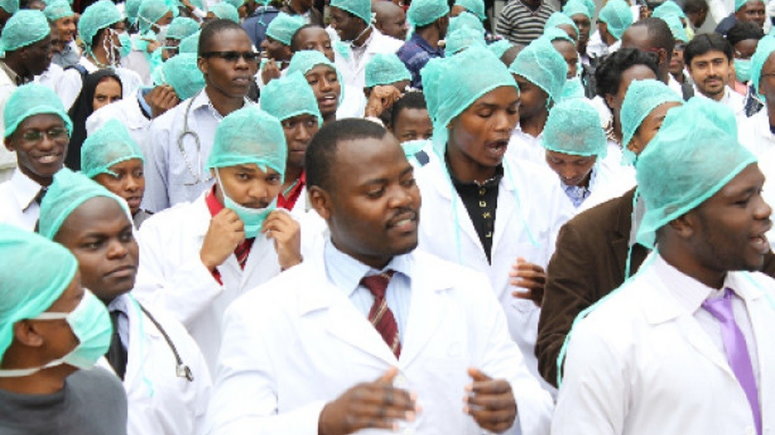 BREAKING: Sierra Leone Doctors Begin Nationwide Strike
Sierra Leone Medical and Dental Association (SLMDA) has begun their strike action after the Government of Sierra Leone failed to heed to their demands made in a 21 day strike notice.
In the 21 day strike notice, the doctors demanded for the reinstatement of their COVID-19 allowances as salary increase, and the weekly fuel allocation of 45 Litres.
Earlier today, the Junior Doctors Association of Sierra Leone (JUDASIL) confirmed the start of their strike action on Twitter.
"After 21 days strike notice and unfruitful negotiations with Ministry of Health and Sanitation, we are joining SLMDA to lay down tools effective midnight today. We are sorry for any inconvenience this may cause," JUDASIL tweeted.
Last week, the Government issued a press release stating that they have agreed to give the Doctors Le20.85 billion as salary increase in place of previous Covid Allowance plus Le9.3 billion for 45 litres weekly fuel subsidy, in order to avert Monday strike action.
In response, SLMDA issued a disclaimer notice issued on Friday, 29 July 2022, stating that these claims are not true.
"Disclaimer: The SLMDA would want the general public to note that these claims are NOT TRUE," SLMDA stated.
"However, the SLMDA Executives and the executives of other allied health professionals (nurses and pharmacists) were summoned to an emergency meeting on the 28/07/22 by the Honorable Minister of Health and Sanitation. In this meeting, a document from the Ministry of Finance (signed by the Financial Secretary) was presented to the various representatives of the different associations," they added.
The medical practitioners further noted that the correspondent presented through the Ministry of Finance did not adequately address their concerns as stated in their previous press releases, adding that there are several gaps with ambiguities for so many unanswered questions and concerns which they are pondering about going forward.
SLMDA stated that thy are currently doing follow-up with the Ministry of Health and Sanitation to give answers to these unanswered questions as we are by all means avoiding a repeat of the same problem in the near future.
"Notwithstanding, our strike action commencing at mid-night on the 1st of August 2022 still stands until our concerns are addressed adequately," the doctors concluded.