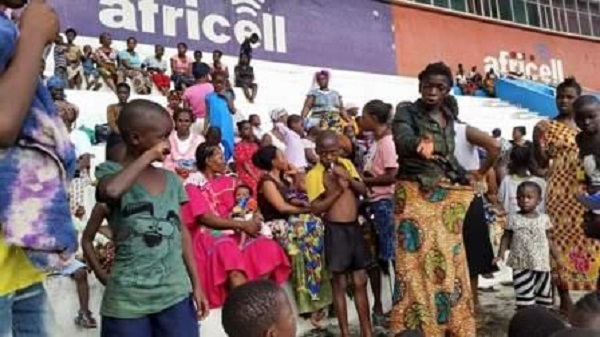 Freetown Flood: At Least 4 Dead, Many Injured, Hundreds Turn Homeless
At Least 4 has been confirmed dead, Many Injured, and hundreds had turned homeless following a heavy flood in Sierra Leone, Sierraloaded reports.
On Wednesday, 16th September, 2015, a six-hour-long torrential downpour of rain flooded many slum settlements in Sierra Leone's capital city, Freetown, drowning people, breaking houses, injuring many and displacing hundreds of residents many of whom are now crowded in the National Stadium.
A press release from State House on that disastrous day confirmed that four people died in the floods, though other sources stated that far more number of people, especially children, drowned in the floods which swept them away.
Many slum settlements including Kroobay, Bonga Town, Congo Town, Mo Wharf, Mabella, Moyiba, Dworzak Farm and many other areas in the city were completely devastated by the sweeping floods and landslides which destroyed many houses and properties worth billions of Leones apart from killing and injuring and displacing over 300 families who are now seeking refuge in the Nation Stadium, the Attouga mini-stadium and other areas prescribed by government.
The catastrophic flooding brought the city to a standstill as many main streets including Wilkinson Road, Robert Street, Dundas Street, Pademba Road, Hillcot Road, King Harman Road, Krootown Road, Sanders Streets and many others overflew with water and debris bringing traffic to a halt.
The flood swallowed vehicles, broke fences and rushed into houses wrecking havoc. The rushing flood waters broke bridges and culverts cutting off many main roads. There was total chaos in the city as people ran in the rain in disarray to rescue their loved ones from the flooding which has been rated as an unprecedented rain disaster in the post-colonial history of Sierra Leone.
In some areas, people were paying one thousand Leones to cross over the floods as many vehicles could not venture the flood waters which ran into the engines of many vehicles and brought them to a halt. While the floods were carrying away the properties of people, thieves were busy in boats carting them away.
As a timely response to the natural calamity, the Government of Sierra Leone ordered all the people of the country, apart from essential workers, to stay at home the following day, Friday, September 17, in mourning for victims of the monumental disaster and as a way of giving chance for the clearing of the wreckage and for relief workers to effectively discharge their duties. Government, in partnership with relief agencies, is busy providing relief support in the form of food, shelter, clothing etc for the unfortunate victims.
Many environment and climate experts have attributed the rain flood disaster to the rampant deforestation, disposal of garbage in drainages and the dwelling of people in disaster prone areas like the bays and hilltops despite persistent warning from the Environment Protection Agency (EPA) to people to vacate such areas. With such a historic disaster, the EPA will no longer need to warn people to quit disaster prone areas.
Meanwhile, His Excellency the President, Ernest Bai Koroma, and his cabinet ministers, on Thursday, September 17, were out of their offices loaded in a Sierra Leone Road Transport Corporation (SLRTC) bus visiting and consoling victims of the disaster.
Coincidentally, September 17, 2014, was the day President Koroma declared a sit-at-home for the outbreak of the Ebola calamity that has claimed the lives of nearly four thousand.
On the same September 17, one year later, the President has had another cause to declare another sit-at-home for an unprecedented rain flood catastrophe.