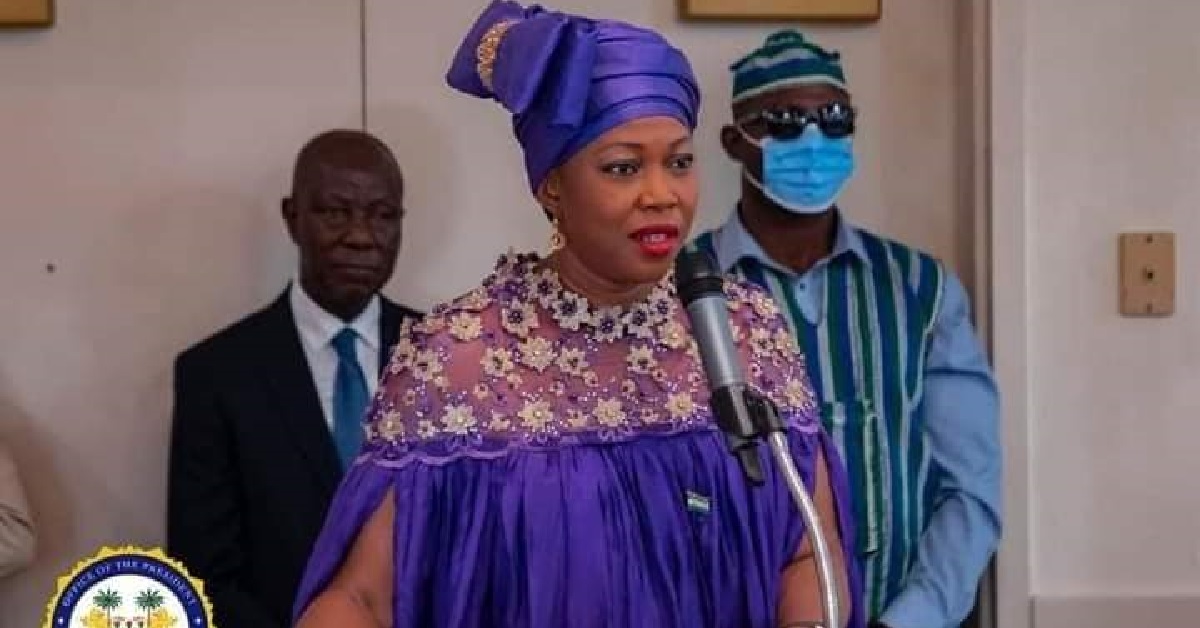 Fatima Bio's Hands Off Our Girls Project Raises US$120,000
The "Friends of Hands Off Our Girls Project" in support of the flagship campaign of the First Lady of Sierra Leone Mrs. Fatima Maada Bio against gender-based violence on girls raised an impressive USD$120,000 on Saturday at an event held at the Wyndham Hotel in College Park, United States of America.
The fundraising event was organized by a Committee of Sierra Leone diaspora members in collaboration with an American Professor Judy Kuriansky of Columbia University Teachers College and Gordon Tapper, President of United African Congress, Chaired by Hon. Sidique Abou-Bakarr Wai, Ambassador of Sierra Leone to the United States in an unofficial capacity, who mobilized friends and well-wishers of the "Hands Off Our Girls" project.
Launched in Sierra Leone 2018, the project aimed at addressing all forms of violence, rape, child trafficking, teenage pregnancy, and early marriage in the country. Early marriage is of grave personal concern to the First Lady who escaped such abuse when a young girl.
Major successes of the campaign include stricter legal punishment for sex crime perpetrators; updating the Sexual Offence Act to require a 15-year minimum imprisonment for rape convictions; and a special court fast-tracking rape case prosecution. Essential training is also being provided for nurses and doctors.
Mrs. Fatima Bio is currently recognized by the African Union as the Champion of Sanitation. In worldwide recognition of her efforts, she headlined a major event during the 2019 United Nations General Assembly featuring her campaign, as well as a celebration with accolades from First Ladies of Africa and Turkey and World Health Organization Director-General Dr. Adhanom Ghebreyesus Tedros.
Galaxy of Sierra Leonean and American superstars, philanthropists, investors, and well-meaning Sierra Leone diaspora community members, fans of the "Hands Off Our Girls" project graced the event.
Building on this theme, His Excellency Rtd Julius Maada Bio, President of the Republic of Sierra Leone, said, "Our precious minerals are not our diamonds, but the children of Sierra Leone." He recalled meeting a woman who told him how she was raped at age 5, with the trauma still fresh in her mind, saying "I still feel sad that I was abused at my tender age, and nothing came out of it".
In response to this and other cases, President Bio declared, "Because of the gravity of such disrespect for girls' rights, I have declared such violence against women and girls as a state of emergency, and formulated stringent laws to punish those committing such heinous crimes against girls and women".
Taking the podium, The First Lady Mrs. Fatima Bio expressed appreciation for the vast group of people gathered at the event, and many beyond, who are supportive of her work, acknowledging the strong support she is receiving from her husband, President Bio.
"His belief and compassion for women has given our dignity back as women. Many girls have previously suffered in silence, but now the taboo is being broken and their voices are being heard," she said, adding that "I am very grateful to my husband for imposing stiff penalties against sexual offense,".
Several superstars and philanthropists made statements, committing to continue supporting the First Lady's "Hands Off Our Girls" project in Sierra Leone.
The funds raised, minus minimal costs for the hall rental, food, and incidentals, will go towards the ongoing project, including completing construction of the 100-bed hospital at 34 Military Hospital for rape victims; a seven-building facility to house survivors of rape and gender-based violence to provide counseling services, psychosocial support, medical treatments, and a family support unit; and a stand-alone forensic lab to reduce waiting time to adjudicate rape cases. A free sanitary pad distribution project is also underway, allowing girls to stay in school during their menstruation period.
Noting the event's huge success, Ambassador Wai said, "When you focus on a good thing and reach out to good people, magic happens".
"This is a proud moment for Sierra Leone and the Friends of Sierra Leone in our national development," observed H.E. Dr. Francis Mustapha Kai-kai, Minister of Planning and Economic Development.
According to Premier News, newly-appointed Ambassador of Sierra Leone to the United Nations, H.E. Fanday Turay pledged to continue the effort, underscored in President Bio's call during his UN General Assembly address for global solidarity for access to justice and remedies for survivors of sexual violence and a stand-alone General Assembly resolution on this issue.
"I got emotional for the first time at an event," said attendee Abdul Deensie, witnessing the enthusiasm of the crowd for the First Lady's project.
Dr. Judy Kuriansky Psychology Professor, Columbia University Teachers College; representative of the International Association of Applied Psychology to the United Nations; advisor to UN Member States of the Group of Friends of Mental Health and Wellbeing; and journalist for Black Star News, who has been to Sierra Leone many times including providing support during Ebola.