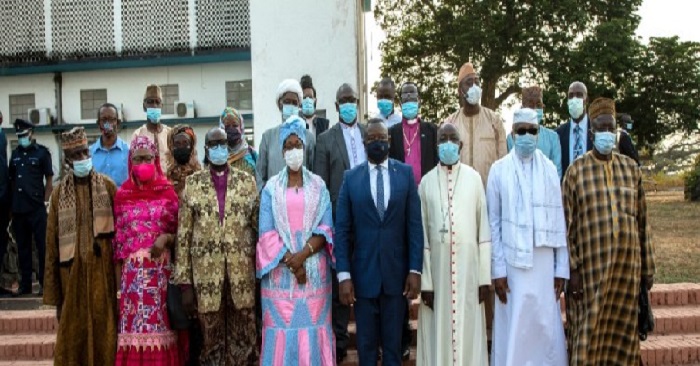 Inter-Religious Council Enters Agreement With Sierra Leone's Government After Shut Down of Religious Centers
The Inter-Religious Council of Sierra Leone has entered an agreement with the Government through NaCOVERC to help combat the third wave of  COVID-19 in the country.
This communique is coming after the president has announced a set of new regulations to help curb the spread of the third wave of COVID-19 in the country.
A communique signed between the two bodies states that as the country is presently battling the third wave of rising caseloads, increased positivity, hospitalization, and deaths the council recognizes the importance of public health and safety.
It also states that the council appreciates the efforts and contributions of the inter-faith community towards addressing the first two waves of COVID-19 in the country.
THIS COMMUNIQUE HEREBY EXPRESSES THE RESOLVE OF NACOVERC and INTER-RELIGIOUS COUNCIL as follows:
1. To consult with and fully engage the Inter-Religious Council on matters touching and concerning our inter-faith community in the fight against COVID-19 in Sierra Leone.
2. The Inter-Religious Council appreciates the advice of the scientific community in formulating appropriate public health policies and advisories to tackle the current wave of the pandemic and pledges its full faith and commitment to collaborating with NaCoVERC at all material times of the COVID-19 Response.
3. Both sides have agreed to strengthen the framework of cooperation, including setting up a communication and mobilization hub focusing on vaccine roll-out, COVID-19 compliance generally, and addressing misinformation and disinformation.
4. Both sides wish to convey thanks and appreciation to His Excellency the President Dr. Julius Maada Bio, development partners and the inter-faith community for the tremendous patience and understanding showed in these difficult times, and urge sustained compliance to ensure that we bend the curve of the third wave and resume our normal religious and other activities.
The Inter-Religious Council Sierra Leone (IRCSL) is the largest representative inter-faith organization in Sierra Leone.
Its core values and mission include the fundamental responsibility to promote interfaith dialogue, promote peaceful co-existence in communities and provide spiritual, moral guidance for congregations.