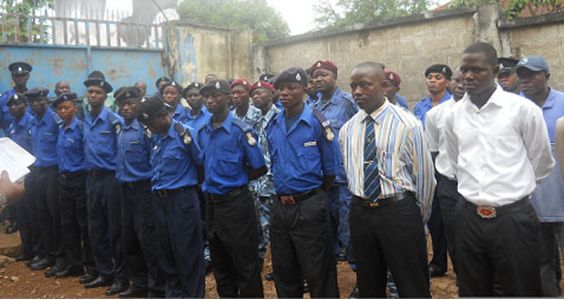 Lack of Logistics Hinders Bo Police From Tracking Criminals
Criminal activities like armed robbery, house breaking and larceny, burglary with aggravation, rape amongst others have of late become rampant during night hours in Bo city.
As recent as Monday 15th June instant, two houses in a compound along Mattru Road in Bo where broken into by a gang of robbers and a woman was raped by five of the assailants. Children of the woman disclosed that the armed men did what they did because of failure of their mother to produce on demand an amount of Le 50, 000, 000 (fifty million Leones).
Head of the Bo Police Media wing confirmed the incident noting that, night offences have indeed increased in Bo of late. Inspector Mohamed B. Senu has however assured that police in Bo will do all it takes to control the situation, but expressed concern that they are constrained by the lack of vehicles to patrol the city.
But residents of Bo have become frustrated with this apparent presence of insecurity in the city and the inaction of the police. Residents are complaining that when they make stress calls to the police emergency lines, they police will always respond by either complaining of no fuel in the vehicle available or no vehicle at all. The Media Officer however explained to Awoko that the factors responsible for the poor or none response of the police were manifold.
He said the number of police personnel is not commensurate with the number of people in Bo city. He explained that the number of police personnel is estimated at 1, 000 (one thousand) as against an estimated 10, 000 population.
The district of Bo he explained is presently without a vehicle. The two Police Divisions in Bo (East and West Divisions) which used to have a vehicle each are no longer operational. The police, Inspector Senu maintained are now patrolling on foot and go to respond to emergencies on foot which explains the delayed response time of the police, Senu maintained.
The Civil Society Chairman South, Jeremy Simbo told Awoko, "We are to have tête-à-tête with the police for us to agree on establishing some Community Watch Groups in the communities."
That notwithstanding, Inspector revealed that the police have started arresting some of the alleged perpetrators. One Daniel Mattia has been arrested and identified by the woman raped along Mattru Road as one of her attackers.
Last Sunday night, the police also reported the arrest of four other people have been arrested in connection with other criminal activities. Their names were given as: Amara Sesay, Alhaji Sesay, Mohamed Kabia and Samba Kallon.