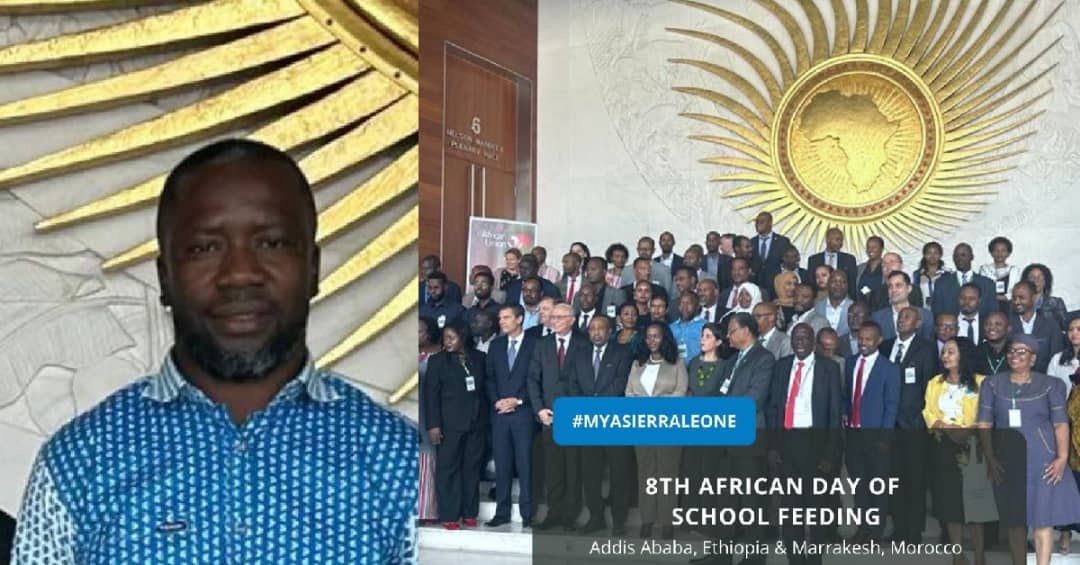 Youth Minister Shares Sierra Leone's Perspective on School Feeding Program in Ethiopia, Morocco
Sierra Leone's Minister of Youth Affairs, Mohamed Orman Bangura has shared Sierra Leone's perspective on School Feeding Program at the 8th African Day of School Feeding Program in Addis Ababa, Ethiopia, and Marrakesh, Morocco.
He said that school feeding is the biggest social safety net program in Sierra Leone, which has currently reached over 640,645 school children, and a target of 800,000 by September this year.
The Minister stated that, the government of Sierra Leone is well committed to making sure that the human resource is developed and that many schools across the country have benefitted from the said program through the ministry of education.
''I hope to reaffirm and re-echo the government of Sierra Leone's commitments to school feeding, health, and nutrition, and most importantly, I expect to learn from other successful stores," he said.
The minister assured all that, the experience gained at the event will be greatly used to develop Sierra Leone in improving and strengthening some technical areas to ensure a developed drive at all times.
''I promise to take home the most valuable experience and technical inputs, customized it, and improve on what we already have in Sierra Leone,'' Bangura affirmed.
He said the intervention has become more important as it aims to protect the most vulnerable children and ensure that no one is left behind.
The Mminister stated that, development is only complete when everyone is given equal access to education, supported by a sustainable school feeding program.
The 8th African Day of School Feeding event presented top key messages as follows:
School meal programs are increasingly being used in crisis and conflict-affected countries to address the needs of the most vulnerable children. This can protect children from age-inappropriate labor, support social cohesion, stabilize local communities, and support peace-building efforts in the long- term.
School meals can mitigate gender disparities in school enrolment and retention and for girls, this means a drastic decrease in early marriages. School meals contribute to girls' education, health, and well-being and thereby support the social inclusion of women and girls, providing a basis for economic growth and social stability.
Through local procurement, Home-Grown School Feeding can play a significant role in strengthening local agriculture, supporting intra-continental trade and supply chains, and strengthening economies and hence communities in the continent.
As a government, we have taken measures to and currently feeding 737,000 in 3135 schools in 15 Districts Nationally. We are committed to Universal feeding of approximately 1.5 million children in pre and primary schools we are registered members of the School Meals Coalition).