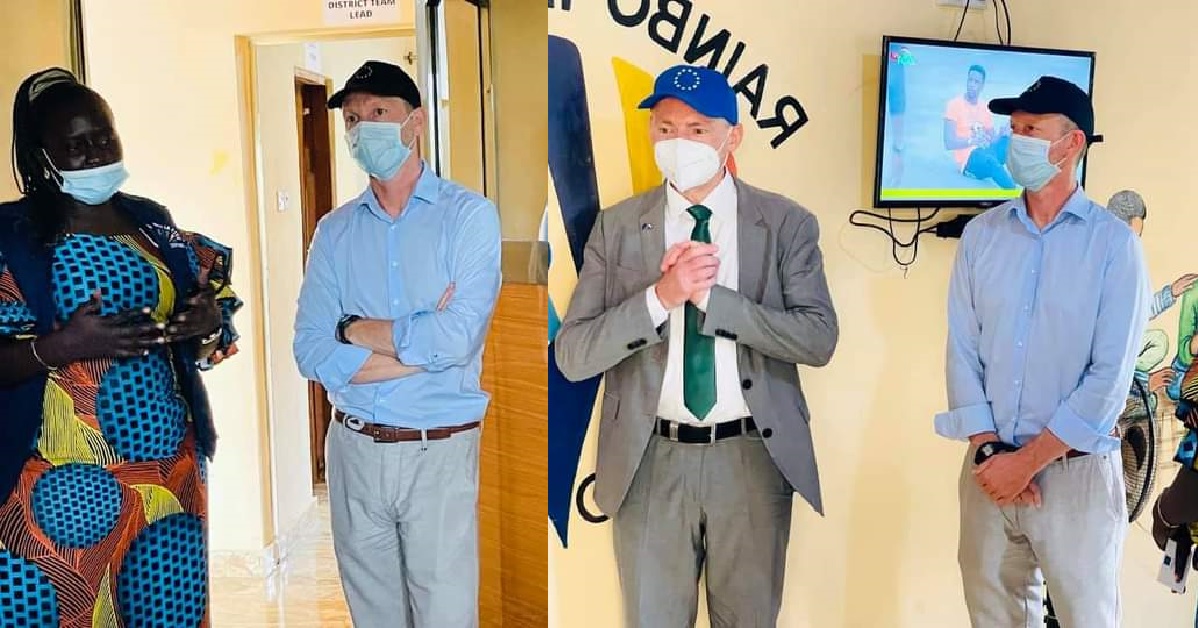 New European Ambassador to Sierra Leone Visits Rainbo Centre, Discloses New Opportunities
The new European Union Ambassador to Sierra Leone, Manuel Müller, and the Head of Cooperation, Gerald Hatler, visited the Rainbo Centre in Bo.
The visiting team were excited to learn about our work with and for survivors of Sexual and Gender-Based Violence as we continue to provide lifesaving services to them.
They expressed commitment to supporting Rainbo Initiative to provide quality services to women and girls to prevent further harm from the effects of Sexual and Gender-Based Violence in the country. As issues related to gender is an integral part of their work.
Gibril Kargbo, Deputy Executive Director of Rainbo Initiative, thanked the visiting team on behalf of the organization on behalf of our board and the survivors we support to overcome their challenges and heal with dignity from their SGBV related consequences.
He further assured them that we will continue to engage communities to strengthen their involvement in SGBV awareness-changing perceptions and attitudes towards survivors' support behaviours to change their attitudes.
This was the Ambassador's visit to a partner organization the EU is supporting in Sierra Leone since his arrival some two weeks ago in the country.
The European Union through the EU delegation in Sierra Leone is supporting Rainbo Initiative to empower communities to end Sexual and Gender-Based Violence against women and girls in Sierra Leone, through the "Strengthening Gender-Based Violence Prevention and inclusive Response Services in Sierra Leone" (SGP Project).
The SGP is a 36-month (September 2019 – March 2022) project, being implemented in a consortium with Handicap International and CARE Sierra Leone, led by Rainbo Initiative in the districts of Makeni, Bo and Freetown – empowering 48 Gender Focal Point Volunteers and 24 Gender Support Groups which includes 360 individuals in more than 24 communities to disseminate messages on preventing Sexual and Gender-Based Violence for the protection of marginalised women and girls, especially those with disabilities and support survivors with referral pathways within the community to access services and follow up cases.