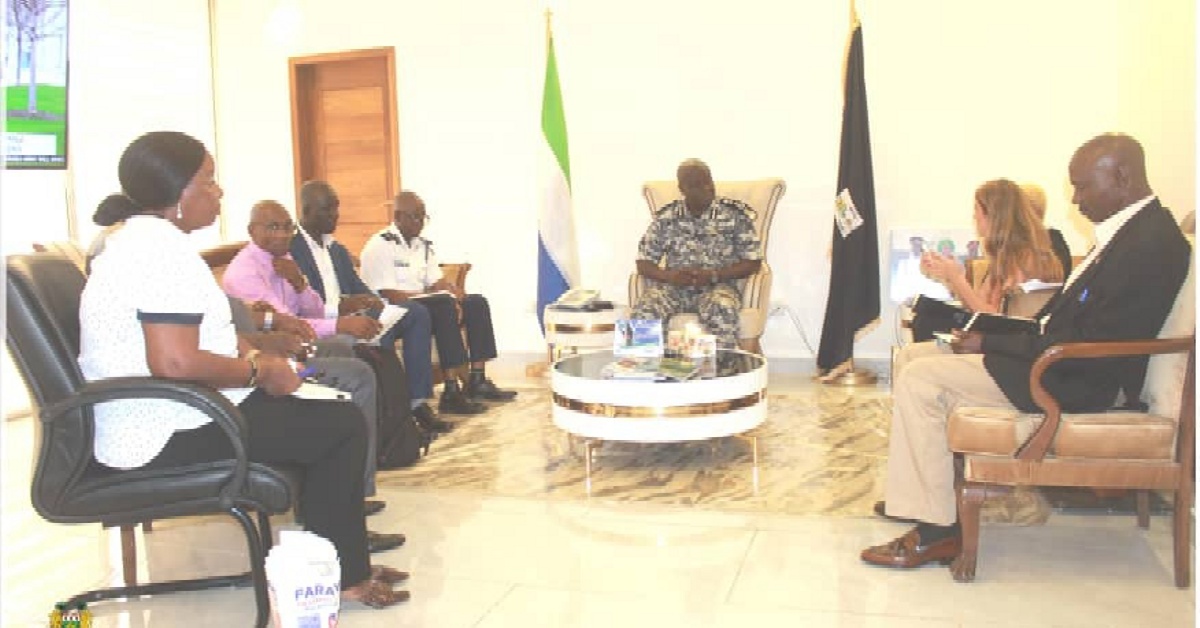 Sierra Leone Police Engages UN on Resolutions to Curb Human Trafficking
The Inspector General of Police, Mr. William Fayia Sellu together with Heads of the Family Support Unit (FSU), the Transnational Organized Crime Unit (TOCU) and the INTERPOL, on Tuesday March 7, 2023, held talks with a team from the United Nations Office on Drugs and Crime (UNODC) at Police Headquarters in Freetown. The theme of the meeting was centered on curbing the menace of Human Trafficking in Sierra Leone and the sub-region
Ms. Annalisa Pauciullo is the Regional Coordinator and Head of the Anti-Trafficking in persons and smuggling of migrants Unit of the UNODC. She was part of the meeting and she made a presentation. During her presentation, she stated that she would be establishing an office in Sierra Leone to address the issues of Human Trafficking and the smuggling of migrants from Sierra Leone.
She discloses that Human Trafficking is a menace and it is a crime that is committed in different ways and for different purposes. She added that it could be for sexual exploitation or financial or material benefits. She emphasizes the dangers that are compounded in such crimes, which she said could either be death or physical injuries to the victim.
While the meeting progresses, Ms. Annalisa Pauciullo further revealed that she intends to establish a long-term partnership with Sierra Leone to address issues that fall within the mandate of her office. She said Trafficking of persons, Cybercrime, Corruption, and drug issues form part of the mandated areas of her office.
While concluding her presentation, she made it clear that she would be purely dealing with the criminal justice system where the police appear to be very key. She further said that she'll start her project assessment in the Kambia, Kono, Kailahun, Kenema, and Pujehun districts on the situation of Human Trafficking and migrant smuggling.
"We are trying to form a working group to develop modules and a training manual on the Trafficking of human beings. We will therefore start with the law enforcement officers and the Judiciary to receive appropriate training to enable them to identify potential victims of Trafficking. The essence of the training is to ensure enforcement standards on Trafficking are maintained and would remain sustainable even after my departure," she concluded.
The IGP, on behalf of the SLP, thanked the UNODC and expressed his gratitude for the presentation of Ms. Pauciullo. The IGP maintained that everything presented was for the good of the SLP and the entire nation.
While he gave his appraisal of the presentation, he also acknowledged that even though the SLP is pre-knowledge of issues of Trafficking, such knowledge needs to be continually reinforced for better work output. He, therefore, conceded that building the capacity of his personnel had always been his utmost priority.
He welcomed the idea of the training and he opined that the best officer is the one who secures conviction in court. " Human Trafficking and migrant smuggling are gradually becoming topical issues. Therefore, on behalf of my colleagues, we welcome this project and we promise to reciprocate our support for a fruitful outcome of this project," the IGP concluded.
Credit: SLP MEDIA TEAM