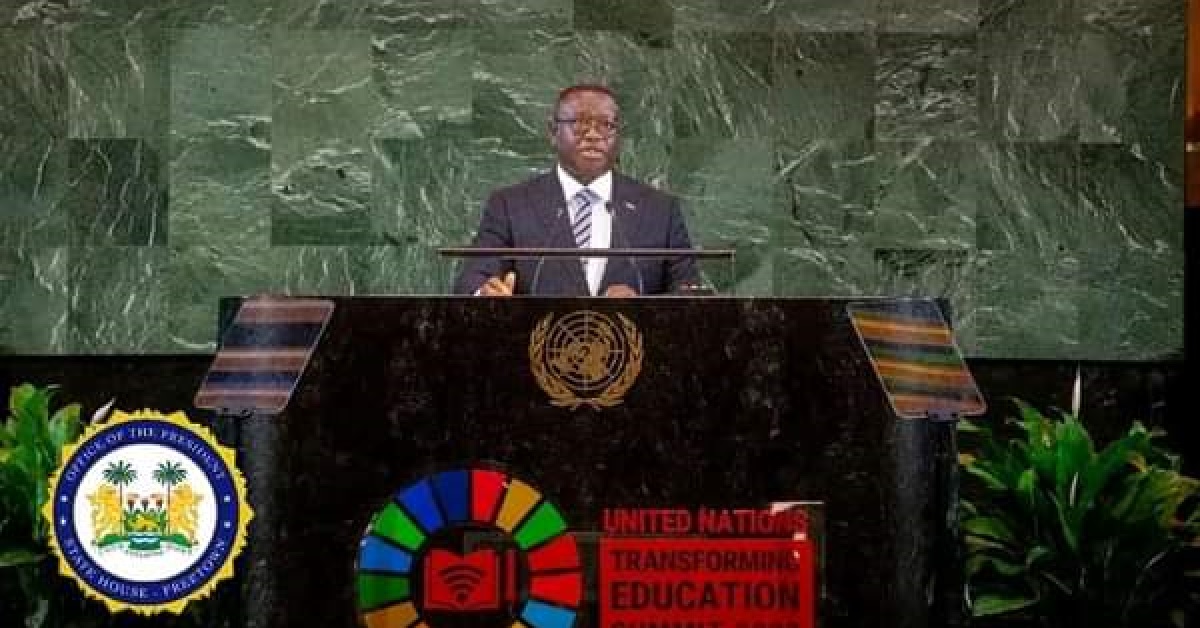 President Bio Addresses UN General Assembly on Human Capital Development, SDG4, Women And Gender
His Excellency President Dr Julius Maada Bio has addressed the 77th General Assembly of the United Nations, making a case for Human Capital Development, country's efforts at achieving SDG4 and his leadership on the reform of the Security Council.
"Human Capital Development is a critical driver of inclusive and sustainable economic development. Sierra Leone has increased domestic financing for education, provided teaching and learning materials, improved education policies and governance. More children, more girls including pregnant girls, poorer and rural learners, and learners with disabilities are now in school. But we can go beyond these access deficits.
He noted that as Co-Chair of the High-Level Steering Committee on SDG4, and champion of the Transforming Education Summit, he wanted to urge concerted global efforts to address the learning crises, adding that they could mobilise innovative financing models, underwrite universal access, especially for girls and learners with disabilities, promote technology in education.
President Bio added that they could also, "…make greater investments in foundational literacy and numeracy, address "water, sanitation, and hygiene" (WASH) and other infrastructure deficits, support school feeding programmes, fund technical and vocational training, and finance other needs across the full spectrum of the education sector. With close cooperation among States, we are confident that we will address the learning crisis in our time."
He said the COVID-19 pandemic had reminded them that equity, multilateral cooperation, and a comprehensive global response were needed to address health emergencies that had the potential to undermine global peace, security and development.
"Sierra Leone affirms its commitment to global efforts at exploring innovative and effective ways to enhance health securities, pandemic preparedness, build capacities to respond to health emergencies, and enhance greater resilience in healthcare delivery.
"Sierra Leone believes that multilateral support is urgently needed to complement national efforts at reducing maternal and child mortality; preventing epidemics; tackling tropical and communicable diseases; building healthcare infrastructure and the capacity of healthcare personnel; and strengthening primary healthcare. Efforts at increasing domestic financing of healthcare should be supported with increased multilateral financing and enhanced cooperation," he said.
President Julius Maada Bio said his government and country remained exclusively committed to the global agenda on "Putting women and girls at the centre" of inclusive and sustainable development, adding that as leaders they believed they could not deliver on the 2030 agenda on sustainable development without the achievement of gender equality and women's empowerment.
"As the Coordinator of the African Union Committee of Ten (C-10) on the Reform of the Security Council, I am pleased to note the commendable progress that has been achieved in the intergovernmental negotiations (IGN) on the reform of the Security Council. We believe that progress made during the 76th Session of the General Assembly is underpinned by the Assembly's acknowledgment of the 'wider recognition of, and broader support by Member States, for the legitimate aspiration of African countries to play their rightful role on the global stage'.
"As Africa continues to advocate and canvass support for the Common African Position as espoused in the Ezulwini Consensus and the Sirte Declaration, I urge Member States to continue to demonstrate their renewed commitment and political will towards correcting the historical injustice done to Africa by supporting the reform of the Security Council to make it a more inclusive, democratic, transparent, accountable, legitimate, and efficient global organ that properly reflects and adequately addresses the geo-political realities of our present and future world.