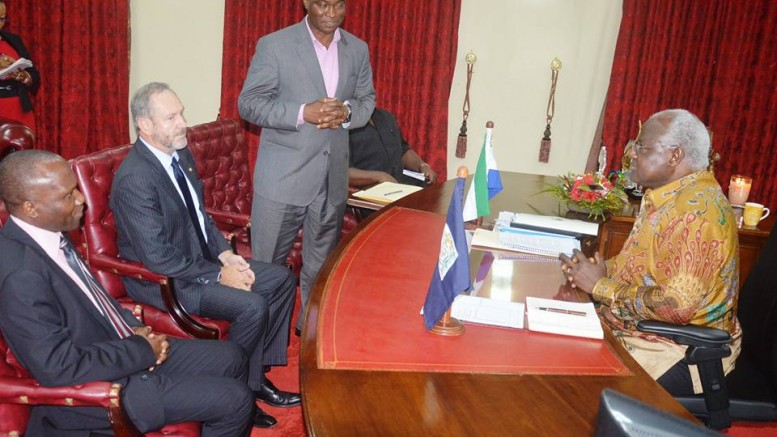 "We Are A Resilient Nation" – Koroma Tells Departing UN Rep
President Dr Ernest Bai Koroma on Wednesday 21st October described Sierra Leone as a resilient nation.
He made this statement during a farewell courtesy call on him at State House by the outgoing United Nations Resident Coordinator and the United Nations Development Programme Resident Representative in Sierra Leone David McLachlan-Karr.
David McLachlan-Karr has been involved in a wide range of field operations in the response and coordination of the fight against the Ebola virus disease.
Bidding farewell to the United Nations envoy, President Koroma thanked him for his supportive role and efforts during the difficult times of the Ebola outbreak.
As a nation, he expressed feelings of accomplishment as the nation looks forward to being declared Ebola free in November 2015.
He stated that the country has succeeded in transforming and positioning itself towards solid development, and expressed optimism that Sierra Leone will get back to its development trajectory immediately after defeating the virus.
The president added that the country is in this pole position in the fight against Ebola because of the support provided by the United Nations in coordinating the payment of health workers and establishing systems that serve critical aspects of winning the fight against the receding virus.
David McLachlan-Karr stated his commitment and involvement in response to fighting the Ebola virus disease. He said President Koroma's leadership and decisiveness are testimony to his effective leadership in bringing the Ebola disease under control.
He noted that he was delighted to make his own contribution as Resident Coordinator in managing the cash payment of 23,000 Ebola health workers and volunteers on time.
He also explained that they have been working on the recovery trust fund which he said will help in effective delivery of the recovery assistance.
Mr. McLachlan will be leaving for the World Economic Forum for a new platform of public private partnership for emergencies.
He disclosed that in January 2016, the platform will be presented in which Sierra Leone will be part of the pilot phase.