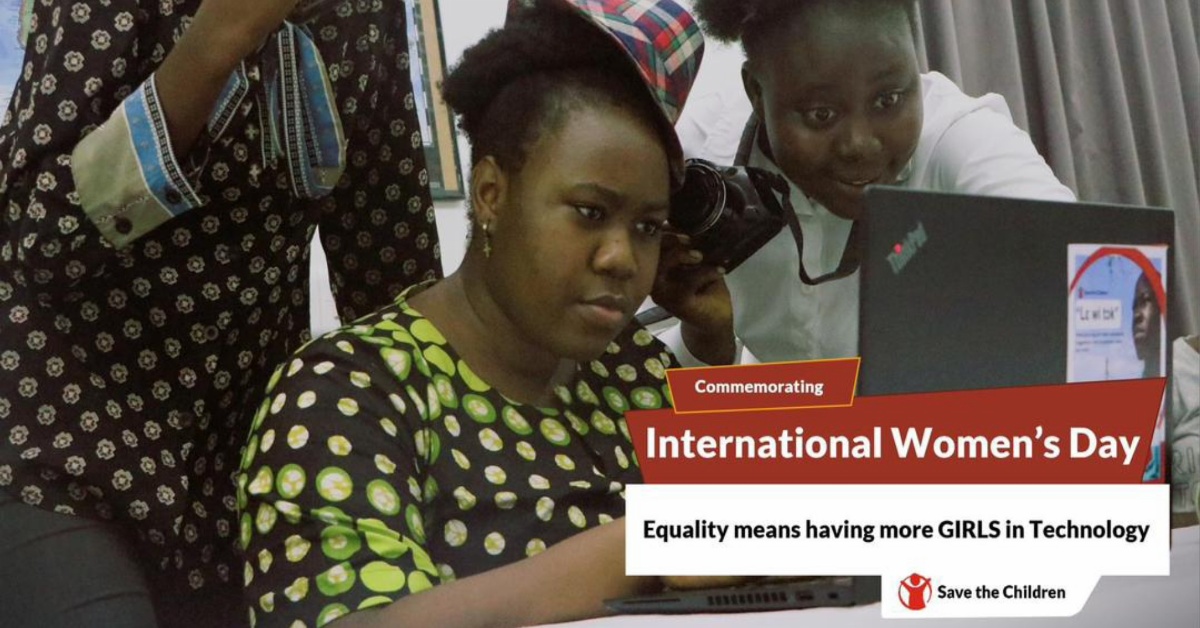 Save the Children, Partners Engage Girls on Embracing Technology
In commemoration of the International Women's Day (IWD) Save the Children, influential government officials and partners met with hundreds of girls to discuss the importance of innovation and technology for gender equality.
The one day workshop was held at the Waterloo District Council Hall.
Speakers shed light on some of the major challenges affecting women's growth and professional career development in Sierra Leone and stressed that this year's IWD theme – "Innovation and Technology for Gender Equality" sits well with contemporary times.
In her opening remarks, Save the Children Reducing Child Early and Forced Marriage project manager, Josephine Mustapha, said protecting girls to have from harmful practices is one bit, but bringing them up to speed with technology is also crucial.
She said her project is doing such in 30 communities in Western Area Rural and Kailahun District.
She pointed out that the implementation of their project mainly target the need for girls not to be forced into early marriages. She added that they want many women in front because for too long they have been left behind.
She further confirmed that Save The Children is also working with adolescent boys and those that are partners with Adolescent girls.
She defined Innovation as creating out of the ordinary for the benefit of others or the community at large. She encouraged women and girls in every field to incorporate such in their respective domains to guarantee uniqueness and growth.
One of the beneficiaries of the project, Zainab S. Kamara narrated the impact of the project on her well being.
She stated that she is once a victim of early marriage. She further revealed that she was hailed from a home where the father has the final decision.
She pointed out that she was forced into an early marriage which she was not in support of because wanted to further her education.
However, since Save the Children came into their community, she joined a safe space and to God be the glory she discusses this issue with her facilitators.
She confirmed that she was admonished and encouraged on how she should relate with her parents for her not to go into early marriage.
With her improved confidence level, her facilitators joined her to meet her father and try to convince him to see reasons why they should desist from forcing to go into early marriage. She confirmed that the meeting has created a change in the home.
Phebian Momoh, head of the district health Management team in Western rural District, thanked Save the Children and all its partners for the Commemoration of International Women's Day.
She pointed out that as a Ministry, screening for women and girls is one of the major challenges they are facing in the health sector. She affirmed that many pregnant women would go to clinics without a telephone number to contact and no knowledge of anyone who has one.
She added that in such instances if they did not make frantic effort to track them, they will deliver in thier communities or houses which will pose a great risk to their survival.
As part of their innovative drive, she confirmed they have introduced a free screening process for all women to check their status regarding cervical cancer in a bid to make sure women are strong to take care of their families and contribute to national development.
She further revealed that for women to be free from cervical cancer they should embrace digital transformation. She added that with a smartphone, women will be able to input information on when they should come for treatment or when their time is due.
David Koroma, a representative from the Ministry of Basic and Senior Secondary Education thanked Save The Children and their donor partners for such an initiative.
He shed light on the theme for this year, "DigitALL innovation and technology for gender equality." He described Innovation as something one can plan and design based on his or her ability and at the end of the outcome will benefit everyone in Society.
He added that as a ministry they have made so many gains because the current Minister of Basic and Senior Secondary Education Dr David Moinina Sengeh is passionate about education. He further stated that the Education Ministry has created many policies that are tailored towards digital transformation. He cited the radical Inclusion Policy to ensure children are not marginalized and to provide the enabling environment for girls to access education.
The Chief Administrator Tom Farma acknowledged that more women need digital transformation because if they go into the villages they would realize that we have a big role to play in terms of enhancing women's access to digital transformation.
The program climaxed with a short drama that enlightens the audience about digital transformation and women's empowerment.