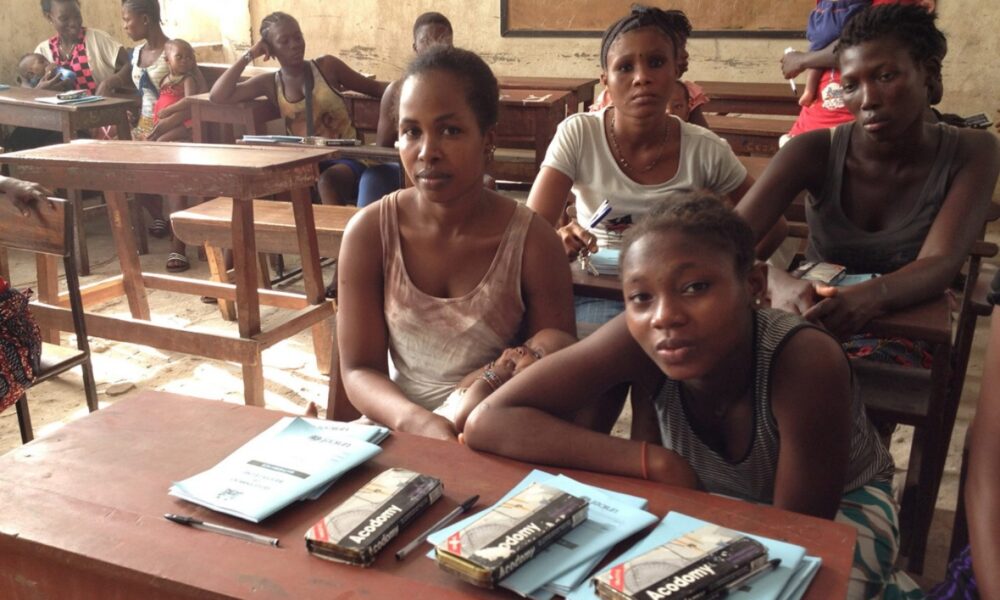 Sierra Leone Finally Begin Classes For Pregnant School Girls
When Isata Kamara found out in July that she was pregnant, she was ashamed and embarrassed.
She said that her ex-boyfriend is the father but that he denied responsibility and left.
Kamara is among many thousands of girls who became pregnant since May 2014, when the Ebola crisis took hold in Sierra Leone. The government closed schools for almost a year in an attempt to control the outbreak, leaving girls idle and vulnerable.
On Monday, Sierra Leone's Ministry of Education, Science and Technology (MEST) for the first time began special classes for girls who are pregnant or have recently given birth.
Forty-four community centers across the country opened their doors to approximately 3,000 girls who have registered so far. Classes will be held three times a week and will cover the same curriculum as in public schools. Some regular schools will hold classes for the girls after school hours.
Olive Musa, the director for nonformal education for MEST, said the government opened the schools because of the increase in teen pregnancies during the Ebola crisis. Public schools were reopened in April 2015. Sierra Leone is currently in a 42-day countdown to being Ebola free, after more than 10,000 people died of the hemorrhagic virus in West Africa.
"It was the Ebola that really brought out the problem, and so we created a special needs working group in April. It was set up to address issues for pregnant schoolgirls and their education," Musa said.
She added that the schools aim to provide a proper education to girls coping with the stigma attached to teen pregnancy.
In 2010 MEST barred visibly pregnant girls from traditional schooling, saying they presented a negative image to other students. When schools reopened in April, pregnant girls were not allowed to attend.
Human Rights groups like Amnesty International criticized the government, saying that often the girls were not at fault for becoming pregnant and that banning them was a violation of their right to education.
Kamara said that she, like many girls, has suffered from the stigma associated with pregnancy outside marriage. She lives with her parents in Kroo Bay, an impoverished area of Freetown.
Sitting outside her home, Kamara quietly told of how she was shamed after others learned she was pregnant. "The people around this community started to provoke me. They teased me," she said.
This attitude is common in Sierra Leone. Girls and young women who get pregnant out of wedlock are often disowned by their parents or forced to marry the man who impregnated them, who is sometimes much older than the girl. Sierra Leone's teen pregnancy rate was already high in 2013, at 32 percent, according to UNICEF; the rate during the Ebola crisis has not yet been released.
Solomon Sogbandi, Sierra Leone's representative for Amnesty International, said that during the Ebola crisis, "these girls were really idle. They were not going to school, so they fell victim to men who have money or boys who are around, near their homes."
"They lure them with money or some form of guilt," he added.
In a study published in June by international nongovernmental organizations Save the Children, PLAN and World Vision, girls across the country reported an increase in teen pregnancy as well as sexual violence in their communities.
In the study, about 10 percent of children ages 7 to 18 said vulnerable girls in their community, especially those who lost relatives to Ebola, were being forced into transactional sex to help pay for food and housing.
And according to a police report obtained from Sierra Leonean human rights organization Humanist Watch Salone, there were 2,201 sexual assaults reported in 2014, up from 1,485 in 2013.
UNICEF is one of the NGOs working with the government to plan the education program for pregnant girls.
Wongani Taulo, UNICEF's education chief in Sierra Leone, said, "As long as these girls need support, we have to find means to give them that support. That is why we're trying to do it through with the ministry, so that they will be able to sustain the program. The whole idea behind it is we want to advocate for girls to remain in school."
Henry Evans Jacobs, a teacher at a secondary school for girls in Freetown, said the government program is a step in the right direction to correct the marginalization of pregnant girls.
"At the end of the day … she will become self-reliant," he said. "She will learn something that will make her useful — to herself and her community and to the nation as a whole."
According to MEST, the classes will include mentoring sessions to encourage girls to continue their schooling after they give birth.
Kamara said that the program has offered her a second chance at her education and that she is grateful for it.
"My parents advised me to be careful when I started to date this boy, but I still made the mistake," she said. "And then when I became pregnant, I had such shame, I even ran away, but my mother encouraged me to come back to the community … so I did, and I am just happy to go to school now. But my advice for other girls my age is to stay away from boys. Just concentrate on your studies."