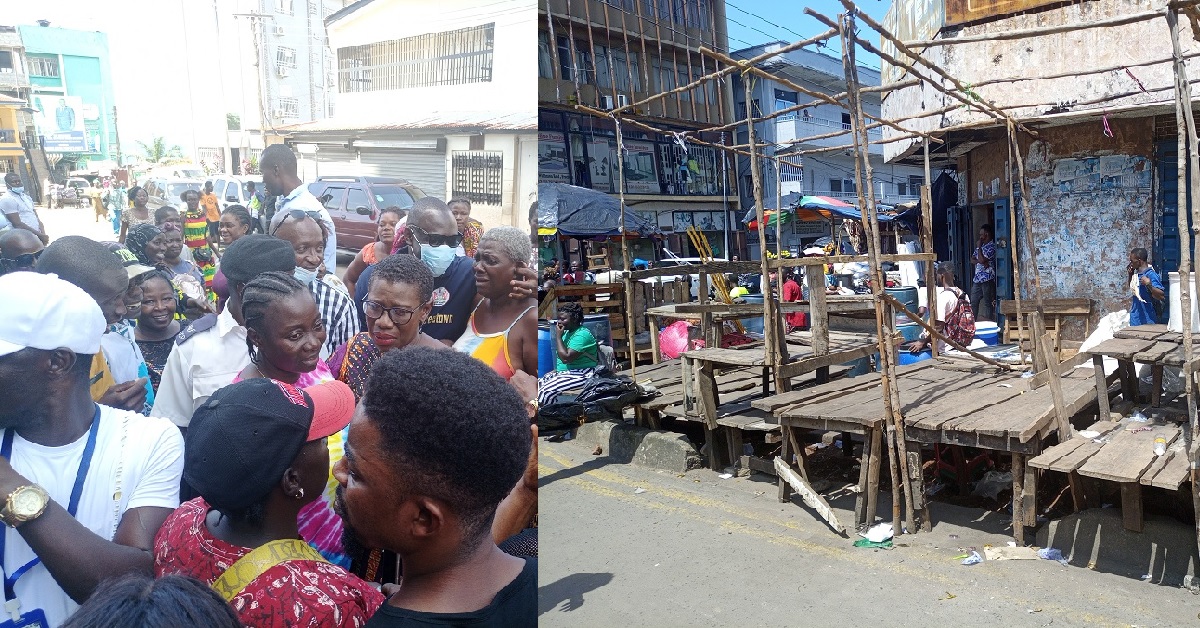 Freetown Traders Protest Over The Destruction of Their Tables by The Sierra Leone Police
On Wednesday 13th October, hundreds of traders took to the street of Freetown to protest for the destruction of their tables and taking of their businesses by the Sierra Leone Police.
The Sierra Leone Police launched a one-day operation to remove all the traders that are selling along the streets of Freetown especially eyesore areas. The force destroyed their business tables and took their businesses at Wilberforce Street and Regent Road.
According to the Chairlady of Traders Union, Yankaday Jalloh, a letter was given to them by the Sierra Leone Police to evacuate the street within a day. She added that, the one-day notice was never enough for them and there was no provision for another selling centre. To surprised, they saw Sierra Leone Police coming out from their trucks with guns vandalizing their tables and taking their businesses.
A trader at Wilberforce Street shed tears while explaining. She said her place at Wilberforce Street is the only place that she has to do her business to take care of her children. She described the scene as war. She was afraid to ask the officers because they were with guns. For her, she only depends on her business.
A cross-section of the protesters went to see the Mayor of Freetown, Her Worship Yvonne Aki-Sawyerr. As a leader and mother who feels the pains of others, she came down from her office and addressed the protesters after patiently listening to the explanation of the Chairlady. Her Worship stepped her feet into their shoes and asked if they are removed from where they are presently selling, where are they going to relocate them. She also explained to them why Freetown City Council has not provided a selling space for them. She collected the notice letter from the Chairlady and promise to speak to them which made the protesters to remain calm.
Notwithstanding, another cross-section section blocked Wilberforce and Siaka Stevens Street with tyres, rubbers, stones and sticks which prevented vehicles from passing through and caused traffic. The protesters were shouting with unity that they will not accept repeatedly.
The protesters at Wilberforce Street were calmed after some stakeholders addressed them including the message of Her Worship Yvonne Aki- Sawyerr that was delivered by the Chairlady, Yankaday Jalloh.