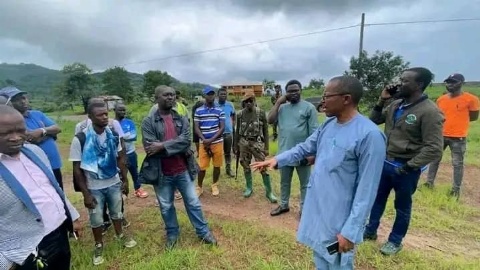 Minister Of Lands, Dr. Turad Senesie Assures John Obey State Land Purchasers Guarantee of Their Well-being
The Minister of Lands, Housing and Country Planning, Dr. Turad Senesie has guaranteed all completely settled up purchasers for the plots of State Land available to be purchased at the John Obey Community that the Government of Sierra Leone will guarantee their wellbeing and genuine serenity.
He offered this expression while taking the buyers or potentially their agents on an authority visit through the different plots of land for recognizable proof and distribution on Tuesday August 2 2022 at the John Obey Community.
At the site, the State Land clients were energized over the viewpoint of the scene and the smooth securing process up to this point.
Dr. Turad Senesie characterized the landscape as a portrayal of the National Flag – Green, White and Blue.
"The forested mountains locally address the green; the regular cascade addresses the white, while the sea shores address the blue," he attested.
As per the Minister, the public authority is establishing the empowering climate for its residents to get to land and lay out a miniature city in that piece of the country.
"Income produced from the offer of land would be utilized to offer social types of assistance including the development of streets, schools and medical clinics for its residents," Dr. Senesie revealed.
He involved the gathering as a chance to declare the arrangement of an extra 150 Plots (One Hundred and Fifty Plots) of State Land in John Obey available to be purchased again to the overall population.
The Cost Price for Two Town Lots of Residential Plots remains Le150,000,000 (One Hundred and Fifty Million Old Leones), which is what might be compared to Le150,000 (One Hundred and Fifty Thousand New Leones). Also, the Four Town Lots of Commercial Plots is Le600,000,000 (Six Hundred Million Old Leones), which is what could be compared to Le600,000 (Six Hundred Thousand New Leones).
The Application Form Portal has been returned and can be gotten to on the site of the Ministry – www.molhcp.gov.sl.
Following the accommodation of the internet based application, clients can continue to make installment at the State Land Sales Treasury Account at the Sierra Leone Commercial Bank with the accompanying record subtleties.
Turad Senesie said the new land deal model is essential for the public authority's plan to impartially convey land to its residents, while likewise refering to the land pool model as another.
The Minister reported to the public that the public authority is drawing in the confidential area to embrace different improvement projects locally including the development of medical clinic, super present day shopping center, school and a few other fundamental conveniences.
Dr. Senesie guaranteed the clients that their archives for the land would be given over to them inside the following fourteen days, while approving the settled up clients to start work on their plots inside the ambit of the law.