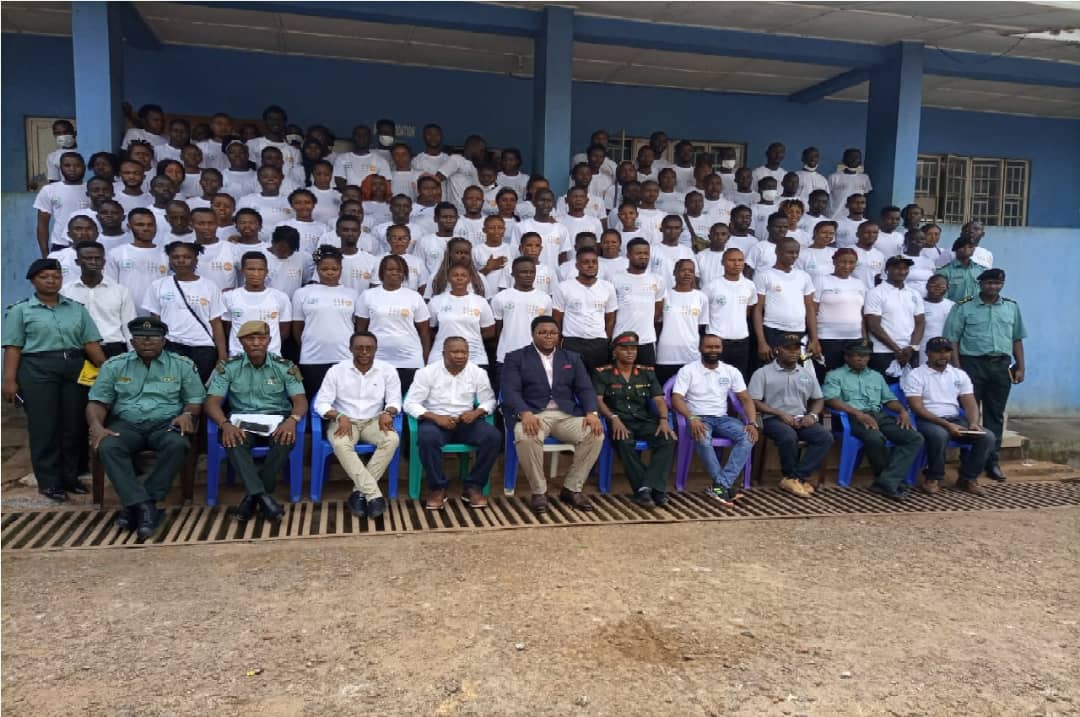 Sierra Leone National Youth Service Recruit Batch Four Corp Members
In continuation with their youth empowerment drive, the National Youth Service (NYS) has recruited a large number of corps members into Batch Four after successfully recruited, trained, deployed and certified Batch Three.
The recruits are presently at the Peace Mission Training Centre (PMTC) undergoing the usual 21-day orientation.
Giving the overview of NYS, the Director of Programs, Recruitment and Training, Mr Sylvester Ansu Bewie, explained that, the NYS Act was enacted in 2016, but the agency started full operations in 2018.
He said in 2018 President Bio made commitment to the scheme in parliament and that in just two months they recruited the first batch of 200 corps members. He added that the following year they recruited the second batch of 500 corps members.
"The important of the orientation training cannot be overemphasized because it is the gateway of NYS. The content of the training consists of drilling, physical exercise, game and sport among others," he said.
Giving his welcome address, the Commandant at PMTC, Colonel A.O Kamara, on behalf of the team management of the Republic of Sierra Leone Armed Forces (RSLAF) and the Ministry of Defense welcomed the corps members into their facility.
He explained that the facility was established by the government and partners for peace mission training to meet international best practice.
"The Ministry of Defense also helps in human capacity development. This is a platform where you integrate and socialize as you are all coming from different backgrounds," he said.
He ended by emphasizing that the Standard Operating Procedure (SOP) of the Centre should be fully adhere to at all time.
On his part, the Executive Director of NYS, Mr Mohamed Onanah Jalloh, started off by instilling nationalism and patriotism into corps members. He reechoed that NYS is not only for national cohesion but national development, thereby calling on the corps members to take full advantage of the opportunity.
He categorically stated that, "NYS is not a job but an opportunity to have a job. It will be embarrassing after serving for one year at the institutions where you will be placed and end up not giving a permanent job. This is a national call and you should be ready to adhere to it."
On the issue of monitoring, the Executive Director said they have had cases where people abandoned their places of deployment and they will be at their houses sending monthly reports.
He said this is now a thing of the past as they have developed an App that will monitor the exercise. He said the App will tell the location of every corps member.
He said even though they have been facing with challenges with respect to deployment, he assured the corps members that everybody will be deployed before the end of March.
Taking the podium, the proactive and dynamic Minister of Youth Affairs, Hon. Mohamed Orman Bangura, started off by stating that NYS activity was a manifesto commitment. He made allusion to page 43 of the SLPP manifesto which talks about youth empowerment.
"We know that young people have been crying for opportunity, but I'm telling you today that opportunity don't come to your doorsteps but you have to search for it. Your age should not determine your achievement," he cautioned, thus reechoing President Bio's commitment in young peoples empowerment.
Touching on youth entrepreneurship, the minister disclosed that UNDP disbursed US$180,000 to the ministry. He bluffed that because the money was utilized for the intended purposes, UNDP donated additional US$180,000, thus stating that this year they have received four times of that same amount.
Delivering his keynote address, the Minister of Mines and Mineral Resources, Hon Musa Timothy Kabba, said the country has a leadership that believes in the power of young people.
He said it is morally incumbent on them as young people in governance to represent diligently their fellow young people.
He lamented that, "one million youth are engaged in activities that do not represent their parents." He therefore called on the corps members to make good use of the opportunity as they will be representing their parents at the institutions where they will be deployed.
Meanwhile, the programme was officially opened by Minister Timothy Kabba.