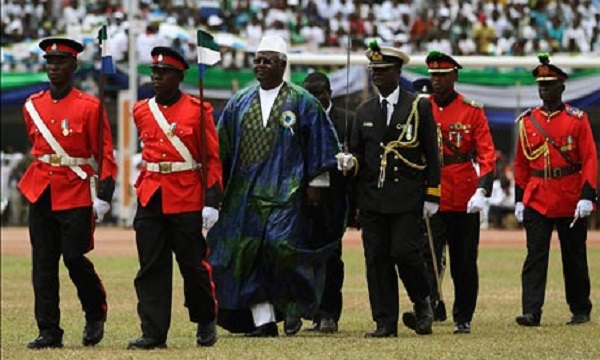 Hearty President Jets in & Out of Lungi Airport
For many years now, whenever the Sierra Leone Head of State is flying out for his annual routine medical check-ups, rumours would be spread by his detractors that he was seriously ill. This year is no different. However, whilst it had always been difficult to pinpoint the source of the mischievous false rumours in the past, this year was starkly different. The agent provocateurs were not hiding their identities.
Very close allies of the former Vice-President Sam Sumana and his employed Personal Assistants were all over social media yesterday June 15th 2015 posting false reports that President Ernest Koroma was stricken with cancer and his condition so badly deteriorated whilst in South Africa for African Union (AU) Summit that he had been rushed from South Africa to Germany. This newspaper can confirm allegations are all untrue.
President Koroma and his entourage flew back into Sierra Leone in late afternoon of yesterday June 15th 2015 from a successful trip to South Africa and whilst the President is scheduled to fly out of Sierra Leone in the morning hours of today June 16th 2015, heading for Germany to do his annual routine medical check-up, there is no cause for concern neither is there any clinical condition that the President, a daily player of rigorous Squash sports game, is suffering from.
Awareness Times was fortunate to be granted an exclusive interview by the President himself at Lungi Airport last evening on his arrival.
The Head of State confirmed in a very upbeat mood that the AU Summit "went very well for Sierra Leone".
He added that he is "rejuvenated by the positive acclamation received from my colleague Presidents during the African Peer Review".
He further confirmed he will fly back out of the country in morning hours of today "as had since been planned".
"For some two decades now since the time I was just a private business man throughout my years as the Opposition Leader and now as President, every year I fly out of the country on a private basis to undertake extensive medical check-ups but because of the height of Ebola crisis, I refused to leave the country last year to do my annual medical check-up," President Koroma explained last night, adding "I missed my 2014 annual medical check-up and 2015 itself is now halfway gone so I am heading out for few days to do my annual extensive routine tests."
About allegation that he was suffering from cancer, the President chuckled and said, "They have been saying that now for many years but we never pay attention to such false rumours".
Meanwhile "as had been planned", Vice-President Foh will today be representing the President at Day of the African Child event in Koinadugu.
All Heads of States have to undergo regular, extensive, medical tests & check-ups to ensure they are fit. The Sierra Leone Head of State is not suffering from any clinical problem let alone is he dying from cancer as was excitedly being posted around world yesterday by his former Vice President Sam-Sumana's employees and allies.
Sam-Sumana's people are no longer hiding that they were the ones all this time wanting President Koroma to either die or be stricken with cancer.