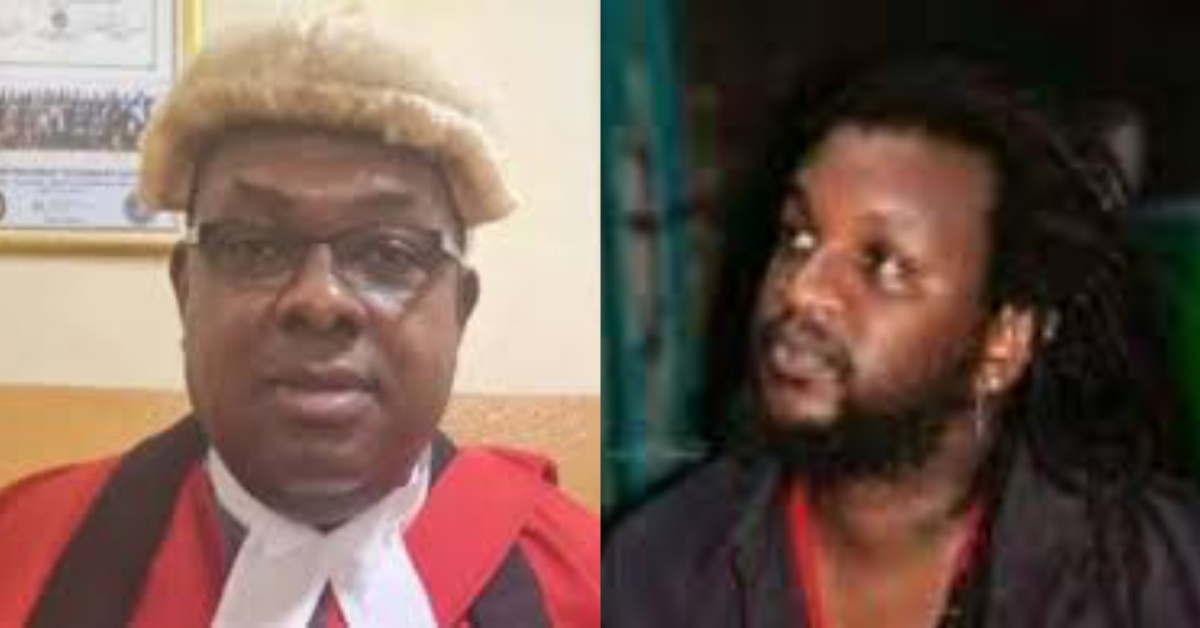 Boss LA Will Benefit Society as a Freeman More Than Being Silenced in Prison
I have been following the case of one of Sierra Leone's best Hip Hop Rapper, Alhaji Amadu Bah known as LAJ since he was arrested right through yesterday's 13th March,2023 court appearance where he was found guilty on all charges.
LAJ has been unfortunately found guilty on all counts charges, and he risks going to long term jail as a result of his convictions.
LAJ was told by judge Adrian Fisher that he might be sent to more than 15 years jail or less depending on the plea mitigation his (LAJ's) lawyer/lawyers will present.
Pictures of a distraught and shocked LAJ biting his lips where he was leaning over in his witness box in court was shown on social media depicting the moment, he was told that he had been found guilty on all counts.
The popular rapper and leader of the RFM is due to be sentenced on Friday 17th of March,2023.
Sierra Leoneans may recall that LAJ's arrest caused serious public outcry because of the manner in which the Sierra Leone Police (SLP), arrested him, and even inhumanely rooted out his dreadlocks from his head, and allegedly injected him with substance including torturing him.
The public may also recall that LAJ's closed family members and friends were arrested, beaten by police, charged to court, and subsequently jailed for merely checking on LAJ at the notorious OSD's Paramilitary Police HQ called Benghazi.
Many Sierra Leoneans believe that LAJ was being humiliated and degraded by the Sierra Leone Police due to his critical views on critical national issues relating to governance in the country.
Some people alleged that the powers that be do not like his views because such views will hinder the government in the coming elections in June 2023, while others (his critics) say LAJ does not behave himself well alleging that he always engages in anti-social behaviour.
Against this backdrop, as a legally minded person, I will not comment on the nitty-gritty of the trial that led to his conviction because I would not want to prejudice the outcome of his sentencing.
However, I want to state the following: society will benefit from LAJ as a freeman more than if he is jailed and silenced.
Although he is a controversial figure, LAJ has positively contributed in the Sierra Leone's entertainment industry for the past years thus he has helped to change the lives of many Sierra Leoneans in the music industry.
Moreover, I believe LAJ has learnt enough since his ordeal at the hands of those with power who think he should be punished and silence at all costs.
I think handing him either a suspended sentence or a community service will facilitate his speedy reform and reintegration in society and that will help him to do exactly what the Judge (Adrian Fisher) said in court, that is, to focus more on his music talent rather involve in an uncalled for behaviour.
I can submit here that LAJ as a person has gone through a lot ranging from being stabbed by some hoodlums, beaten by Police, and locked up several times by police, being involved in fighting with people, and the jailing of his family members and friends.
I think these experiences will help to shape and mould his character on the right trajectory. A trajectory of self-development and focus more on rebuilding his almost ruined life.
As man who has a large fan based in the country, I think a free LAJ would continue his positive contributions to the entertainment industry where he will also serve as a mentor to many young aspiring musicians in Sierra Leone.
It is on this note, I say that LAJ will benefit society as freeman more than being silenced in jail.
I rest my case.