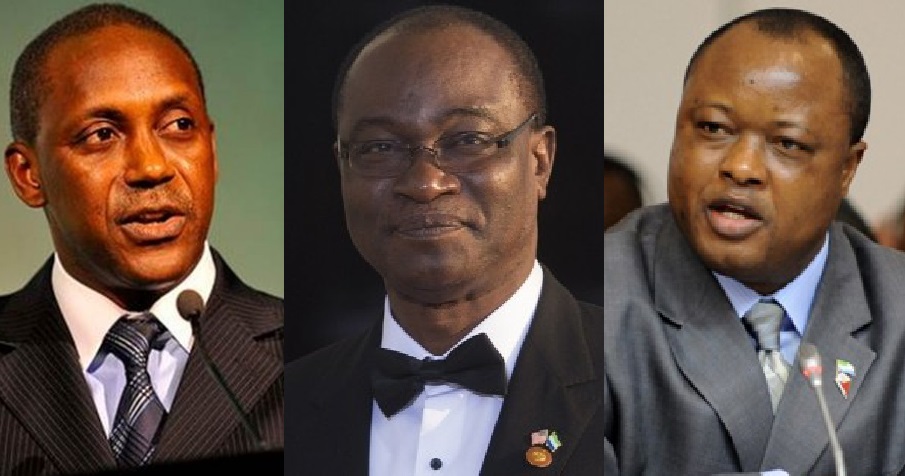 I Am Clearly Ahead of You For APC Flagbearer – Samura Kamara Tells Sam-Sumana, Kandeh Yumkella
2018 Presidential candidate of Sierra Leone's opposition All People's Congress (APC), Dr. Samura Matthew Wilson Kamara has said that he is clearly ahead of other contenders of 2023 flagbearership of the party.
Kamara lost the 2018 election to President Julius Maada Bio in the second round but is now looking to test his popularity among the electorates in the 2023 Presidential election. But he faces stiff competition from Senior party stalwarts including a former Vice President, Alhaji Samuel Sam-Sumana who recently returned to the party and National Grand Coalition Leader, Kandeh Yumkella who is reported to be switching garments to the APC ahead of the 2023 election.
In a statement on Thursday and made available to Sierraloaded, the Samura Kamara Campaign Secretariat condemned efforts by certain individuals to tarnish his aspiration to lead the APC while emphasizing that He is clearly ahead of other contenders of 2023 flagbearership of the APC.
The statement reads;
---
The Samura Kamara 2023 Campaign Secretariat is aware of utterance by certain individuals within the All peoples Congress (APC). We believe that much utterance do not only seek to demean the leadership of the party, but also represent a direct attack on the character and aspiration of Dr. Samura Matthew Wilson Kamara to lead the great (APC).
As a focused and responsible Campaign Team, it has not been our policy to respond to the continuous attacks of calumny by faceless surrogates. However, since it now become too glaring that these individuals are been drafted by desperate political schemers whose singular aim is to destabilize the APC party, we feel obliged to outline the following:
That immediately after the 2018 elections, Dr. Samura Matthew Wilson Kamara has focused his energy and resources on galvanizing supporters and members of the party by embarking on series of philanthropic/ humanitarian engagements. He has also rolled out an effective national social mobolisation campaign against COVID-19, and an economic relief intervention in support of vulendeared groups. Incidentally, these great and well-thought-out activities have endeared Dr. Samura Kamara to the rank and file of the APC, putting him clearly ahead of other contenders of 2023 flagbearership of the APC. We are therefore very confident about the popularity of our candidate and we are not averse to a smooth and fair process of electing our party's flagbearer for the 2023 general election. Suffice it to say that, the notion that Dr. Samura Kamara reliefs on the party's leadership to accord him an unfair chance for the APC ticket is baseless, corrosive and thoughtless. We know that the jury is out that whilst they were sleeping, Dr. Samura Kamara has been busy working.
That the Secretariat has at no time instructed our millions of supporters countrywide to assemble at any party office to shout "No Samura, No APC". Whilst we are confident of our overwhelming support around the country, we firmly believe that APC is bigger than any individual or group.
That though we acknowledge the contributions of other senior comrades in the party, we also appreciate, with humility, the indisputable fact that Dr. Samura Matthew Wilson Kamara stands out as a colossus of a political leader both within the APC and in the country. His dedication as well as is recorded unmatched contribution to the party shall remain enviable.
That Dr. Samura Matthew Wilson Kamara has an unblemished, towering management record and has distinguished himself as a public servant important sectors including the Ministry of Finance, Bank of Sierra Leone and Ministry of Foreign and International Cooperation. Therefore, in spite of the incomprehensible animosity against his personality, the trust reposed in him by ordinary Sierra Leoneans as the most competent man to lead the APC to the polls in 2023, cannot be misplaced.
That regardless of the persistent attempts by the current regime to implicate and sully his hard – earned reputation, Dr. Samura Matthew Wilson Kamara remains unruffled and we are not bothered by any trumped-up allegation against him.
In conclusion, we hereby call on all our supporters across the country to stay calm and remain committed to the aspiration of their untainted candidate and his agenda to build a peaceful, united and progressive nation. Meanwhile we remain open and committed to any peace efforts in the APC without compromising our quest to take the party to State House.