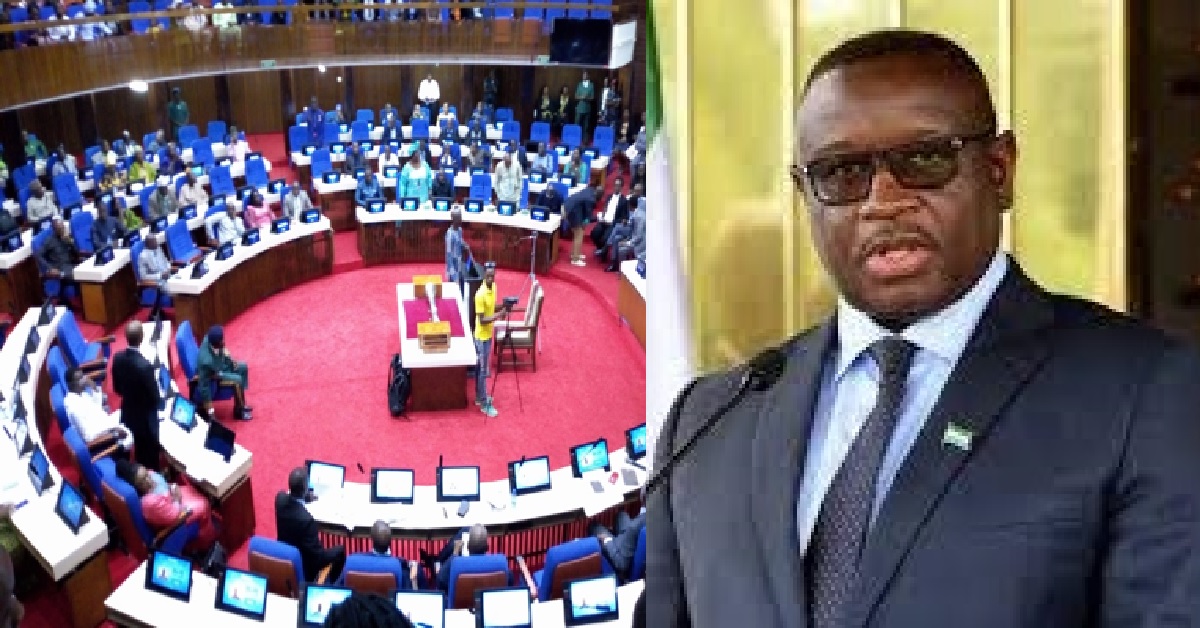 New Direction Government Faces Strong Criticism as SLPP MPs Says No Hope For Maada Bio in 2023
Bashing of the Sierra Leone People's Party (SLPP) government by SLPP parliamentarians shows no hope for government in 2023.
The parliamentarians made it clear that government had failed Sierra Leone by not living up to their expectations. New Direction government faces strong criticism during debate of the presidential speech made few days ago.
MPs unearth several loopholes and referred to them as lies and deceit. "The speech does not speak the realities," they said.
After the debate, MPs of the ruling party was confident to inform Nightwatch Newspaper that indeed the opposition dominated the debate having looking at things the regime is yet to prove much in terms of development. SLPP parliamentarians told this press that they found it very difficult to account of their stewardship in the last three years in governance.
Most of the project highlighted in the President's speech, they went on, were inherited from former President Koroma. "Much is yet to be done to showcase the regime," they said.
The parliamentarians further stated that they have realized the need to work together for an appreciable scorecard before 2023. "Government must be very careful making propaganda on national development," SLPP parliamentarians warn.
One of the SLPP MP's was blunt to say that APC did a lot which attracted the love of many people across the country.
He emphasized that upon all what APC regime achieved in 10 years, a regime change could not be prevented in 2018. As Members of the opposition in Parliament condemn and criticize the 20-page speech President Bio delivered in the well of Parliament, some SLPP MPs also outside Parliament touched on the need for speech writers to improve on their research and put the truth in the first gentleman's speech.
Several bashing has been envisaged which has negatively maligned the New Direction government's ineptitude and lack of development know-how.
During the debate, am opposition Member of Parliament from Kambia, representing Constituency 059, Hon Abdul Karim Kamara also stated that the speech delivered by President Bio in the well of Parliament on May 18th 2021 indicated that the President had nothing much to say.
The President, he went on, did not account for plans and achievements adding that even the free education trumpeted is a mere advertisement. Hon. AKK pointed out that the last three years of the Paopa regime was more of propaganda than development.
"Free Quality Education flagship project of President Bio is just a slogan and advertisement," he stressed.
Hon AKK however revealed that President Bio has also recruited military men to appease their people in the name of fighting COVID-19. Hon AKK went on to state that the lack of beds in hospital was because our government is busy buying SUVs vehicle instead of using the money to procure beds and other health materials.
"The health sector has serious challenges especially at this time when people are still paying Le 350,000 just to see medical doctors," he said.
The MP said for President Bio to say the country is divided is a complete lack of leadership acumen adding that no president in the world could utter such statement. What was more disheartening, he said, while people were killed in Makeni for thermal generator, the President was on picnic with his wife.
He also stated that citizens have been taken out of their jobs. The MP said it was only in Sierra Leone a minister destroyed ballots papers and he went scot-free. Hon AKK intimated this press that the transport sector has been left in the hands of drivers who continue to regulate itself and nobody cares. A bag of rice according to Hon AKK is almost $40 and yet still government is busy increasing fuel price to subject the people to more poverty.
The Member of Parliament from Karene District, Hon Ibrahim Bundu said the New Direction had not worked in the past three years, a reason, he said, the New Direction President was now asking to redesign a new pathway.
The liquidity, he stressed, in the banks is still in existence and that accounted for a weak economy. He also spoke on how the country's forest had been depleted citing the waste disposal sites in the city especially as Bomeh as one which has resulted into a community health a hazard.
In the area of education, Hon Bundu said instead of free education, parents envisaged a natural increase on education expenditure adding that its quality aspect was at stake. He said the Ministry of Basic and Senior School Education has a lot to do on education if quality was to be achieved.
In his statement, Hon. Emmanuel Saidu Conteh opposed Government for "preventing citizens from enjoying their rights to free speech and protests in the country."
He observed that the President did not mentioned anything in his Speech about the incidents at Pademba Road Prison and Tombo. Hon. Sallieu O. Sesay spoke on economic benchmarks government had promised to fix, but failed. He called on government to do the roads in Makeni and improve electricity supplies in that part of the country. He also asked the government to subsidise instead of allowing price hikes in the price of fuel.
"Fuel hike has a huge impact on the masses," he stressed.
Opposition Leader, Hon. Chernor Maju Bah said the people should be given the opportunity in a democracy to express their rights through lawful protests. He blamed the police for being selective on the issuance of certificates to hold peaceful demonstrations.
He accused the police of using disproportionate force in Makeni and other places in the country. Parliament, he said, should be privy to the report regarding the incident at Pademba Road Prison.
Speaking on inalienable rights, he accused the judiciary of partiality in the dispensation of justice. Hon Bah described the judiciary as worse than the one under one-party system. "The judiciary issued an injunction on petition cases and presided over the removal of elected MPs from Parliament," he accused.
He said it was over a year now add that "Kamarainba deserves a bail now."
He however commended President Bio for the free quality education adding that APC's effort on education should not go unnoticed.
Speaking on the MCC (Millenium Challenge Corporation) on energy and mining, he called on government to furnish Parliament with portfolios of loans and grants, and utilization of Le 500 Billion approved by Parliament for the production and importation of essential goods through commercial banks.