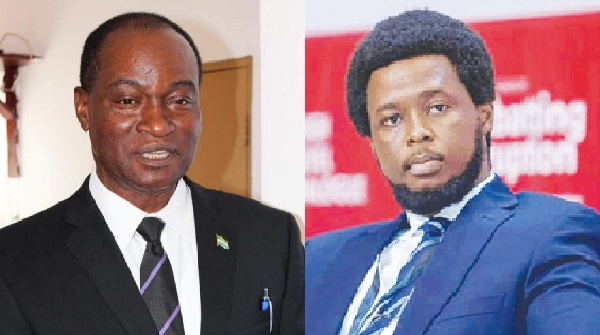 Samura Kamara Versus ACC: Cross Examination Continues
Lead investigator, Joseph Bockarie Noah yesterday again answer to questioned posed to him by defense counsel, Africanus Sesay on behalf of the second accused, Foday Vahfombah Bawoh charged with corruption offences alongside Dr. Samura Kamara and four others.
In his cross examination, documents that were demanded by defence counsel, Africanus Sesay on behalf of the second accused Foday were handed over to him in court by the Prosecution team representing the ACC.
The said documents were tendered in evidence through Noah who is one of the prosecution witnesses. The documents formed part of the court records and marked as exhibit AR1-22.
Exhibit B1-52 was the statement of the second accused who explained to the investigators the duty of an ambassador.
He said the second accused told them that he was representing Sierra Leone in New York and his duty was to attend regular meetings on behalf of the country.
He went on to state that there was no other duty assigned to him in handling procurement issues of the chancery building in New York.
He said the second accused also stated he was not in the office that when the contract was signed in 2013.
Exhibit 'U' which is the contract document signed for the rehabilitation of the chancery building was shown to the witness whom he identified.
Noah said the instructions of the letter in exhibit 'U' stated that head of chancery and the government of Sierra Leone should sign the contract between the government and Fear Fit Construction Company.
He said the second accused told him that he never participated in the said contract as he took over office in 2016. The witness further sated that in 2015, when the contract was finally signed adding that it was Alusine Sesay was the ambassador at the time and the director general was Andrew Gbebay Bangalie.
The witness also said the accused became and ambassador in March 2016 but went on New York in September 2016.
The witness was shown an email titled "invitation for Bid" and the bid was for the renovation of the Sierra Leone Chancery building in New York and it was prepared by Alusine Sesay on 21 September 2015 and defence counsels. Africanus Sesay apply that the said documents have been tender before the court thought the Prosecution witness.
At this point, Calvin Matesbo objected that the said documents should not be tendered by the witness arguing that the had no knowledge of the document.
Justice Fisher ruled that cross examination had a wide ambit saying the court had gone the stage of preventing the witness to tender documents produced by the defence.
The documents were tendered as exhibit AS1-4. At this stage defence counsel sought for a date to have further conference with his client. The matter comes up today for further hearing.