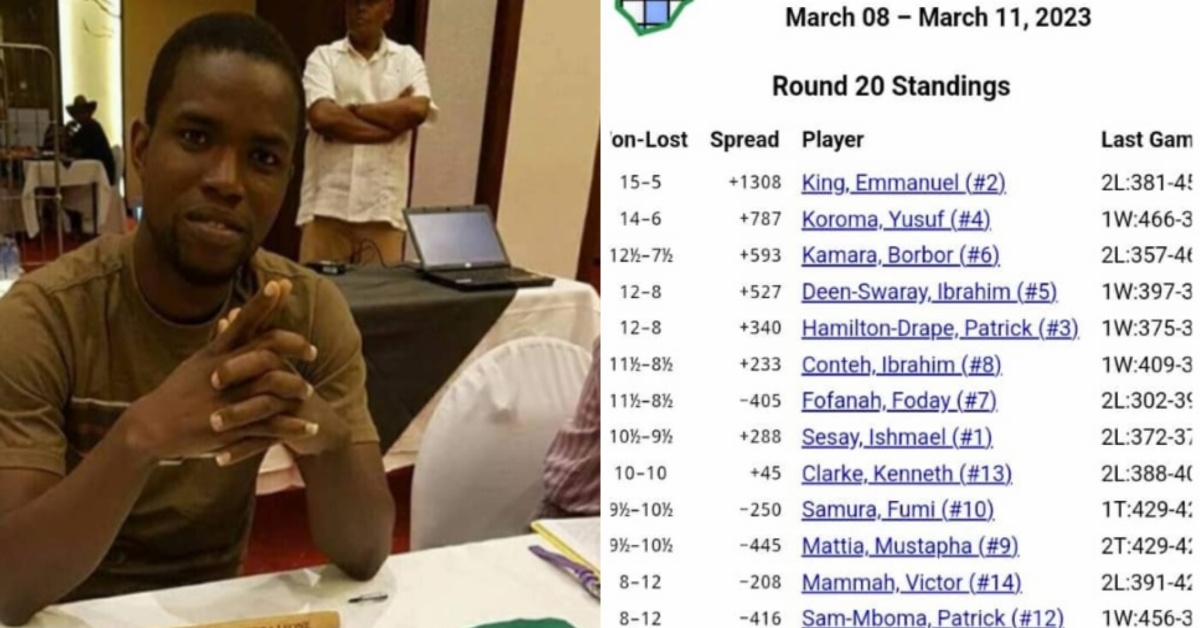 Sierra Leonean Scrabbler Emmanuel King Qualifies for World Championship
Sierra Leone Scrabble player, Emmanuel King Esq. has qualified to take part in 2023, World English Language Scrabble Players Association (WESPA) Championship slated for July in Las Vegas, USA.
According to the report, Emmanuel King won 15 out of 20 games.
He played with a spread of +1308 while Yusuf Koroma who finished as runner-up won 14 out of the 20 games played with a spread of +787 to finish ahead of his closest rival, Abdul Borbor Kamara who won 12.5 games with a spread of +527.
Also, Ibrahim Deen Swarray, Patrick Hamilton-Drape, and Ibrahim Conteh finished in the 4th, 5th, and 6th positions; and veteran scrabbler Ishmael Sesay finished in the 8th position.
King stated that he is delighted to be crowned the champion in this year's qualifiers.
He said, it was a closely fought qualifier and both Pa Yusuf Koroma and Patrick Hamilton-Drape were very inspiring players.
Furthermore, When asked whether he was nervous before the decisive clash with Patrick, Yusuf, and Abdul Borbor, he replied, "To be honest, these are very strong opponents and they pushed me to the wall but in the end, I conquered".
Meanwhile, He continued that no player would have loved to lose such qualifiers to the 2023 WESPA championship in Las Vegas; after a perfect start on days one and two but thanks he thanked God that he was able to make it with remarkable wins and a good spread.
He said he had sleepless nights for about a week because of the qualifiers.
King stated he wanted to prove that he is the best, adding the fact that he was able to perform with a remarkable spread shows he has taken a step forward.
Also, When asked what was his next plan ahead of the championship; he replied Preparation starts now because he needs to be mentally ready to fly the green, white,e and blue flag of Sierra Leone higher in the July 2023, Championships.